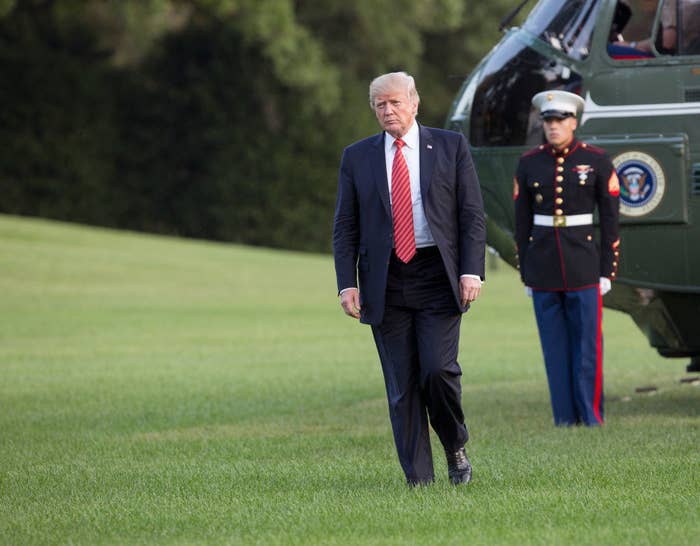 Two sets of transgender plaintiffs sued President Trump and top military officials on Monday over an order that bans transgender people from openly serving in the military and that gives the Defense Department broad discretion on how to handle trans troops who are currently serving.
The new complaints argue Trump's policy is motivated by animus toward transgender people and violates the constitutional rights of transgender Americans who want to serve in the military, and they ask federal courts to suspend the policy immediately.
Trump issued a memorandum on Friday afternoon ordering a reversal of Obama administration rules that had started to let transgender people serve openly in the military. "The previous Administration failed to identify a sufficient basis to conclude that terminating the Departments' longstanding policy and practice [against out transgender military service] would not hinder military effectiveness and lethality, disrupt unit cohesion, or tax military resources," Trump wrote.
The official memo came nearly a month after Trump said in a series of tweets that the government "will not accept or allow" transgender people "to serve in any capacity in the U.S. Military."
The president has echoed a claim from many conservative Republicans that transgender service members disrupt the military's ranks and add medical costs that undermine troop readiness — a cost that LGBT groups say is just a minuscule sliver of the Defense Department's overall health care budget.
The first complaint was filed in US District Court in Western Washington by Lambda Legal and OutServe-Service Members Legal Defense Network on behalf of transgender people who want to enlist and active-duty soldiers. Plaintiffs also include LGBT groups Gender Justice League and the Human Rights Campaign. They argue the policy is "dripping with animus," and violates their right to equal protection and due process under the Fifth Amendment and right to free speech under the First Amendment.
A second suit, filed in US District Court in Maryland by the American Civil Liberties Union on behalf of six transgender soldiers, makes similar claims.
"The Trump Administration has provided no evidence that this pronouncement was based on any analysis of the actual cost and disruption allegedly caused by allowing men and women who are transgender to serve openly," the suit states.
The ACLU suit goes on to argue that the new Trump policy is based on "discredited myths and stereotypes, uninformed speculation, and animus against people who are transgender."
The new policy is not due to take effect until March 2018, but Jon Davidson, the legal director of Lambda Legal, told BuzzFeed News that timeline went out the window when Trump signed the memorandum, making the policy ready for a legal challenge.
Davidson said as of last week, transgender people were already being turned away from enlistment.
"People were willing to wait to try to enlist when it appeared that ban was going to be lifted," he said. "Now there is no point in waiting — they are being banned."
Trump's memo gave the Department of Defense leeway in drafting a final policy. Davidson said that move creates ambiguity that also requires an immediate lawsuit. "At the moment, people are under threat that they may be discharged. The memo leaves questions unanswered. That definitely has an impact on people who are considering coming out, or are currently serving."
The Obama administration established rules in 2016 allowing transgender people to serve openly.
The Williams Institute at the UCLA School of Law estimates that there are more than 15,000 transgender troops in the US military. The RAND Corporation estimates that there are between 1,320 and 6,630 transgender personnel in the active service, and between 830 and 4,160 in the selected reserve.

National Center for Lesbian Rights (NCLR) and GLBTQ Legal Advocates and Defenders (GLAD) also sued Trump on Aug. 9 on behalf of five transgender service members, who argued Trump's tweets foretelling the ban amounted to a de facto policy that infringed on their constitutional rights. Those groups will be seeking a preliminary injunction to halt enforcement of the memorandum, NCLR's Shannon Minter told BuzzFeed News.
Outside Your Bubble is a BuzzFeed News effort to bring you a diversity of thought and opinion from around the internet. If you don't see your viewpoint represented, contact the curator at bubble@buzzfeed.com. Click here for more on Outside Your Bubble.