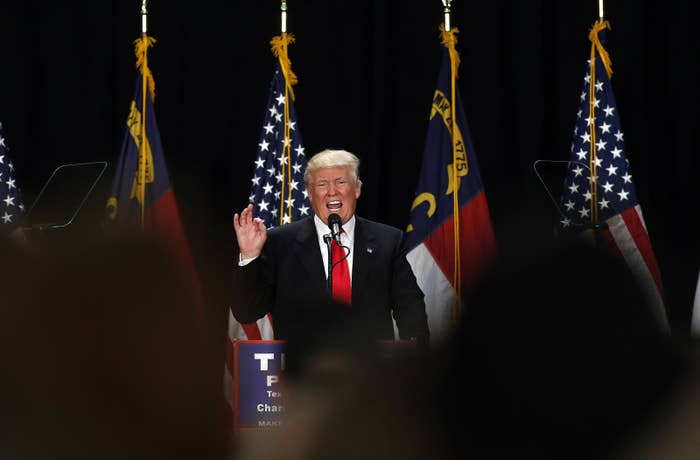 CHARLOTTE, North Carolina — A flurry of recent presidential election polls showing Hillary Clinton leading Donald Trump in the race for the White House are "fake." They're "skewed." They're "manipulated." Trump is going to "win in a landslide."

Despite surveys that show Trump faltering, many of the Republican candidate's supporters at a rally Thursday told BuzzFeed News why they think he is actually leading the presidential race.
"I don't believe in the polls," said Phillip Morgon, who attended the rally with two friends from Concord, North Carolina. "They ain't called us."
Proof of Trump's dominance can be demonstrated by the size of his rallies, compared with Clinton's smaller events, which are held in gymnasiums, he said. Gesturing around the room before the rally began, he added, "I'll bet most of the people here never got called for a poll."
Douglas Breeding had the same thought.
"Nobody has asked me," said Breeding. "I don't see people on social media saying that they support Hillary Clinton. I think mainstream media manipulates polls to benefit her so that people think there is no reason to vote. I believe Trump is up, and he will win in November by a big margin."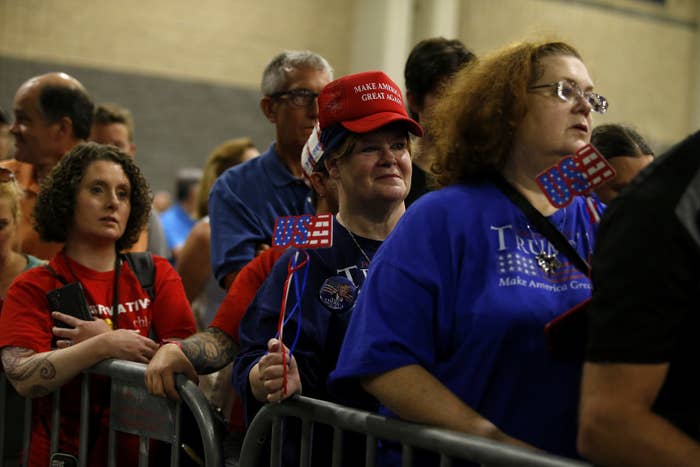 But pollsters suggest otherwise.
RealClearPolitics, which tracks major voter polls, found Clinton leading Trump most of the year, save for a week in spring and a week after the Republican convention. As of Thursday, Clinton led by an average of 5.8% in national polls.
FiveThirtyEight, the election statistics website, meanwhile, currently gives Clinton a 76.2% chance of winning based on polls and historic data.
Disregarding mainstream voter research was a theme in 2012 for many conservatives who believed Mitt Romney would defy the pollsters by vanquishing President Obama. Just this week, some Trump insiders have acted skeptical of the data. On CNN Wednesday, special counsel for the Trump Organization Michael Cohen asked, "Says who?" when CNN's Brianna Keilar stated Trump was down. When Keilar said "all" the polls showed Trump trailing, he asked the same question again.
That disbelief was consistent in the crowd in North Carolina Thursday.
Cindy Ammons, who attended with her husband, told BuzzFeed News her first-hand experience with the Trump campaign convinced her "the polls are wrong." She was a campaign volunteer, and when she called people, they supported him. "Only one person hung up on me," she said. "I think a lot of polling is not talking to the average Joe."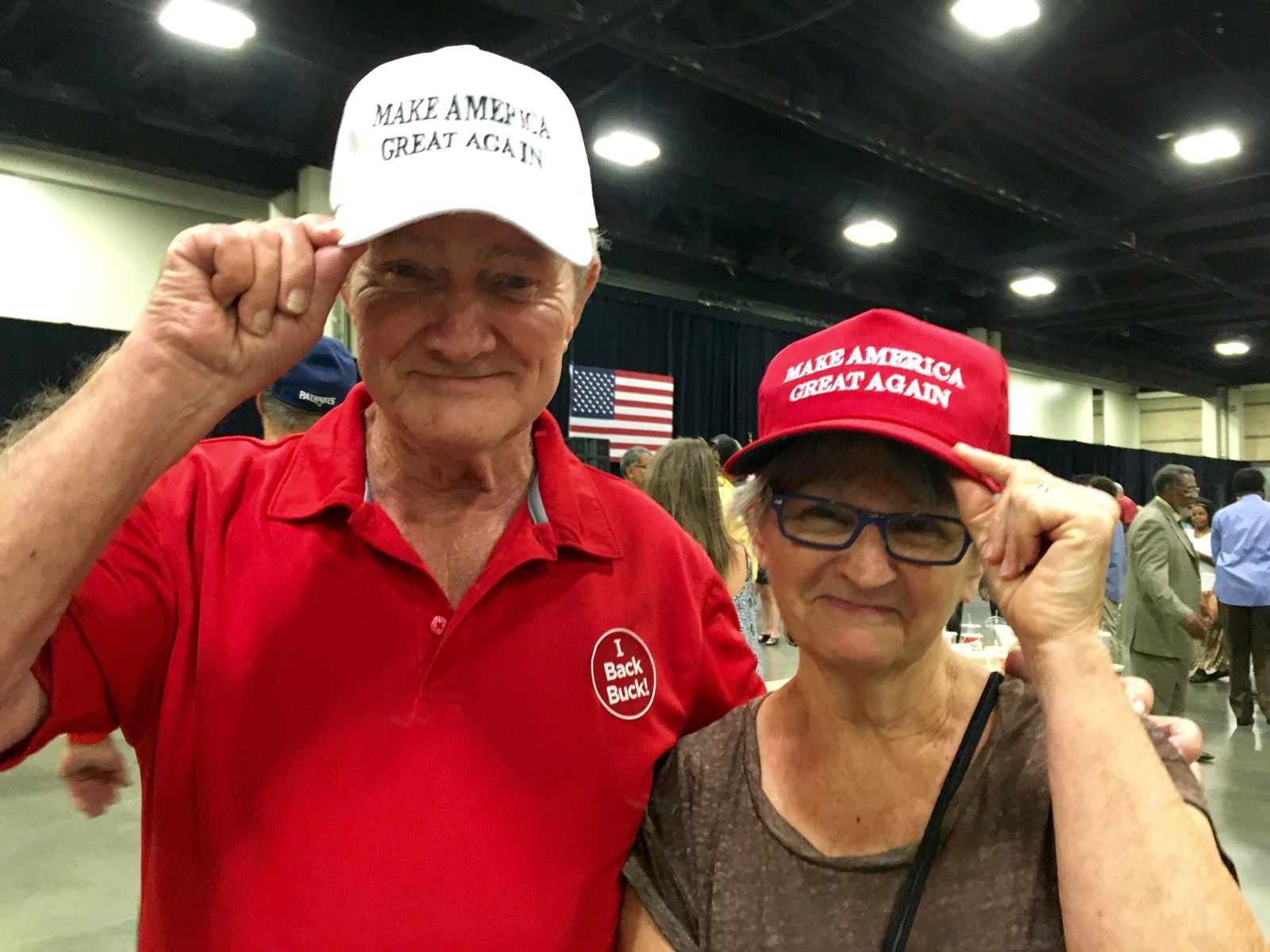 For his part, Tom Koufaliotis said, "I don't believe he is behind. He's going to win in a landslide."
Trump has boasted he has the "biggest crowds," and several supporters on Thursday pointed to his rallies exceeding 10,000 people as evidence that polls fail to represent the candidate's support.

But the turnout Thursday was comparatively small. "This is nothing compared to what it is supposed to be," said Koufaliotis as people trickled into the convention center hall 90 minutes before Trump was scheduled to speak. About two-thirds of the hall was was partitioned off and empty. "This should be full all the way to the back," said Koufaliotis, who said he has attended three large Trump rallies in recent months. "I hope it fills up."
By the time Trump spoke, however, the rear two-thirds of the hall was still vacant, except for a few kids playing.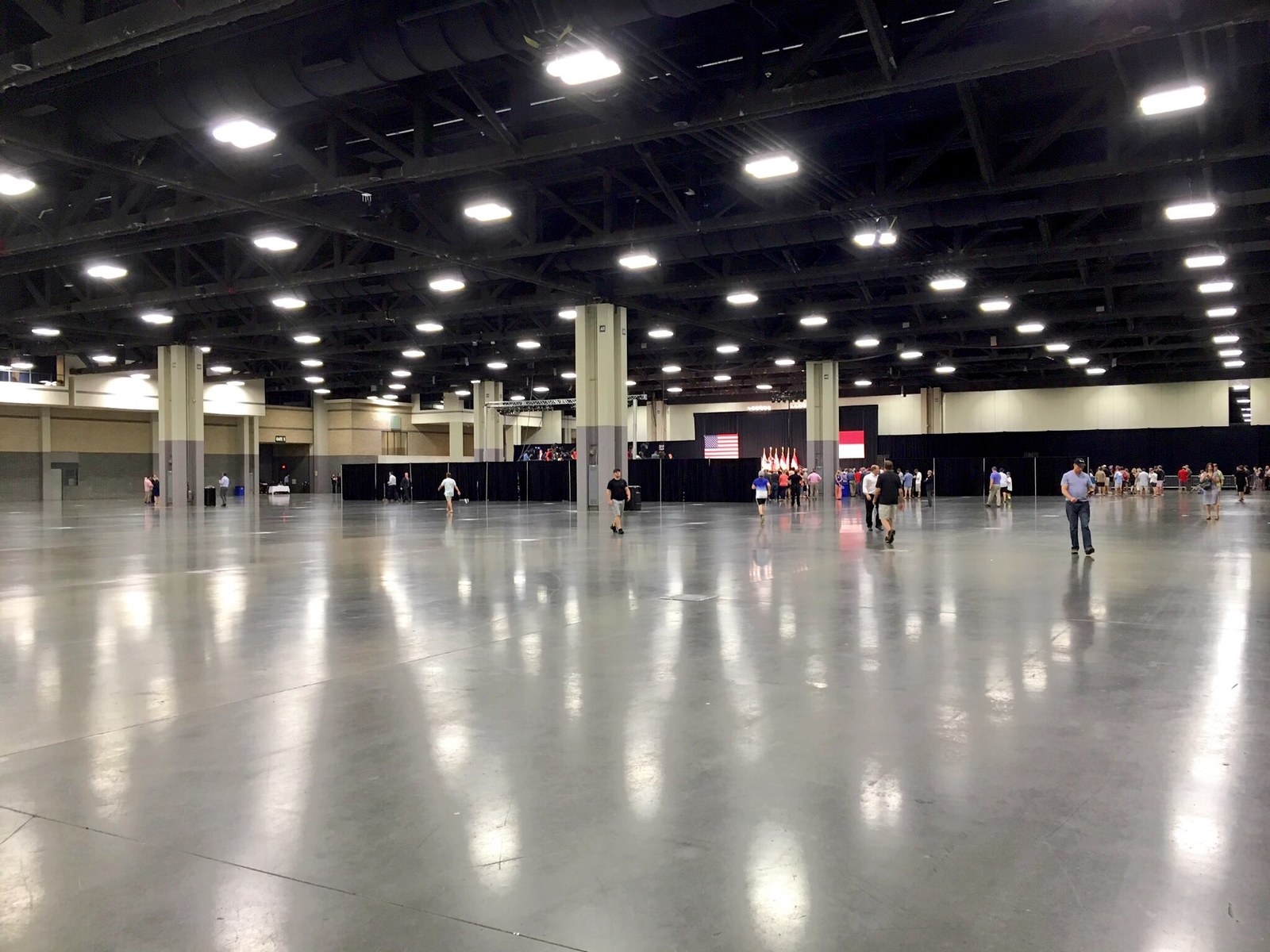 Holding his rally in a swing state with a sizable black population, Trump made overtures in his speech to black voters — a bloc that has recently supported him in single digits, polls show. "If African-Americans give Donald Trump a chance by giving me their vote," he said, "the result for them will be amazing."

Minutes later, Jack Logan told BuzzFeed News that, as a black man, he found Trump's words resonated with him. "People claim that he is racist, but he just proclaimed his support for African-American parents," said Logan. "I trust him because it came from the heart."
Logan said Trump's commitment to racial minorities will win over some voters and increase his standing in the polls — which he added were "all fake."
He believes many people will back Trump by Election Day even if they currently don't plan to. "I do believe he will win," he said. "Some may walk into the voting booth intent on voting for Hillary, but they will hear from Jesus that a man should be our leader."