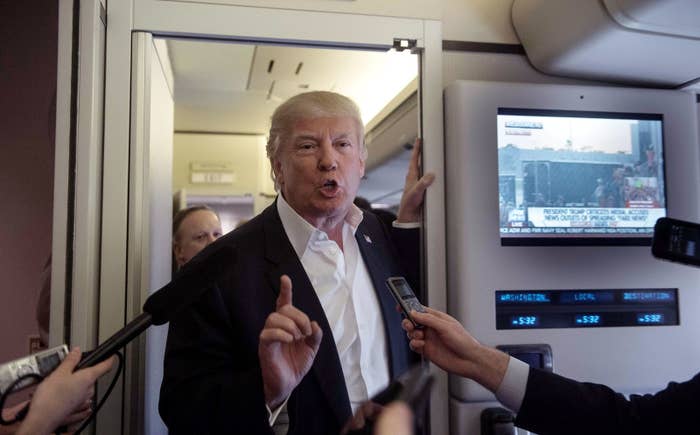 Donald Trump on Sunday said that his comments about a problem in Sweden that happened Friday night — which he made in the context of terrorist attacks in European cities — was not, in fact, about an event last week, but about a Fox News report on a general crime pattern in the Scandinavian nation.

"My statement as to what's happening in Sweden was in reference to a story that was broadcast on @FoxNews concerning immigrants & Sweden," the president said on Twitter.

On Monday morning, he followed up his remarks, by tweeting: "Give the public a break - The FAKE NEWS media is trying to say that large scale immigration in Sweden is working out just beautifully. NOT!"
Trump had been heaped with ridicule and curiosity since he made the comments at a rally in Florida.
"You look at what's happening in Germany, you look at what's happening last night in Sweden," the president told supporters in an airplane hangar. "Sweden, who would believe this? Sweden."
"They took in large numbers," he continued, apparently repeating a theme that Muslim immigrants perpetrate crime. "They're having problems like they never thought possible. You look at what's happening in Brussels, you look at what's happening all over the world. Take a look at Nice, take a look at Paris."
Trump seemed to be referring to a segment on Fox News' Tucker Carlson Tonight that featured Ami Horowitz, a documentary filmmaker, whose new film draws a connection between Sweden's liberal immigration policy and a supposed crime surge.
According to the 2016 Swedish Crime Survey, crime rates have been relatively stable for the last few years.
The Swedish embassy in the US responded to Trump later on Sunday, offering to fill him in on how immigration and integration actually work in the Scandinavian country.
A spokesperson for the White House did not immediately respond to a question about whether the TV show was the only Sweden-related event on Friday the president was referring to.

It wasn't the first time Trump had declared a security threat after seeing a Fox News segment.
In January, after Fox News aired a piece about the "carnage" in Chicago, he tweeted about sending in federal law enforcement.