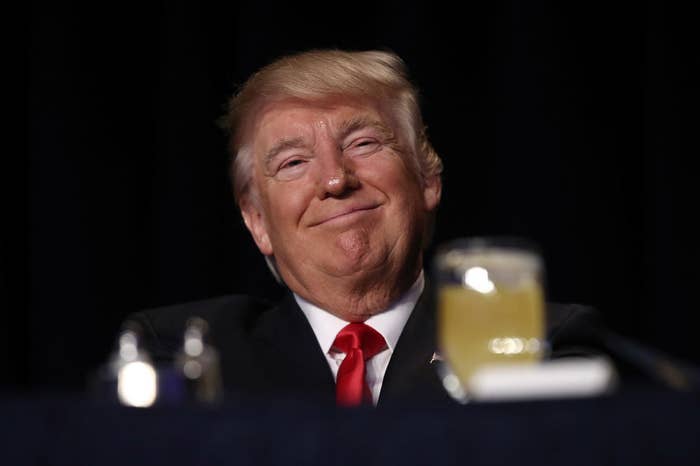 President Trump signed an executive order on Thursday to expand religious freedom, fulfilling a promise to social conservatives who coalesced around him during the campaign — even though he fell short of saintliness himself — while also triggering civil rights groups to consider lawsuits blocking the order.
"We will not allow people of faith to be targeted, bullied, or silenced anymore," Trump told faith leaders gathered in the White House Rose Garden. "And we will never, ever stand for religious discrimination."
At the signing ceremony, Trump said that the order would free churches to engage in political activities without losing their tax-exemptions, protect religious groups opposed to providing birth control for employees, and — in its broadest sense — protect those exercising their religious beliefs.

However, the text of the order was more limited.
Regarding political activity, the order says the federal government shall "respect and protect the freedom of persons and organizations to engage in religious and political speech" — "to the greatest extent practicable and to the extent permitted by law."
The order also speaks to a mandate under the Affordable Care Act to provide contraception, directing the Treasury, Labor, and Health and Human Services departments to "consider issuing amended regulations, consistent with applicable law, to address conscience-based objections to the preventive-care mandate."
The religious liberty provision was the most vague, simply saying that "the Attorney General shall, as appropriate, issue guidance interpreting religious liberty protections in Federal law."
The latter section has worried civil rights groups, which fear a broadly-worded order could immunize corporations and people that discriminate against LGBT people and women. A senior White House official had denied the order addressed LGBT people on a conference call with reporters on Wednesday night.
Trump's description of the order on Thursday in the Rose Garden suggested broader intentions than the characterization from his staff in the briefing the night before. For example, Trump said, "We also make clear that the federal government will never, ever penalize any person for their protected religious beliefs," and he described the Justice Department section as being intended to "develop new rules to ensure these religious protections are afforded to all Americans."
Several hours after Trump signed the order, the first lawsuit challenging it was filed in federal court in Wisconsin. The Freedom from Religion Foundation, which is based in Madison, Wisconsin, is arguing that the order unconstitutionally gives preferential treatment to churches, and that Trump exceeded his authority and violated separation of powers in signing it.
Shortly after Trump's ceremony — and before the text was released — both the ACLU and Center for Reproductive Rights indicated they may sue over the order. The ACLU, however, later reversed course because the "executive order signing was an elaborate photo-op with no discernible policy outcome."
For months, many had expected — on the left and right — that the order would offer protections for people and corporations with a religious objection to LGBT people and birth control.

Speculation about what the order would say was based largely off a draft version circulated this past winter. According to that leaked text, the order would block the federal government from retaliating against those who act — or refuse to act — based on their religious objections to same-sex marriage, transgender people, abortion, contraception, and sex outside marriage.

The announcement of the order came after several humiliating setbacks for Trump during his first 100 days: His travel bans were blocked by courts, his attempt to defund sanctuary cities was halted by a federal judge, and his pledge to repeal Obamacare has so far faltered in Congress. But while those issues have been popular topics for Trump's white, working-class base, Trump has given comparatively little attention to conservative religious wedge issues. As the administration tries to find firm footing, a religious executive order may throw those constituents a bone.
Earlier this year, Trump had vowed to "get rid of and totally destroy the Johnson Amendment," a law that prohibits tax-exempt, charitable non-profit organizations from endorsing or opposing in political races. Among other groups, the law applies to churches and religious groups classified by the IRS as a 501(c)(3) — though the thinking has gone that Congress would need to repeal the law.
The White House official on Wednesday night said the executive order will give the IRS maximum enforcement discretion to protect churches when enforcing the Johnson Amendment of 1954.
"This executive order directs the IRS not to unfairly target churches and religious organizations for political speech," Trump said at his White House speech. "We must never infringe on the noble tradition of change from the church and progress from the pew."
The White House official had said the order would create regulatory relief for the contraception mandate. However, the official said the order would not specify what that relief would be.
Nevertheless, civil rights groups were prepared for to sue, and they had teed up challenges to the order if it reflected the drafts they saw in January and February.
Lambda Legal and the American Civil Liberties Union told BuzzFeed News on Tuesday they were prepared to file separate lawsuits if the president signs an order that targets LGBT people for discrimination. They worried it would violate the Establishment Clause of the First Amendment by preferring certain relious beliefs over others, and that it may conflict with the Equal Protection Clause of the 14th Amendment by singling out certain groups of people for poor treatment.

Religious conservatives, however, were eager for a sweeping order on Wednesday, including Gregory Baylor of the Alliance Defending Freedom.
"Something like this executive order is exactly what we need," he told BuzzFeed News in a phone call. "We believe there is a burgeoning problem of impositions on religious freedom, especially on hot-button culture-war issues that have to do with sanctity of life and sexuality."
BuzzFeed legal editor Chris Geidner and reporter Zoe Tillman contributed to this report.
UPDATE
Updated with information about a lawsuit filed in federal court in Wisconsin challenging the executive order.
Outside Your Bubble is a BuzzFeed News effort to bring you a diversity of thought and opinion from around the internet. If you don't see your viewpoint represented, contact the curator at bubble@buzzfeed.com. Click here for more on Outside Your Bubble.