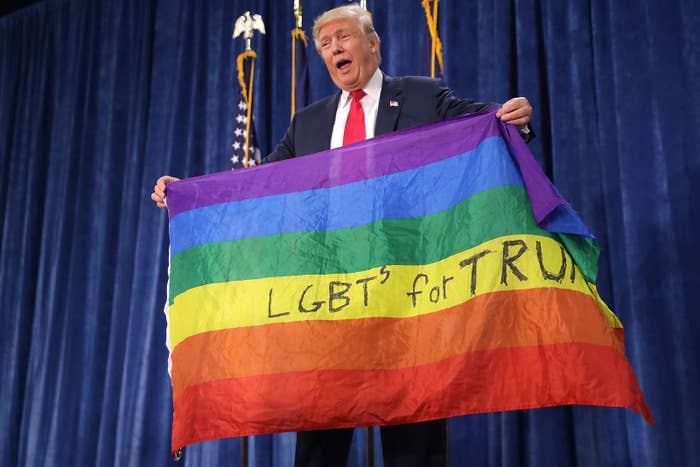 When Donald Trump ran for president, he pledged he would be an LGBT ally, even carrying an "LGBTs for Trump" rainbow pride flag at a rally in 2016. Shortly after he reached the Oval Office, the White House announced, "President Trump continues to be respectful and supportive of LGBTQ rights."
It hasn't worked out that way.
This is now the second year Trump has gone without acknowledging LGBT Pride Month. But more critically, Trump and his administration have aggressively rolled back and fought against LGBT rights.
For the end of Pride Month, BuzzFeed News has compiled a list, based on our reporting from the past 17 months, of those anti-LGBT efforts. They include:
1.
Saying it's legal to fire workers for being transgender.
Last October, Attorney General Jeff Sessions reversed a federal policy that said transgender workers were protected from discrimination under Title VII of the Civil Rights Act of 1964. This new position runs contrary to the Equal Employment Opportunity Commission — a federal agency — and numerous federal courts, which have found Title VII does protect transgender workers. For example, the 6th Circuit Court of Appeals ruled in March that Title VII protects transgender workers even if the employer raises a religious objection.
2.
Arguing that it's legal to fire workers for being gay.
The Justice Department made an unexpected move last July when it stepped into in a major federal lawsuit to argue the Civil Rights Act of 1964 doesn't protect gay workers from discrimination. The Trump administration's filing was unusual in part because the Justice Department wasn't a party in the case, and the department doesn't typically weigh in on private employment lawsuits. Further, the Justice Department was fighting against a separate, autonomous federal agency that had supported a gay man's case. The court ruled in favor of LGBT rights, but the Trump administration hasn't reversed its stance that it's legal under federal law to fire employees for being gay.
3.
Making transgender female prisoners live with male prisoners.
The Bureau of Prisons rolled back rules May 11 that had allowed transgender inmates to use facilities, including cellblocks and bathrooms, that match their gender identity. The Trump administration was reversing course on an Obama administration effort to protect transgender prisoners from sexual abuse and assault. Federal officials now "will use biological sex" to determine the type of housing transgender inmates are assigned, resulting in conditions that increase the likelihood of rape for transgender women. The administration won't explain how they will determine who is transgender and who isn't.
4.
Telling the Supreme Court that shopkeepers can turn away LGBT customers.
In a surprise move last September, the Trump administration supported a Christian bakery owner in Colorado who refused to make a cake for a gay couple's wedding. The Justice Department filed a brief at the Supreme Court that argued the baker's religious convictions allow him to sidestep Colorado law, which bans businesses from anti-LGBT discrimination. US Solicitor General Noel Francisco also took up argument time at the Supreme Court's oral hearing in December to support the baker, even though the federal government wasn't a party to the case.
5.
Withdrawing protections for transgender students.
Weeks after taking office, the Trump administration withdrew guidance that said Title IX of the Education Amendments of 1972 bans anti-transgender discrimination in federally funded schools. That Obama-era policy had said transgender students must be treated in accordance with their gender identity in classes, sports, and school facilities. As such, it instructed schools to give transgender students access to gender-appropriate restrooms and locker rooms.
6.
Refusing to investigate anti-transgender discrimination complaints in public schools.
In April 2018, the Education Department told BuzzFeed News that it wasn't investigating or taking action on any complaints filed by transgender students banned from restrooms that match their gender identity. Up to that point, Trump administration officials had simply said they were still considering the whether Title IX covered transgender students. Officials did not answer questions about how the department reconciles its new position with circuit court rulings that conflict with their position. The Education Department also hasn't said why it won't accept complaints arising from students inside those circuits (which encompass Illinois, Indiana, Kentucky, Michigan, Ohio, Tennessee, and Wisconsin).
7.
Trying to kick transgender people out of the military.
In July 2017, Trump announced he would ban transgender people from serving in the military in any capacity, thereby reversing a policy created under the Obama administration. He claimed he had consulted "[his] generals" and determined that transgender people would harm troop readiness. But his top general wasn't consulted, and federal courts found no evidence to support the president's claims. One judge called the president's claims "capricious, arbitrary, and unqualified," and added they were "shocking." Four courts blocked his ban, but the Justice Department is still fighting to enact it and the Pentagon has issued recommendations on how to fully implement the policy.
8.
Issuing a religious liberty policy.
Attorney General Sessions instructed federal agencies and attorneys in October to protect religious liberty in a broad, yet vague, guidance memo that critics fear could give people of faith — including government workers and contractors — a loophole to ignore federal bans on discrimination against women and LGBT people. The memo says officials should construe the Constitution and existing federal law in favor of religious rights. Sessions was asked by Congress in October if the guidance would allow federal employees and federal contractors to discriminate against LGBT people, but Sessions refused to answer.
9.
Starting to rescind protections for transgender patients.
After a US District Court judge in Northern Texas blocked the Obama administration's protections for transgender patients and women seeking abortions, the Trump administration stopped defending the rules. The Department of Health and Human Services rewrote the policy, which is currently pending at the Office of Management and Budget.
10.
Declining to appoint an LGBT liaison for the White House.
Trump doesn't have an LGBT liaison at the White House, a position that previously served under president Barack Obama as a conduit between the executive branch and organizations — and individuals — when decisions were made on LGBT policies. The last White House LGBT liaison under Obama had said she was afraid this would happen.
11.
Protecting health care workers who don't help transgender patients.
The Department of Health and Human Services' Office of Civil Rights created a division in January to protect health workers with moral or religious objections to performing certain procedures, including abortions or sex-reassignment surgery for transgender patients.
12.
Dropping its lawsuit against North Carolina's anti-transgender law.
The Department of Justice dropped a lawsuit, which began under former president Obama, that challenged a North Carolina law that restricted transgender people's use of bathrooms. The move last year came weeks after North Carolina lawmakers repealed part of the state's anti-transgender law and replaced it with a different anti-LGBT law. Transgender people sued the state again, this time, without the Justice Department's assistance.
13.
Retracting plans to count LGBT people in the Census.
Last year, the Trump administration retracted a proposal to collect demographic information on LGBT people in the 2020 Census. Critics say that not asking citizens about their sexual orientation and gender identity — like other characteristics — undermines the government's ability to craft policies that serve LGBT people's health, safety, and other needs. The Department of Health and Human Services, meanwhile, has also said that a survey of older Americans would no longer collect information on LGBT people.