The Trump Administration Says Most Terrorists Are Foreign-Born, But Leaves Out Key Facts
A new report includes individuals who committed offenses overseas and were later brought to the US for prosecution, but leaves out domestic terror attacks.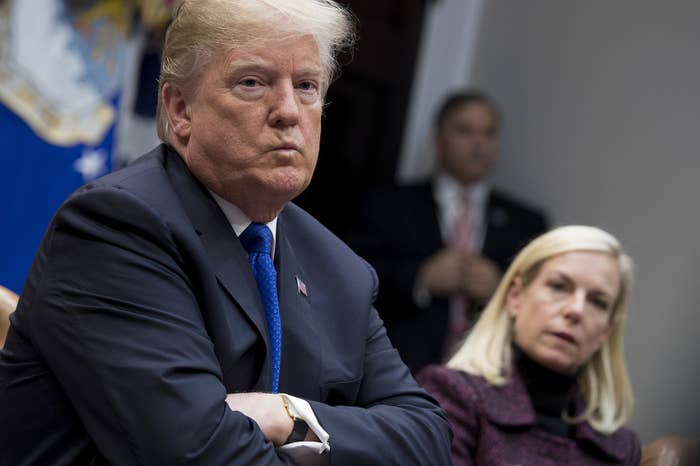 The Trump administration on Tuesday rolled out a report on terrorist convictions and immigrants in an effort to promote the president's hardline policy goal of restricting immigration by establishing a merit system that would prioritize citizenship for those who speak English or have a doctoral education.
But gaps in the report's data — including omitting domestic terrorism entirely — underscore the report's function as a political weapon, timed amid a congressional debate over immigration and the president's comments last week in which he said immigrants from "shithole countries" should be left out of an immigration deal. (Trump denies making that specific comment.)
The report, issued by the Department of Homeland Security and the Department of Justice, highlights that of the 549 terrorism convictions in the United States since Sept. 11, 2001, three-quarters of the convicts weren't US citizens or had been born abroad.
Those numbers partially underlie Trump's argument for eliminating the visa lottery program and curtailing so-called chain migration, which allows foreigners to follow distant family members into the United States, a senior administration official told reporters on a Tuesday conference call.
And yet, the official declined to say how many of the 402 foreign-born people convicted of terror-related charges had actually entered the United States using the lottery program or via chain migration.
"We don't as of today have all of those details ready to release," the official said.
The absence of that information in the report made it unclear to what degree the lottery system or chain migration poses an outsize threat to national security.
The officials said Trump wanted an immigration system that "promoted assimilation" into US culture, and a vetting process that allows immigrants to become citizens "based on their merit." They added that people "who will themselves, or children who will, take up arms against the United States — that is an unacceptable standard."
But asked for figures by a reporter, the official did not break down how many of the charges cited in the report were for terror plots conducted or planned abroad, rather than on domestic soil. The report also does not account for domestic terrorism, or whether those who had been convicted may have qualified under a merit system for speaking English or having a robust education.
"As serious as domestic terrorism is," the official said, "it is not something that was in the scope of this particular report. That is not what it required by the president's executive order."
The report also includes individuals who committed offenses overseas and were later brought to the US for prosecution, further skewing the numbers included in it.
"This information includes both individuals who committed offenses while located in the United States and those who committed offenses while located abroad, including defendants who were transported to the United States for prosecution," it states in the second page.
The report was slated to be completed in fall of 2017, 180 days after Trump issued Executive Order 13780 in March, titled "Protecting the Nation from Foreign Terrorist Entry into the United States."
"It is overdue," the official added, saying this information is a matter of public interest that past administrations should have disclosed.
"The focus we would like to take on is admitting individuals from all backgrounds, or any place, based on their narrative and likelihood of success in the United States," the official added.
The report also notes that since Sept. 11, 2001, United States Immigration and Customs Enforcement has removed approximately 1,716 "aliens with national security concerns. This number includes, but is not limited to, aliens suspected of being involved in terrorist or other security-related activities."
"These are individuals who are walking the streets of the US who have committed egregious offenses," the official said, condemning them for the "gall" to then apply for US citizenship. The official said the report shows that Congress should work with the administration to overhaul immigration policy.
Congress is facing a Friday deadline to fund the federal budget, and Democrats and Republicans have attempted to use that deadline to come to an agreement on new immigration and border security policies.