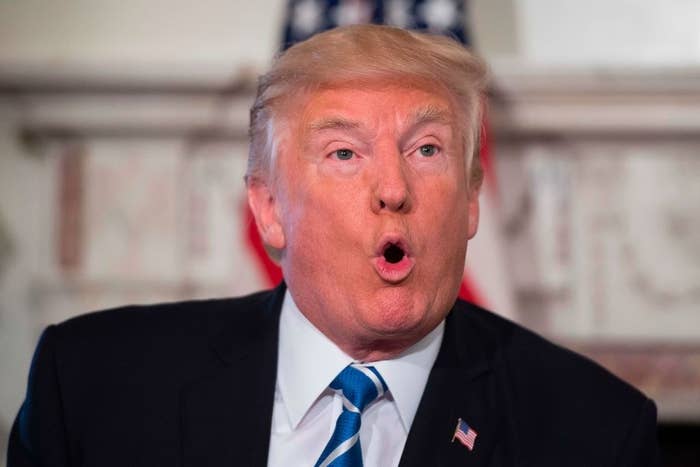 Trump administration lawyers argued in court late Wednesday night that it's too soon for federal courts to consider blocking President Trump's ban on transgender people in the military, because the Pentagon hasn't even finalized the ban's details yet.

"That challenge is premature several times over," said a brief submitted in US District Court in Washington, DC, by the Justice Department, which is representing Trump and military brass in the case of several transgender soldiers who have sued to repeal the ban.
This is the first time federal lawyers have attempted to defend Trump's policy in court. The president has claimed the policy is necessary for a strong military, but rather than vindicate that argument directly, Trump's attorneys argue it is too early to consider suspending the ban.
"No actual discharge or denial of accession has occurred, and they will not suffer a hardship if the Court withholds consideration until after the policies challenged in this case are implemented and are found to impact Plaintiffs," the government attorneys continued in their 44-page brief.
They added the case should be dismissed outright: "The Court should therefore dismiss this case for lack of jurisdiction."
But six transgender soldiers who sued to overturn the policy have argued they are already suffering and need immediate relief. They asked the court in August to block Trump's order, which had directed the Department of Defense to prohibit service by transgender people by March 23, 2018. With that deadline in sight, the soldiers say some medical treatments have been canceled and their careers are being derailed.

Transgender soldiers say medical treatments have been canceled and their careers are being derailed.
One of the plaintiffs, according to a motion in August, "was scheduled to undergo surgery in September of this year, but as a result of the directive, her medical treatment has been halted."
The Justice Department responded Wednesday in a court filing minutes before a court-imposed midnight deadline by pointing out Defense Secretary James Mattis issued interim guidance that temporarily allows transgender people to serve until the ban is implemented next year.
As such, the government lawyers argue, nothing has changed, the soldiers haven't suffered, and there is no basis to suspend the rule.
"The speculative harms that Plaintiffs believe may occur in the future, once the policy is formulated and implemented, cannot be redressed by the Court's equitable powers at this stage," the Justice Department contends.
The Justice Department's lead lawyer on the case, Ryan Bradley Parker, had previously helped defend the ban on gay people in the military.
The lawsuit is brought by active-duty transgender soldiers who fear being discharged, identified as Jane and John Doe, and two transgender students who plan to enlist in the military. They are represented by the National Center for Lesbian Rights and GLBTQ Legal Advocates & Defenders.
Their case is one of several lawsuits that emerged this summer after the White House announced it would reverse a transgender-acceptance policy created under President Obama.
In that 2016 decision, the Pentagon decreed transgender soldiers could come out, and that officials would eventually allow transgender applicants to enlist.
But this summer, Trump tweeted that transgender troops burden the military with "medical costs and disruption." He reinstated the ban in a memo that set the March deadline, adding that the Obama administration "failed to identify a sufficient basis" to allow transgender troops, and that his predecessor hadn't shown transgender service members "would not hinder military effectiveness and lethality."
By then, however, many transgender soldiers had come out, and the plaintiffs said in the August brief that Trump's directive "tramples bedrock estoppel principles that preclude the government from inducing reasonable reliance on its policies and then penalizing those who do so."
They also argue Trump harbors animosity toward transgender people and that he has no rational basis for singling out transgender people for the ban, thereby violating Fifth Amendment rights to due process and equal protection.
Without directly confronting the plaintiffs' constitutional claims about joining the military, the Justice Department argues the president enjoys a wide berth to decide who can enlist, saying in its brief, "Federal courts owe the utmost deference to the political branches in the field of national defense and military affairs."
"Plaintiffs cannot show a likelihood of success on their equal protection, due process, or estoppel claims given that the Department of Defense has not completed its review or adopted a final policy," the briefs adds.
The suit also names several military officials, including Mattis and Joint Chiefs of Staff Chairman Joseph Dunford.
At least three other lawsuits challenging the ban are moving through federal courts: a case in Washington state led by attorneys at Lambda Legal and OutServe-Servicemembers Legal Defense Network, a case in Maryland represented by the American Civil Liberties Union, and a case in California also represented by the National Center for Lesbian Rights and GLBTQ Legal Advocates & Defenders. Lawyers for the federal government have yet to respond in those cases.