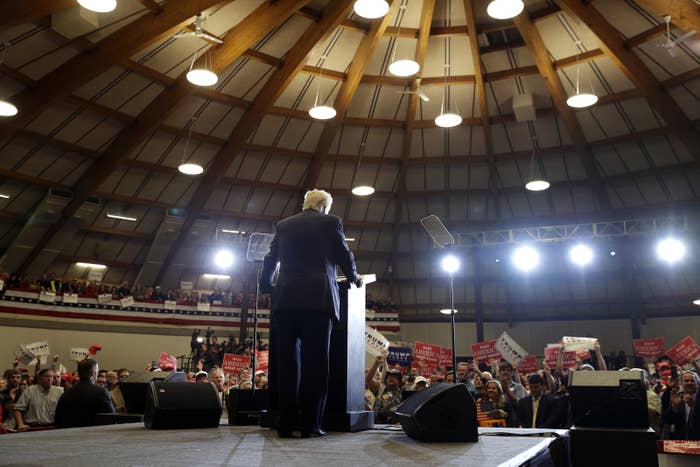 WAUKESHA, Wisconsin — Fans of Donald Trump said at a rally Wednesday the Republican candidate should attack Hillary Clinton at the next presidential debate over extramarital affairs her husband had decades ago.
"The fact that we are bringing back someone who disgraced the country is a problem," Bonnie Peters told BuzzFeed News about former president Bill Clinton, who would serve as first gentleman. "He isn't worthy of the White House."

While holding two Trump campaign hats she bought for her grandchildren, Peters said the Democratic presidential nominee "is bringing up controversial issues, like asking to see Trump's tax returns. What does that have to do with anything? So Trump should be allowed to bring up the Clintons' controversial past."

Likewise, Don Andersen said outside the Waukesha County Expo Center, "I think Trump should [bring up the affairs] after what Hillary brought up. If she is president, Bill Clinton will probably be back in the White House doing the same thing again."

Inside the domed arena, Larry McGrenera said raising the former president's past controversies at the next debate was "fair game" because it underscored what McGrenera saw as hypocrisy. "Hillary has accused Trump of being a person who belittles women and promoted herself as a supporter of women," he said. But he contended that Hillary had tried to discredit other women who raised concerns about Bill's past affairs.
"I think Trump is going to lay into her in the second or third debate," McGrenera said. "He is going to go after her for supporting Bill over women."

Trump himself has suggested Bill Clinton's affairs are in his arsenal, telling CNN's Dana Bash after Monday's debate that he was "really happy I was able to hold back on the indiscretions in respect to Bill Clinton. … Maybe I'll tell you at the next debate. We'll see."
Eric Trump said on Tuesday his father displayed "courage" in declining to bring up the past controversies.
In 1998, then-President Bill Clinton admitted to having a past sexual relationship with Gennifer Flowers. He also admitted to having an inappropriate relationship with White House intern Monica Lewinsky.

Some supporters explained why they thought Trump needed to inject those issues into the current campaign's discourse.
"It's fair game to bring it up," said J.H., who lives in Waukesha and asked to be identified only by his initials. "He should have brought it up in the first debate, because there are so many young women now." He said he believed Hillary tried to protect Bill from women who were critical of his affairs.

Standing in earshot, Ken G., who declined to share his last name, added that bringing up Bill's affairs are "as fair game as Hillary's comments about Trump calling Rosie O'Donnell a fat pig. Why is that fair game?"

Yet others thought Trump should only bring up the affair issue in certain circumstances, including Chadwick S., who wore a "Twinks for Trump" tank top and didn't provide his last name. He said Trump should avoid talking about those controversies during debates themselves, but should raise the issue on the campaign trail. "That would tell young people the Clintons have a corrupt past."

Carol Riley advocated for a middle ground — Trump should keep the issue in his back pocket as "ammunition" if Clinton criticizes him personally at the next debate.

But, she added, "I think he's so classy, he won't go there."