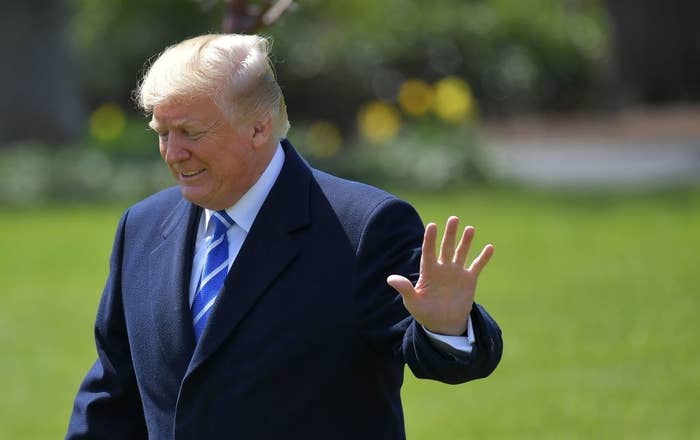 Last Friday, two weeks after a former Playboy model alleged Donald Trump tried paying her after sex, the Trump administration seized backpage.com, an adult personal site that was allegedly facilitating sex work.
The move raised questions about whether Trump supports the Justice Department busting backpage.com, which officials alleged in an indictment Monday was "notorious for being the internet's leading source of prostitution advertisements."
BuzzFeed News asked the White House if Trump supports the bust, how he responded to allegations that he tried to pay for sex, and if he believes sex work should be criminalized. A White House spokesperson said to ask Trump's personal lawyer.
"I refer you to the President's outside counsel," said deputy White House press secretary Lindsay Walters.
Trump's lawyer, Michael Cohen, who was raided by the FBI on Monday afternoon, did not respond to questions.
The White House said questions about backpage.com should be answered by the Justice Department, but did not say if Trump supported the action against the company.
Karen McDougal, a former model for Playboy, said in March that Trump tried to pay her for sex after their first encounter over a decade ago, years before he was president.
"After we had been intimate, he tried to pay me," McDougal told CNN's Anderson Cooper.
In addition, Stormy Daniels, an adult film actor whose given name is Stephanie Clifford, alleged that Cohen paid her $130,000 soon before the 2016 presidential election to stay silent about having sex with Trump in 2006.
Cohen has said he paid her, but has not said why, and Trump told reporters last week he was unaware of the payment.
The matter of sex work and the law will end up on Trump's desk Wednesday, when he is expected to sign a bill known as the Allow States and Victims to Fight Online Sex Trafficking Act. The bill would impose criminal penalties for people who operate websites and other platforms that facilitate sex work and sex trafficking. It provides a defense for those who are accused in places where sex work is legal.