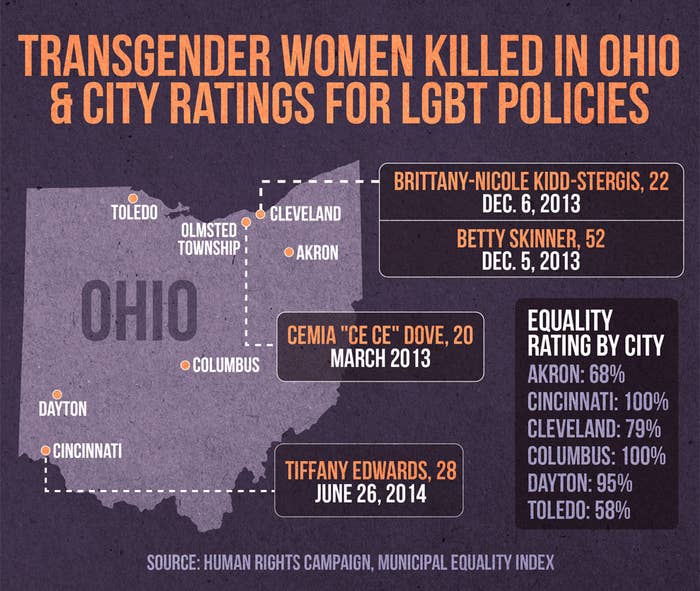 Speaking from her home in Cincinnati, Tomika Edwards said in a phone call this week, "I do know from raising a transgender child, it is rough. I have always been scared for my child's safety."
Her fears were realized in June, when her daughter, 28-year-old Tiffany Edwards, was shot to death. Her body was later found by a city sanitation worker. "Sometimes I can't even believe that it's happened," Edwards told BuzzFeed News. "I always tried to teach Tiffany, just because we love and respect you doesn't mean society always will."
Tiffany was among 12 transgender women killed in hate crimes within the past 12 months in the United States, according to the National Coalition of Anti-Violence Programs. Transgender women of color were the victims of 67% of all hate-motivated homicides of LGBT people in 2013.
Nov. 20 marks the annual Transgender Day of Remembrance, which memorializes victims of lethal hate violence. Most recently this year, 24-year-old Gizzy Fowler was killed on Nov. 12 in Tennessee, and 25-year-old Ashley Sherman was killed last month in Indiana.
Though violence against transgender people is widely considered a national epidemic by LGBT advocates, the state of Ohio has seen a particularly disturbing trend. Tiffany Edwards was the fourth transgender woman killed in Ohio in the last 20 months. Three of the victims were transgender women of color. The Buckeye Region Anti-Violence Organization (BRAVO) also reports 14 incidents of non-fatal hate-motivated attacks on transgender people throughout the state in 2013. Many attacks go unreported. Most recently in Ohio, on Nov. 3, Candice Rose Milligan, 33, was hospitalized after being beaten in broad daylight by a group of men who allegedly yelled, "That's a dude in a dress," the Toledo Blade reported.
"A lot of Tiffany's friends, they are harassed on a regular basis," Tomika Edwards said. "They won't even come out during the day — they will only come out at night because they are picked on and ridiculed. They were just impressed that Tiffany was so brave and would go out during the day."
Initial news stories about her daughter's death described Tiffany using male pronouns and her birth name. Police and prosecutors charged a suspect in the case who reportedly gave Tiffany a ride in his car and allegedly shot her. "But they decided it was not a hate crime," Edwards said. "I personally feel that it really is. Her friends also believe that it is a hate crime."
But Ohio's hate-crime law — which adds penalties for animus-motivated assaults against people due their race, religion, or national origin — lacks provisions for crimes targeting LGBT people. Likewise, Ohio's antidiscrimination law has no coverage for gender identity or sexual orientation. Edwards said, "If the hate-crime law applies to race and all these other things, I don't understand why it doesn't apply to transgender people."
LGBT advocates say this lack of legal protection, commonplace media coverage that disregards a transgender's person chosen gender, and little cultural competence by law enforcement all contribute to a mainstream culture in Ohio that treats transgender people as marginalized or invisible.
"There is a fear of transgender women," activist Jacob Nash told BuzzFeed News, "especially among men. They feel like their identity is hindered when they find a transgender woman attractive." He said those phobias can lead to crimes when men "want to get rid of the threat, get rid of what they don't understand."

Three other transgender women killed in Ohio within the last 20 months include Brittany-Nicole Kidd-Stergis and Betty Skinner, both killed within 48 hours last December in Cleveland. Cemia "CeCe" Dove was found dead in a surburb outside Cleveland. Her killer has since been sentenced to life in prison.
Still, the incidents have not alarmed local police.
"I haven't seeing anything that makes me think the transgender community is being targeted or victimized," said Sergeant Ali Pillow, a spokesperson for the Cleveland Division of Police. "I have seen individual cases," he explained, citing the homicides of Stergis and Skinner, "but not a large enough number to make me think there has been a spike or, as a community, that they have been targeted."
Sharon Stapel, executive director of the NYC Anti-Violence Project, which coordinates the National Coalition of Anti Violence Projects, acknowledged that certain transgender murders won't be charged as hate crimes, but said police need more training to consider the possibility of biased motives. "Given the epidemic rate of killing of transgender people in this country, it is foolish not to investigate every homicide of a transgender person as a potential bias homicide," she said. "If that analysis doesn't happen [at the scene of a crime], you lose a lot of the evidence you would need to charge a bias-related crime."
Police in Ohio have also frustrated LGBT advocates by naming victims with the wrong gender and quickly saying that cases are not being investigated as hate crimes. After the deaths of Stergis and Skinner, Cleveland police repeatedly told reporters the cases were not classified as hate crimes. A week later, while speaking at a forum with LGBT advocates, a deputy chief changed course, saying, "These are crimes of hate."
Sergeant Pillow told BuzzFeed News that Cleveland police hold off on designating a homicide as a hate crime until there is evidence gender identity played a role. "There are some incidents in which the gender never comes into play." He said police report the gender a person chooses to use if he or she is the victim of a crime. As for homicide victims, he said, police defer gender designations to the medical examiner.
But BRAVO's Aaron Eckhardt said Cleveland police dismissing crime rates against transgender people "reinforces long-standing tensions," adding that police departments across Ohio alienate people and witnesses close to victims with their language. "We hear from police departments that there is no reason to believe a crime is hate-motivated," Eckhardt said. "For us in the community, that sounds like an affront. Prior to any real investigation happening, it is used to deflect conversation. We would like to hear that they are investigating all possibilities."
Mis-genderinrg transgender victims continues when prosecutors file charges. In the case of Tiffany Edwards, her mother said, "Every time I go to court, they call her 'DeAndre.'" "That language," Edwards added, "doesn't bother me for me. It bothers me for Tiffany, because Tiffany would want to be referred to as Tiffany."
"Consistently we see law enforcement around the state mis-gendering trans people," Eckhardt said. "Calling someone 'he' and 'him,' when she is obviously identifying a woman ... directly impacts the community's willingness to engage with law enforcement and make sure people are held accountable for the crimes they are committing."

According to Eckhardt, part of the reason police may not notice rising rates of murders of transgender victims is that the cases are not classified correctly. Lacking a state felony hate-crime statute for LGBT people, there is no record of charges that could show offenses are spiking. As a result, "According to Ohio, there have been zero hate crimes committed against people in those categories," he said. Some cities in Ohio have hate-crime laws, he continued, but they apply only to low-level misdemeanors tried in municipal courts, not serious violent felonies heard in state courts.
FBI statistics from 2007 to 2012, according to a Ohio legislature fiscal note, found a record-high 63 hate crimes in Ohio in 2012 against people for their sexual orientation. There was no FBI data on transgender people for those years.
Data reporting could improve under a bill sponsored for the last four years by Ohio state Rep. Nickie Antonio — the first out lesbian state lawmaker and a Democrat — who wants to make bias-motivated attacks against LGBT people a hate crime, punishable by longer prison sentences. But Grant Stancliff, a spokesman for Equality Ohio, pointed out, "The bill hasn't moved and it doesn't seem like it's going to this session." He said bills like it have been at a standstill for a decade.
A bill to provide antidiscrimination protections for transgender people is stalled under the Republican-controlled legislature. Some Ohio cities have passed such laws, but, Stancliff said, "We are having trouble at the state level getting that passed as well."
Transgender advocates say both bills would promote a broader culture of equality to help quell violence, but neither appears to have traction, particularly given that a GOP majority won more seats in the Ohio legislature this month. Neither Rep. Antonio nor the incoming House speaker, Republican Cliff Rosenberger, returned calls seeking comments about the prospects for the bills.

LGBT activists have been particularly alarmed by what they see as disparaging media coverage of crimes against transgender people in Ohio, with the media watchdog group GLAAD calling reporting on the killing of Dove "horrific." The Plain Dealer in Cleveland called her body an "it." The paper ran another headline that said, "Oddly dressed body found in Olmsted Township pond," while a local Fox affiliate ran the headline "Police Identify Man Found in Pond." According to a post on the blog TransGriot, transgender advocates wrote a letter to the Plain Dealer complaining about the coverage.
Eckhardt says articles like these and comments from police about "a man found murdered in a dress" contribute to conversations "about whether this person should have been murdered, and we get back to the victim-blaming."
Some LGBT advocates speculate that transgender people have been the target of rising violence in response to their rising prominence in mainstream society, from TV shows to passing antidiscrimination legislation. "One of the things happening in Ohio now, we are kind of pushing the envelope, increasing visibility," Eckhardt said. "As the progressive edge moves forward, there are people who push back."
Much of that progress is happening in cities. The Human Rights Campaign issued a Municipal Equality Index report in October that found many Ohio cities, including Cincinnati and Columbus, had high scores for passing LGBT rights laws.
In one case of an Ohio city leading on transgender rights, Cleveland City Council Member Matt Zone told BuzzFeed News on Nov. 14 he is confident the city will pass a measure that would allow transgender people to use the use public bathrooms of their choice — a transgender woman could use the women's room, for example — without discrimination.
"We have enough votes on council to pass this," Zone, one of the co-sponsors, told BuzzFeed News.
But in an example of pushback, a pastor bused religious conservatives to Cleveland City Hall to testify against the measure and critics made phone calls and sent emails to council members "laced with hate and contempt," Zone said.
The Cleveland City Council is planning hearings on the bill, possibly reaching out to churches, through the end of the year. "By having these conversations, we will make Cleveland and Ohio more tolerant and accepting," Zone said. "That is what I am hoping will come from this legislation — that we move the needle on tolerance and acceptance. We will have a thoughtful conversation, and in early 2015, we will absolutely adopt this ordinance."
Nash, who also is president of the board for the nonprofit Margie's Hope, which assists transgender people with housing and employment, acknowledges that speaking up on behalf of transgender people can incur violent backlash. But, he said, "I need to speak up as a transgender man, because too often transgender people are not even discussed."
"Transgender people are disrespected in life," Nash added, "and then they are disrespected even more in death."