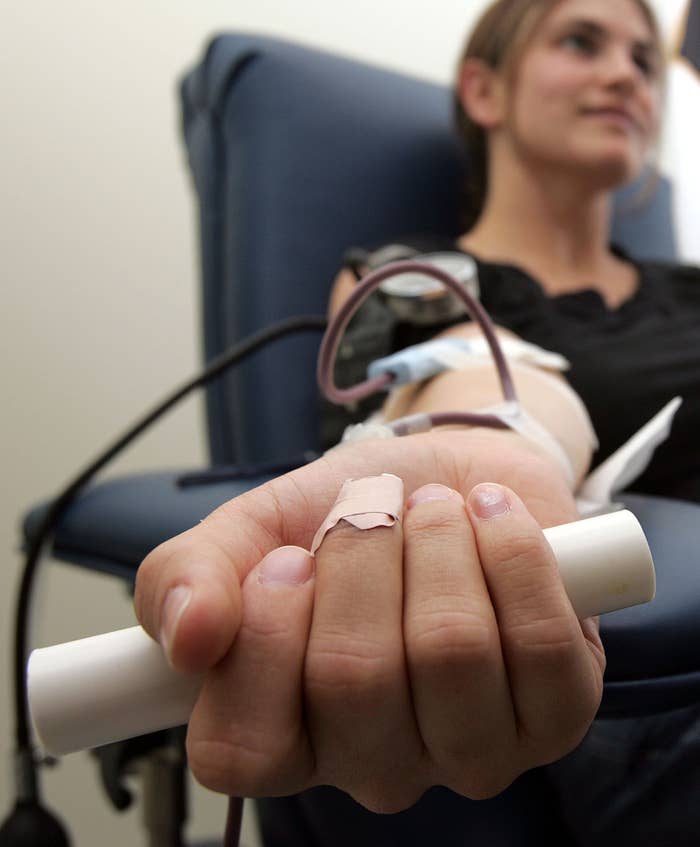 A federal jury in Minnesota has ruled against a transgender woman in a leading case over discrimination at a blood bank.
Although the jurors agreed that CSL Plasma turned away Lisa Scott because she is transgender, they also believed the company had a legitimate business reason to do so.
"CSL Plasma is pleased with the court's favorable decision," Robert Mitchell, the director of marketing for CSL Plasma's U.S. operations, told BuzzFeed News on Friday.

The jury's March 9 verdict does not set a legal precedent like a judge's opinion would, but the decision raises questions about the viability of similar claims of discrimination at blood banks, including a lawsuit by another transgender woman against the same plasma company in Washington State.

Blood banks turn away transgender people routinely around the country, attorneys and LGBT advocates told BuzzFeed News.

John Klassen, a lawyer for Lisa Scott, who filed the case, explained, "This is a hard case to win."
The case highlights a tension between nondiscrimination laws and murky rules for blood donations.
Florida-based CSL Plasma had argued in court briefs that federal rules ban all transgender people from donating blood, and that transgender people a have higher rate of HIV than the general population.

CSL's Mitchell explained by email on Friday, "Our position is always to follow the guidance provided by regulators such as the Food and Drug Administration and other government agencies to ensure the safety of the plasma we collect."
But Klassen contended that here is no such federal policy banning transgender people from donating blood. He stood by the lawsuit's allegation that CSL Plasma violated a Minnesota state law that prohibits businesses open to the public from discriminating against transgender people.
He said that the verdict form used by jurors should have asked whether the company's ban on transgender donors broke that state law — not if there was a business interest.
"We are very disappointed," Klassen continued, adding that the judge chose the verdict form's questions and the case was before "a very conservative jury."
"When the judge asked what social and civic groups jurors belonged to, I think 10 out of the 12 said they are active in their church," said Klassen. "That is not going to be the most favorable jury pool for a claim like this."
The case started in 2008, when Scott visited a CSL Plasma center in Minneapolis, according to records in U.S. District Court. When a nurse found out Scott was transgender, the nurse allegedly told Scott, "You people can't give plasma … We can't take plasma from your type."

The nurse also allegedly said that Scott had "taken part in risky behaviors."
The Minnesota Human Rights Commission found the blood bank had violated the state's human rights law.
"Our position is always to follow the guidance provided by regulators," said CSL Plasma.
But lawyers for CSL Plasma appealed that decision, saying in court briefs the company was following guidance from the FDA that says men who have had sex with men anytime since 1977 cannot donate blood. CLS Plasma argued that ban also applied to all transgender people.
But the FDA has not been clear whether the ban applied to all transgender people — on its face, the ban did not address transgender people at all.
After the FDA relaxed the ban applying to gay men in December, FDA officials said explicitly that trans people are not banned.
Moreover, Scott's lawsuit argued the ban should not apply to her because she has never had sex with a man. "At no point, either before or after her transition process, has [Scott] ever been a gay man or engaged in any sexual contact with a man," her lawsuit said.
In court proceedings, CSL Plasma did not present evidence that shows that transgender people who have never had sex with a man have a high rate of HIV. And the company did not respond to questions from BuzzFeed News about whether there was a ban in its case in Washington State.
In that case, Jasmine Kaiser — another transgender woman who says she has never had sex with a man— has an ongoing similar claim in state court against CSL Plasma.

Klassen said the jury's verdict in Minnesota creates "a dangerous and slippery slope" for blood banks to turn away people, even if the law protects them from discrimination, based on assumptions instead of risky behaviors.
He added there is "still a window" to appeal the verdict.