Transgender Woman Detained At Airport Slams Latest Claims From TSA
Shadi Petosky told BuzzFeed News in an interview, "If a whole class of people is being singled out for extra screening — if one culture has to expect extra screening — it is discriminatory."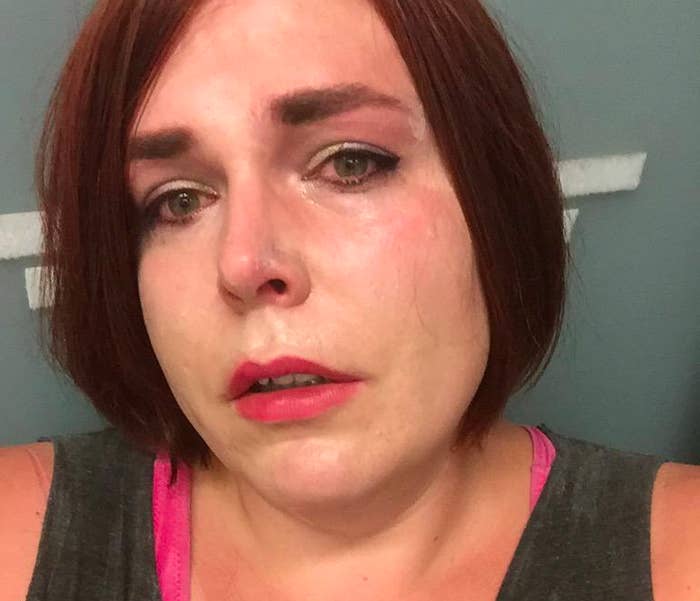 A transgender woman who says TSA agents called her a man and held her for a lengthy security inspection due to her genitals at the Orlando airport on Monday — missing her flight as a result — is pushing back against the agency's announcement that its officers complied with standards.

In an interview with BuzzFeed News, Shadi Petosky said, "If their standards include flagging transgender people's genitalia as a security risk, then they really need to update their standards."
Petoksy, who tweeted her ordeal as it happened, said an otherwise routine security check got strange after she entered a body scanner. "When I stepped out, they said they had detected an anomaly," she said in a phone interview Tuesday. "I told the officer that I was transgender and that was my penis."
"So then the officer said something like, 'You are a man, I should have scanned you as a man then.' Which I though was very denigrating," Petosky said. "Then he kept asking me if I was a man or a woman."
Petosky said officers detained her for a further inspection — including a pat down around her groin with the back of an agent's hand — that lasted about 40 minutes, long enough to miss her flight. She was still stuck on a layover in Miami nearly a day after the incident, waiting for a connecting flight to Minneapolis, while she reflected on the larger issue facing transgender passengers.
"If a whole class of people is being singled out for extra screening — if one culture has to expect extra screening — it is discriminatory," she said.
On Twitter, Petosky, a television comedy writer, shared the incident in real time:
Transportation Security Administration spokesman Mike England insisted on Tuesday morning that federal agency's officers working in airports around the U.S. "are trained to properly screen members of the transgender community."

As for Petosky's claims, he said, the administration "takes all potential civil rights violations very seriously and conducted a review of the incident."
"After examining closed circuit TV video and other available information, TSA has determined that the evidence shows our officers followed TSA's strict guidelines," the TSA's national spokesman's statement continued. "Supervisory personnel and a Passenger Support Specialist participated in the screening to ensure guidelines were met."
England pointed to a brief Q&A statement on TSA's website that says transgender passengers could be screened in private rooms.
But despite requests from BuzzFeed News, England did not provide details of the additional "strict guidelines" that agents purportedly use with transgender passengers or explain how those officers are trained to properly screen trans passengers.
Petosky didn't lose her sense of humor at the airport:
But she was frustrated.
Experiences like Petosky's have long been a concern for transgender advocacy groups, including the National Center for Transgender Equality, which joined in a lawsuit calling on TSA to complete a body scanner rule. The group has also pointed out that TSA procedures could force travelers to out their transgender status.
Part of the trouble for Petosky, she told BuzzFeed News, was that TSA scanners appear to be equipped with two buttons — a pink button for female passengers and a blue one for male passengers. (A photo of the screen agents reportedly use is here.)
"Anybody who doesn't fall into gender stereotypes gets flagged," she said.
TSA did not answer questions from BuzzFeed News about how passengers are scanned based on their sex or how the scanning machinery is used on different sexes.
Petosky, who travels often and has identified as transgender since the age of five, was stunned by TSA's behavior and called on the agency to release the guidelines used by staff for transgender passengers.
"I thought they would know how to talk to transgender people if this ever happened," she said. "They see naked bodies all the time — so they must be seeing our bodies."
"When my story went public, a lot of people are said that they have had very similar experience, so I think it's time for TSA to work with transgender organizations so this doesn't happen to other passengers."