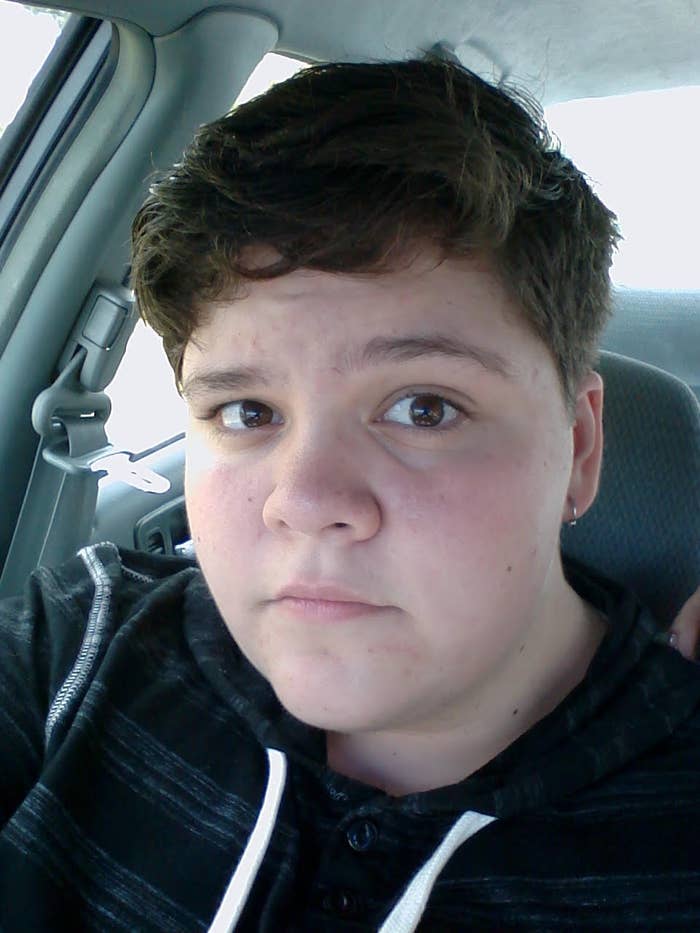 A transgender teenager in rural Virginia is taking his case to the U.S. Department of Justice, arguing in a complaint that the Gloucester County School Board violated his rights by approving a policy this month prohibiting students from using restrooms that do not correspond to their "biological genders."
The complaint, sent Thursday, argues the school board ran afoul of Title IX, a 1972 law that bans gender-based discrimination, which has been interpreted recently to protect students from discrimination based on their gender identify.
"I felt like it was my moral responsibility to stand up for the rights of all transgender students, as well as my own," the 15-year-old sophomore told BuzzFeed News.
Lawyers at the American Civil Liberties Union sent the complaint, which cites a slew of legal decisions and precedents. "Federal courts have made clear that the protections in Title IX from discrimination based on 'sex' include discrimination based on gender identity or transgender status," the lawyers write.
However, it was Grimm's decision to pursue the complaint. "I am not afraid at all. I am not afraid of any discourse within the community," he said. "My hope is that as a result of this complaint, there will be a formal policy within Gloucester County Public Schools that protect the rights of transgender students."
Starting in October, Grimm had been allowed by teachers and administrators at his high school to use the boys restroom. But the school board intervened at a standing-room-only meeting on Dec. 9 by passing a policy that, while apparently singling out Grimm, has the practical effect of banning all transgender students from using the restrooms and locker rooms that reflect their gender identity. When he returned to school, Grimm said his principal said he must use a unisex restroom or the school nurse's office restroom.
"I go to [the] nurse's office," Grimm said. "It's a lot easier to pretend you are in the nurse's office for a headache. Otherwise, people will see me go into the unisex bathroom and that is humiliating for me, and I won't do it."
"When a school district accepts federal funds, it does so on the condition of following federal laws," school board member Kimberly Hensley, who is also an attorney, told BuzzFeed News before the complaint was filed. She cast the only dissenting vote on the seven-member school board. "I truly believe we are in violation of Title IX and at risk of losing our federal funding."
The complaint explains: "As a practical matter, the 'biological gender' policy at [Gloucester County Public Schools] significantly interferes with the ability of Gavin and other transgender students to fully participate in daily school activities because it singles out transgender students for different treatment and forces them to travel to separate facilities which are often further away and inconveniently located whenever they have to use the restroom."
The Gloucester County Public School (GCPS) school board "apparently adopted the policy in order to protect the privacy rights of boys who are not transgender and guard against the possibility that transgender boys would look at other boys' 'private parts,''' the complaint says. "If any student — whether transgender or not — violates another student's privacy in the restroom, GCPS can and should take appropriate action. But there has not been any complaint that Gavin has engaged in misconduct, and stated privacy concerns appear to be nothing more than irrational prejudice or stigma against transgender people."
Although Grimm is prepared to be the center of public discussion, some of the discourse thus far been unkind, according to the letter directed to the education section of the Dept. of Justice's Civil Rights Division. The school board meeting on Dec. 9 included public testimony that called Grimm "a girl" and "a freak," the letter says.
"Indeed," the complaint goes on, "the stigmatizing policy breeds or fosters gender-stereotype-based hostility toward Gavin from his peers, which [the school district] has an obligation to protect him from instead of encouraging."
One of the country's leading religious freedom organizations has offered to defend the policy. Jeremy Tedesco, senior counsel for Alliance Defending Freedom, told BuzzFeed News that one day before the complaint was filed, his group "offered to assist the district should it face legal action."
"No federal law requires schools to treat their bathrooms, locker rooms, or showers as genderless facilities," Tedesco said. His group supports the school board's vote and has a history of butting heads with the ACLU. "Indeed, the idea that reserving a girl's locker room for girls violates Title IX is a tortured reading of the law."
Tedesco continued: "No policy should be tailored to a few students at the expense of every other student. Schools can accommodate a small number of students with different needs without compromising the rights of other children and their parents. No child should be forced into an intimate setting — like a bathroom or a locker room — with another child of the opposite sex."
Neither Randy Burak, chair of the Gloucester County School Board, nor the other five board members who voted in favor of the policy responded to questions from BuzzFeed News about the claims in Grimm's legal complaint.