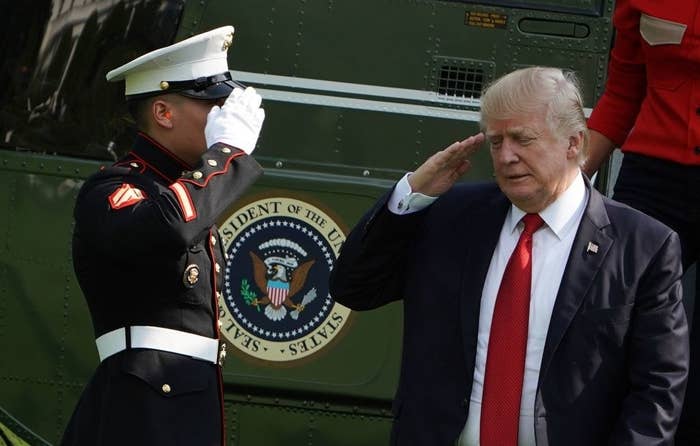 In Fort Polk, Louisiana, a 27-year-old Army sergeant had a doctor's appointment to prepare for her gender-transition surgery, until the Department of Defense abruptly canceled it on Sept. 8.

At an air base in New York, a technical sergeant who's served more than 30 years in active duty and reserves suddenly fears she will be discharged and lose the income that supports her three kids.
Meanwhile, a 25-year-old senior airman in the Air Force, stationed stateside after a deployment to Qatar, was scheduled for a hysterectomy in August until medical command put the procedure on hold indefinitely.
These transgender soldiers — and more like them — share their stories as part of a motion filed in US District Court on Thursday, which says President Trump's recent policy to ban transgender military service is already derailing careers, even though military leaders won't officially enact the policy for several months.
Some media reports had claimed Defense Secretary James Mattis essentially froze Trump's new rule in late August, which created a misconception that the Pentagon eclipsed the president's authority. In fact, Trump's memo ordered the ban to take hold on March 23, 2018; the Pentagon has until then to make rules for implementing it — and the policy is on track.
But numerous transgender soldiers, represented by lawyers at the ACLU, are asking a federal judge in Maryland to suspend the rule immediately, arguing it's causing harm now.
"I have feared for my career...I have never considered another career," says a declaration by Kate Cole, the 27-year-old sergeant, who enlisted at the age of 17 and says she came out as transgender in good faith that she could could remain in the ranks.
"All gender transition-related surgeries, including my own, had been put on hold."
Trump's policy threatens her health care and her German wife's immigration status, Cole says, adding, "I had no clue that my career would be in jeopardy a year later, because I had trusted the government when I 'came out' as transgender."

"I have also been denied approval of medically-indicated surgical treatment, including gender confirmation surgery," Cole says. "On September 8, 2017, my scheduled Department of Defense medical consultation for an orchiectomy was canceled. I was told by DoD medical personnel that there is no transition-related surgery at this time, and it is not certain if, and when, such surgery will be allowed."
Trump had announced the ban in a series of tweets in July, followed by a memo last month that said the Obama administration "failed to identify a sufficient basis" to lift a previous ban on transgender troops. That White House memo said Obama's officials hadn't proved transgender service members "would not hinder military effectiveness and lethality, disrupt unit cohesion, or tax military resources."
The plaintiffs filed their suit in August, arguing Trump's ban violated their Fifth Amendment rights to due process and equal protection. But their motion for a preliminary injunction on Thursday offers their first testaments to the ban's impact so far.
One of the plaintiffs, the 25-year-old senior airman in the Air Force who is identified as Doe, was scheduled for a hysterectomy last month, when Trump's policy was rolled out.
"I received an email from the medical command at the base where I was scheduled to undergo surgery informing me that all gender transition-related surgeries, including my own, had been put on hold pending further DoD guidance," the senior airman's declarations says.
"As a result," he continues, "I cannot prepare for the future at all. I do not know what kind of medical care I will be able to get while in the military, if any."
Tommie Parkera, the 54-year-old technical sergeant in the Air National Guard, says she has been preparing for retirement as her kids approach college.
"We have three children, so my whole family relies on my military income."
"I have worked my whole career to be able to retire with honorable discharge benefits from the military," her declaration says. "My wife works only part-time, and my whole family relies on my military income o my whole family relies on my military income...I would need to find a new career, which would be extremely challenging at my age."
Their court papers argue transgender people have been subjected to discrimination, and that the ban is a form of sex discrimination, thereby heightening their status as a protected legal class. Further, their lawyers say, Trump had no rational basis for the ban, and they argue he was motivated by animus.
"The ban is having an immediate, concrete impact on the lives of our plaintiffs and thousands of other military members who are transgender," Josh Block, an ACLU staff attorney, told BuzzFeed News. "From your duty-assignment plans, to promotions, to taking care of your family — if you know you'll be out of a job in a couple months, you can't go about your daily life the way you were before."
He said a preliminary injunction is required "to stop this irreparable harm from continuing."
The Williams Institute at the UCLA School of Law estimates that there are more than 15,000 transgender troops in the US military, while the RAND Corporation estimates that there are between 1,320 and 6,630 transgender personnel in the active service, and between 830 and 4,160 in the selected reserve.
Teagan Gilbert, a 31-year-old petty officer in the Navy, says in a declaration that she "planned to serve in the Armed Forces for the rest of my career."
If Trump's trans troop ban is fully implemented, she says, "I will lose not only my own health care but also health care for my six-year-old son. I have sole custody of my son, and I am his only financial provider."
Other lawsuits over the ban are also proceeding in federal courts, including a case in Washington state led by attorneys at Lambda Legal and OutServe-Servicemembers Legal Defense Network. The National Center for Lesbian Rights and GLBTQ Legal Advocates and Defenders filed suit on behalf of several more transgender service members.