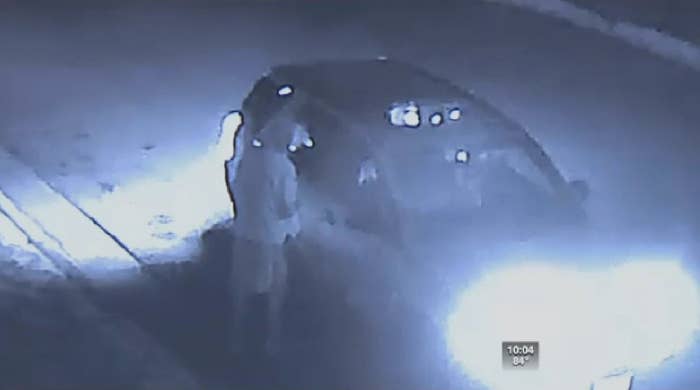 K.c. Haggard, 66, was fatally stabbed on Thursday morning in the streets of Fresno, California, making Haggard the second transgender person killed in the United States this week.

"We are so often targeted for who we are," Karen Adell Scot, who runs a group called TransCare in Fresno, told BuzzFeed News. "People are frustrated that this is happening again and again and again. We are often hated, misgendered, ostracized, violently attacked, and murdered."

Local television station KMPH obtained video of the attack and its aftermath from a nearby tattoo shop. The footage shows a vehicle slowing near Haggard, who was wearing a dress, wig, and white cardigan.
After Haggard was apparently called over to the SUV, Haggard began to speak to the occupants, and someone in the passenger seat jabbed a knife into Haggard's throat. The vehicle drove off while Haggard staggered away and tried to flag down cars for help. None stopped, and Haggard fell to the sidewalk. At least three people approached Haggard on the ground, but they, too, left without offering assistance or calling 911.
"All I know is that it was a male dressed as a woman," said Lt. Joe Gomez, a spokesman for the Fresno Police Department.
Haggard appears to be the 11th transgender person killed in a homicide this year, an exceptionally high number that has alarmed anti-violence advocates trying to understand what is driving the epidemic.
The first challenge in these cases, including Haggard's, is determining the victims' gender identity, when many police departments insist on identifying them by their birth sex.

KMPH showed Scot the full video of the incident, she said, and it shows the vehicle carrying the alleged assailant repeatedly driving past Haggard and several other people, turning around twice before pulling up near Haggard. Scot, who believes Haggard is a transgender woman, said, "They chose her."

Scott organized a vigil Thursday night at the central Fresno intersection where Haggard was killed. She said mourners there believed Haggard used the name K.c. after coming out recently as transgender.
But police, who are searching for a suspect in the murder, do not concur that Haggard was a transgender woman.
"All I know is that it was a male dressed as a woman," Lt. Joe Gomez, a spokesman for the Fresno Police Department, told BuzzFeed News. Police have identified the victim as a man by the name Kenton Haggard.
BuzzFeed News found a Facebook profile for Kenton Haggard, who uses male pronouns, and a profile for K.c. Haggard, who uses female pronouns. The two profiles have overlapping life histories — including the same college, hometown, and residence in Fresno. Neither profile has a photo.
"All I know is that it was a male dressed as a woman," said Lt. Joe Gomez, a spokesman for the Fresno Police Department.
The male profile also includes a post from March aimed at transgender women to visit a local bar and signed with the name K.c. "Hey calling TG girls amber says we can hangout there. C U there. K.c. Haggard," the post says.
Zoyer Zyndel, a co-chair of the group Trans-emotion, said he did not have a solid conclusion about Haggard's gender identity. But he told BuzzFeed News that based on witness accounts and the video showing Haggard presenting as female, "As far as I know, it was someone who was a transgender woman."

But Lt. Gomez said even if investigators do conclude that Haggard was targeted for being a transgender woman, Gomez said, police would "probably not" share Haggard's gender identity for privacy reasons.
"It could be a factor but I don't think we would release that he or she is transgender," Gomez said.
Asked if Haggard's gender identity may be a factor in the homicide, Gomez said it was possible, and he brought up the subject of sex work. Gomez said, "Well if that is the case, then we are going to look at certain people, if we can confirm that was happening — prostitution."
BuzzFeed News asked if there was any link between the homicide and sex work. "There is no information that the victim was involved in prostitution," he said.
Misgendering transgender victims and linking them to sex work is commonplace in cases like these across the country, even when there is no evidence that sex work is linked to the crime. Anti-violence advocates say this alienates people who may know the victim and could provide information to help find the assailant.
"We are immediately assumed as sex workers," Scot said. "It's a common bigoted assumption."
Police dismissing a victims' gender identity is also problematic, Scot said. "If you don't identify a person properly, you don't get access to large amount of information about what actually happened. It would help in a lot of different ways to identify a motive."
But Lt. Gomez diagreed: "They pulled up and stabbed [Haggard]. I don't
see how that would help to identify him as transgender," he said.
India Clarke, whose death was reported Tuesday in Florida, was similarly called a man and associated with sex work by law enforcement, who provided no evidence that sex work was a factor in the killing. Clarke was the 10th transngneder woman killed in the U.S. this year.
"We are immediately assumed as sex workers," transgender advocate Karen Adell Scot said. "It's a common bigoted assumption."
Last year, 11 transgender women of color were killed; just over halfway through 2015, 9 transgender women of color have been confirmed killed in homicides, including Clarke.
While hate-motivated violence against LGBT people dropped 32% overall in 2014 compared with the previous year, hate-motivated violence against transgender people rose 13%, according to a report released in June by the National Coalition of Anti-Violence Programs.
"We are outraged by the homicide of two transgender women in the U.S. within three days, and we mourn the loss of K.c. Haggard and India Clarke," Shelby Chestnut, who is co-director of community organizing and public advocacy at the New York City Anti Violence Project, in a statement. "There can be no more bystanders in this epidemic of violence against transgender women — we all must actively support transgender women's leadership and their safety."
Police are asking for help finding Haggard's killer. They say the vehicle involved is a Saturn SUV with a moon roof and unidentified markings on the front passenger's door. Police say that if the vehicle is seen, tippers should call the Fresno Police Department or Crimestoppers at 498-STOP (7867).