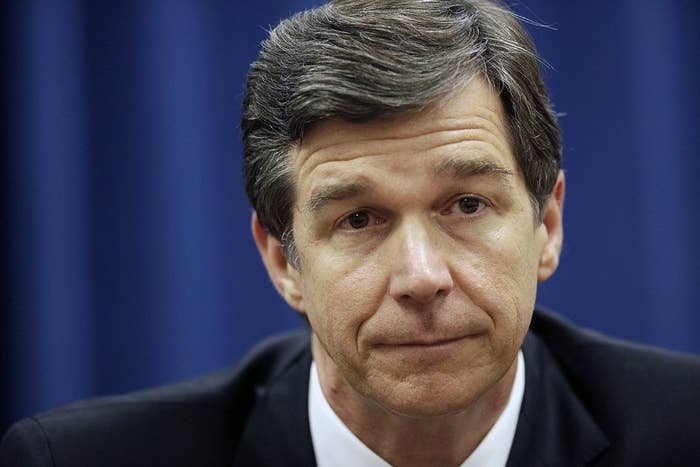 Several transgender people in North Carolina took action in federal court against the governor and other state officials on Friday over a new law they say restricts access to bathrooms, arguing the policy violates their constitutional and civil rights.

This may sound familiar — and you're right. A lawsuit last year raised similar claims. But this time, the expanded complaint in US District Court targets a new state law — which replaced a previous bathroom law — and the top defendant is now a Democrat.
In 2016, North Carolina Republicans in the General Assembly voted to restrict transgender people's access to restrooms through a bill known as HB2, leading to a cascade of boycotts and lawsuits. The backlash also contributed to the defeat of Republican Gov. Pat McCrory, who had been an ardent supporter of the bill.
Upon taking office this year, Democratic Gov. Roy Cooper started working across the aisle with Republicans on a deal to repeal HB2. They agreed on a compromise to replace it in March with a new law — saying it could bring business back to the state — but a court filing on Friday said the new policy commits similar offenses to the first one.
Known as HB142, the policy approved in the spring did two things: It blocked cities and counties from banning LGBT discrimination until 2020, and it prevented those local jurisdictions from enacting ordinances that let transgender people use restrooms matching their gender identity.
Cooper hailed the policy as a step forward in March, saying in a speech, "This law I'm signing today is not just about North Carolina's reputation — or jobs and sports. It's about working to end discrimination ... This is not a perfect deal or my preferred solution. It stops short of many things we need to do as a state."
But the suit, backed by lawyers at the American Civil Liberties Union, contends that preventing cities from shielding transgender people from discrimination in restrooms is tantamount to endorsing that discrimination. The suit argues, "Transgender individuals cannot safely use single-sex, multiple-user restrooms in government-controlled buildings in North Carolina."
It concludes that this violates federal laws protecting people on the basis of sex in workplaces and schools, known as Title VII of the Civil Rights Act of 1964, and Title IX of the Education Amendments of 1972. Further, the lawsuit says, the new law violates the Equal Protection Clause of the 14th Amendment.
The plaintiffs note that state Rep. Kevin Corbin said HB142 "is not a repeal of HB2 ... The bill clearly states that city councils like Charlotte and other government entities cannot regulate access of multiple occupancy restrooms, showers, or changing facilities ... What this essentially means is that the restroom provision of HB2 remains."
Gov. Cooper's office didn't respond to allegations in the complaint, but a spokesperson told BuzzFeed News, "The Governor's ultimate goal is statewide LGBT protections and he is going to continue working toward that."
In addition to suing Cooper, the activists also name other branches of state government as defendants: the University of North Carolina, and North Carolina's departments of Administration, Health and Human Services, and Transportation.