Transgender People In California Could Pay A $4,000 Penalty For Using Certain Restrooms
The Personal Privacy Protection Act initiative, if passed, said people could only use restrooms in government buildings that correspond with their birth sex.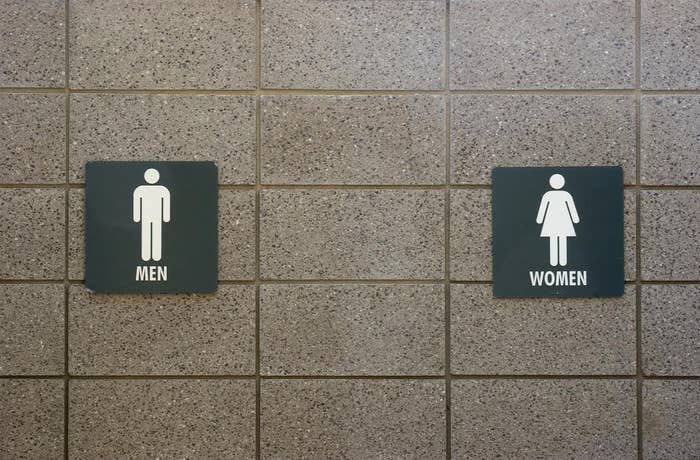 An initiative filed Friday in California would ban transgender people from using single-sex restrooms in government buildings that correspond with their gender identity. The group pushing the measure argued it's a matter of preserving privacy and public safety.
Every person inside a restroom at the time of an unlawful entry "whose privacy was actually violated" could sue the alleged interloper for a minimum of $4,000 in damages – plus attorneys fees, according to the Personal Privacy Protection Act.
In addition, every person who declines to enter a facility because a transgender person is inside could also file a civil suit.
The initiative, which is still in its earliest stages, is the latest in an apparent backlash against recent and significant gains by the LGBT-rights movement — a backlash that has often deployed arguments that LGBT nondiscrimination laws provide cover for male sexual predators masquerading as women to prowl women's restrooms.
This year, legislatures in Florida and Texas have proposed bills similar to the one in California. And a campaign this month in Springfield, Missouri, successfully repealed a nondiscrimination law there after arguing cross-dressing men could lurk in the ladies room.
Not only inviting pushback from LGBT advocates, California's newly filed Personal Privacy Protection Act could clash with federal interpretation of Title IX, which bans gender discrimination. In several high-profile fights, the Obama administration has applied Title IX to mandate that trans students in public schools be allowed to use facilities that reflect their gender.
Without mentioning transgender people specifically, the Personal Privacy Protection Act states that "a person shall use facilities in accordance with their biological sex in all government buildings."
If approved, the law would apply to restrooms, showers, dressing rooms, and locker rooms in any structure owned, rented, or occupied by any level of state or local government — including schools and universities.
The initiative does not apply to private businesses, but it does protect private businesses that enforce "biological sex" rules in their restrooms. The measure says nobody can sue a business for requiring people to use restrooms that accord with their biological sex.

The California attorney general's office must give the initiative a summary and title, and proponents must gather 365,880 valid signatures from California voters. If the initiative meets those requirements, it will appear on the fall 2016 ballot.
The initiative's sponsor, Privacy For All, did not respond to questions Monday from BuzzFeed News.
Privacy For All is the evolution of the Privacy for All Students campaign, led by Karen England. That was an effort to repeal a 2013 law passed by the California legislature, which allowed students to use single-sex school facilities that reflect their gender identity. Proponents collected hundreds of thousands of signatures but many were found invalid and the referendum is tied up in court.