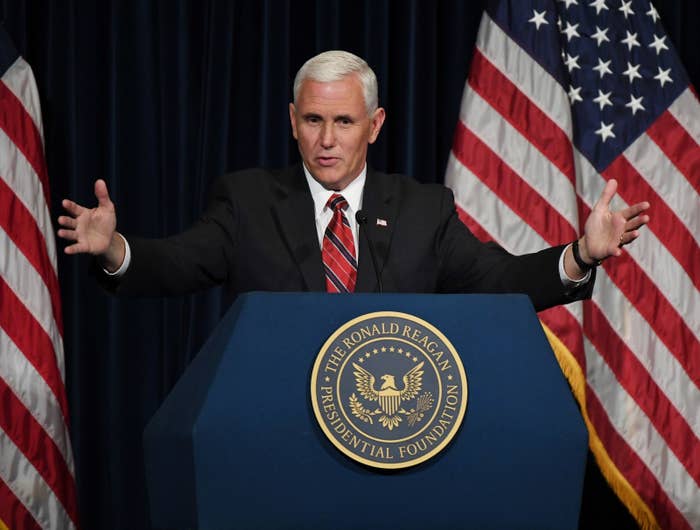 A transgender immigrant from Mexico who's been granted asylum in the United States sued three Indiana officials Tuesday, including Donald Trump's running mate, Gov. Mike Pence, for enforcing a state law that denies him the right to change his female birth name to his current male name.

At issue is a state policy, passed in 2010, that bans people who are not US citizens from changing their legal name, thereby blocking them from updating names on identification cards and other records.
The law applies to noncitizens who are not transgender, as well — though the lawsuit filed in US District Court in the Southern District of Indiana alleges that the policy causes transgender people particular hardship because it involuntarily outs them and subjects them to public humiliation.
The plaintiff identifies himself in court filings as "John Doe, formerly Jane Doe" in order to remain anonymous, because he fears he will be targeted if people know he is transgender. He is 31 years old, married to a woman, and has a child. In August 2015, the United States granted Doe, who has lived in the country since the 1990s, asylum from Mexico.

He spoke to BuzzFeed News by phone Tuesday.

"It is embarrassing to present an ID that doesn't show who I am," said Doe. "It shouldn't be be this hard just to be yourself."

Citing a recent example, he said, "A couple weeks ago, I had to call insurance company to change records, and they wouldn't talk to me because they said my voice doesn't match my name. I had to go through different procedures to show it was me."

The suit was filed by lawyers at the Transgender Law Center and the Mexican American Legal Defense and Educational Fund.
The complaint asks the court to find the law violates the man's due process, equal protection, and privacy rights under the Fourteenth Amendment, and violates his right to free speech under the First Amendment. He is asking the judge to block the state from enforcing the law.

Pence was not in office when the law was passed, but he made passing a religious freedom law a signature of his term in office. Trump and Pence have made strict laws for immigration a cornerstone of their campaign.

In addition to Pence, defendants in the case include Indiana Attorney General Gregory Zoeller and Marion County Clerk Myla A. Eldridge. None of the defendants immediately responded to BuzzFeed News' request to comment on the allegations in the complaint.

Doe was able to change the gender marker on his official government documents to male, the complaint says, but due to the Indiana law, his name must remain female. As a result, he argues, he has been exposed to painful experiences.

The lawsuit cites three examples when having a female name on an ID, even though he presents as male, became a humiliating issues. In one case, in 2013, he had to show his ID when he visited as hospital emergency room because of pain and immobility in his neck and shoulder.

"The hospital staff was confused when they first saw his ID," says the suit. "Once they realized that Mr. Doe is transgender, though, their confusion turned to ridicule. Five of the nurses gathered around to laugh at Mr. Doe. Mr. Doe's doctor was more professional, and he eventually received treatment. Mr. Doe's wife was furious about the incident, but Mr. Doe was too embarrassed to raise the issue with hospital management. No one from the hospital ever apologized to Mr. Doe or his wife for the degrading treatment he received."

Speaking to BuzzFeed News, Doe said, "I hope I will be able to help everyone else and myself."