This is Kelly Herron, who lives in Seattle.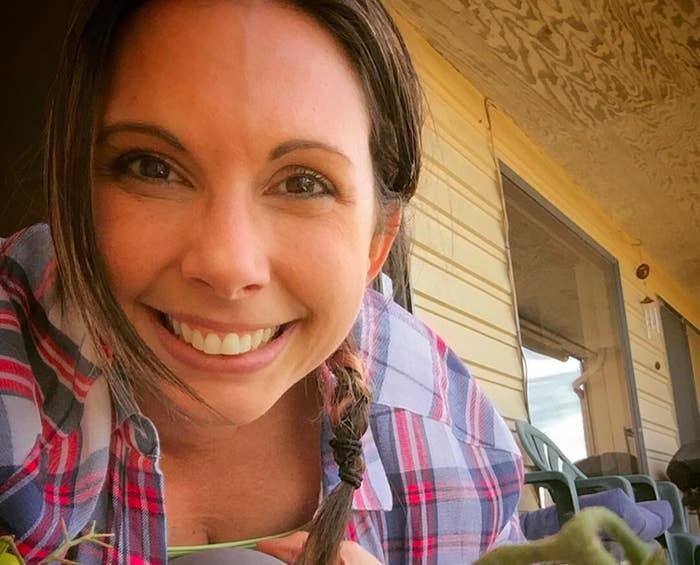 Herron, 36, was on a run Sunday afternoon when she stopped to use a bathroom at Golden Gardens Park. Inside, a man who had been hiding in a stall attacked her. But Herron fought back.
"Not today, motherfucker!" she yelled as she hit and kicked the man into submission.
In a post on Instagram, she recalled "clawing his face, punching back, and desperately trying to escape his grip — never giving up." She managed to lock the man, a registered sex offender, in a bathroom stall until police came to arrest him.
"My face is stitched, my body is bruised, but my spirit is intact," Herron said. In a phone call with BuzzFeed News, she added, "This was a sexually motivated assault by someone who bashed my head. I'm traumatized."
Her story about fighting back was an inspiration to people across the country. But a group in Washington state called Just Want Privacy noticed Herron's story and used it to raise money.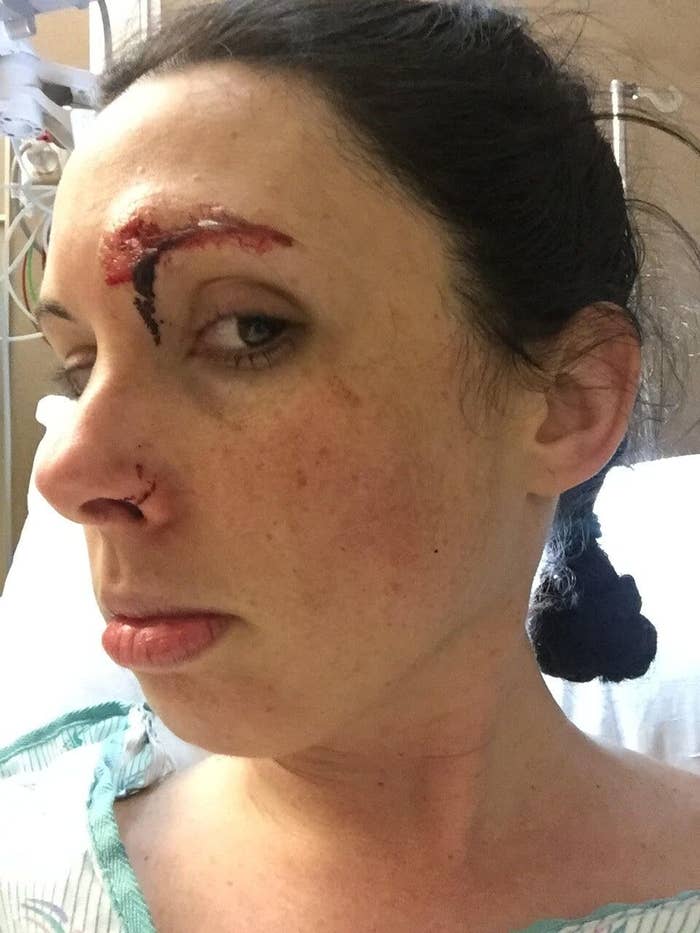 The group sent supporters an email featuring Herron's photo and argued that the attack showed that the state should repeal protections for transgender people.
The group is running a ballot initiative to overturn part of a law that allows people to use restrooms that match their gender identity.

The email from Just Want Privacy said, "Each week yields new stories of deviant men who found ways to access female's vulnerable spaces in order to exploit them."
The group's email argued that men engaged in nefarious activities prove that transgender-rights laws pose a threat, but they cited no examples of nondiscrimination laws actually enabling or being used to defend any such attack. The group also called transgender women "men."

The campaign then used Herron's story to ask for volunteers and donations.
"I was more pissed off about that than I was about the incident itself," Herron said.

She disagrees with the group's position and never gave them permission to use her photo.
"They're exploiting me," she said. "It's a complete violation of the trauma that I endured and am recovering from in the name of discriminating against transgender people."
She was so pissed off, she decided to turn the tables for the second time in a week. On Thursday, Herron sent an email on behalf of a campaign in favor of transgender rights, Washington Won't Discriminate, which is trying to keep the transgender-protection law on the books.
"To the people behind I-1552, I say, 'Not today, motherf*ckers," she said in the email, referencing what she told her attacker. "I refuse to allow anyone to use me and my horrific sexual assault to cause harm and discrimination to others."
Repealing transgender rights wouldn't prevent the attack on her, she added.

"It's already illegal to enter a restroom or locker room to harm someone, period," she said. "That's why when I-1552's backers claim they want to protect women and children from attack, I'm not fooled."

She then asked people to donate to the campaign trying to protect transgender rights.
"I have no problem with transgender people in the bathroom with me," she said on the phone. "It's the place that's safest for them and they shouldn't have to show an ID to show they belong there."
Just Want Privacy, which did not reply to questions from BuzzFeed News, responded to the backlash on Facebook by saying they used Herron's story "to highlight the need for common sense public policy to minimize danger to women and children from those who seek to harm others.
=
"The last thing we want to do is make anyone feel exploited," they wrote. "If our actions have inadvertently failed in this effort, we are sincerely sorry."

Herron called that "a sorry-not-sorry apology. They realized they made a mistake and were trying to backtrack...from a PR perspective."

She added that the reason she survived the attack was because her employer hired a self-defense trainer and urged other companies to do the same.

"By companies bringing this in, and women signing up and attending, we can lower the number of incidents of assaults and increase the stories of survival and empowerment," she said.
Outside Your Bubble is a BuzzFeed News effort to bring you a diversity of thought and opinion from around the internet. If you don't see your viewpoint represented, contact the curator at bubble@buzzfeed.com. Click here for more on Outside Your Bubble.