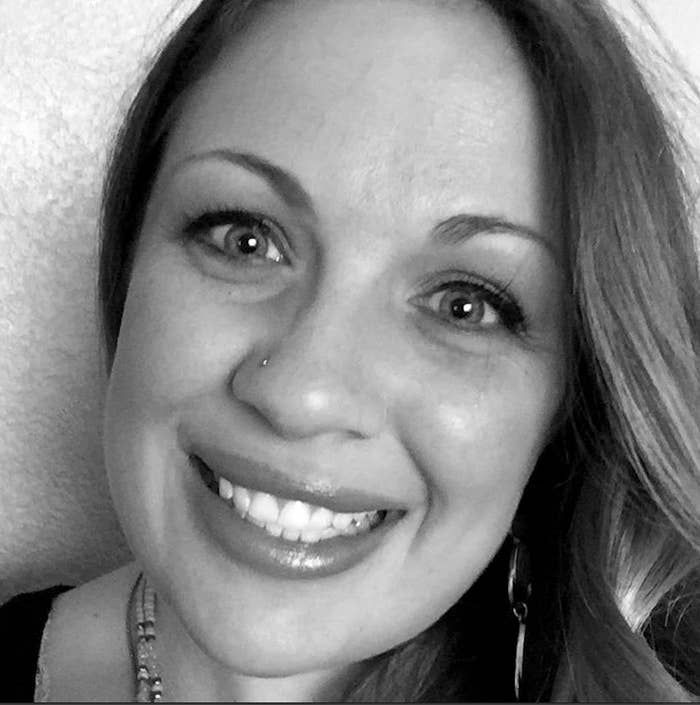 At first blush, a lawsuit involving Lorie Smith of Littleton, Colorado, sounds fairly common. She argues in court records filed this week that her website-design company, 303 Creative, has a constitutional right to turn away gay couples getting married, because she holds a religious objection to same-sex marriage. Florists, photographers, and bakers — plenty of bakers — have taken similar stands.

Smith says she is following the Lord's path, according to the complaint filed in US District Court in Colorado, which says, "Lorie believes that God is calling her to promote and celebrate His design for marriage by designing and creating custom wedding websites for weddings between one man and one woman only."
The obstacle to answering God's call, however, is that refusing customers due to their sexual orientation violates the Colorado Anti-Discrimination Act. More than a dozen other states have laws like it, which is why many arguments like this have failed in Colorado, Kentucky, New Mexico, Oregon, Washington State, and elsewhere — though some cases are still being appealed.
But Smith's case diverges from the familiar pattern of litigation involving religious bakers and florists opposed to same-sex marriage, reflecting an emerging strategy from one of the country's leading Christian law groups: Filing a lawsuit before someone complains about a business.
Smith has not actually launched a website to sell wedding services yet. As she envisions it, according to court records, she wants to both turn away same-sex couples who want wedding services and publicly announce that intention online "to affect the current cultural narrative regarding marriage."
She provided the court sample text for a website that would warn prospective clients that God is asking her "to use the talents and business He gave me to publicly proclaim and celebrate His design for marriage as a life-long union between one man and one woman…So I will not be able to create websites for same-sex marriages."
Smith is challenging a state law before it can be used against her.
In contrast, most of the high-profile cases in recent years began after a business owner refused service to an LGBT person, who subsequently filed a complaint; in those cases, the Christian business owners argued before civil rights commissions and courts as defendants. But Smith is a plaintiff proactively suing the government for the right to refuse service, trying to challenge state law before it can be used against her.
Preemptively striking against an LGBT nondiscrimination law provides advantages, Jeremy Tedesco, senior counsel of Alliance Defending Freedom, which is representing Smith, told BuzzFeed News in a phone call this week.
"In our cases, there is not a person on the other side of the case who was directly aggrieved by our plaintiffs' desire to follow religious beliefs," Tedesco explained.
His group is representing two other cases with Christian plaintiffs who filed preemptive lawsuits in the last four months. One was filed in May agains the city of Phoenix, Arizona, on behalf of a company making hand-drawn cards. After an initial loss, Tedesco filed a notice of appeal this week. The other is a church in Fort Des Moines, Iowa, which sued the state's human rights commission in federal court this July for the right to order to teach religious views on sexuality.
By avoiding an aggrieved LGBT individual on the other side of the case, these lawsuits present no person telling a story of discrimination, a story that could earn sympathy with media or the legal system.
Alliance Defending Freedom has used this approach for abortion lawsuits in the past, but he noted that progressive legal groups have used this tactic for years on LGBT issues. This year, for example, an anti-LGBT religious freedom law was challenged in Mississippi. A judge suspended the law before it took effect.
The notice Smith wants to post explaining her intention to turn away same-sex couples: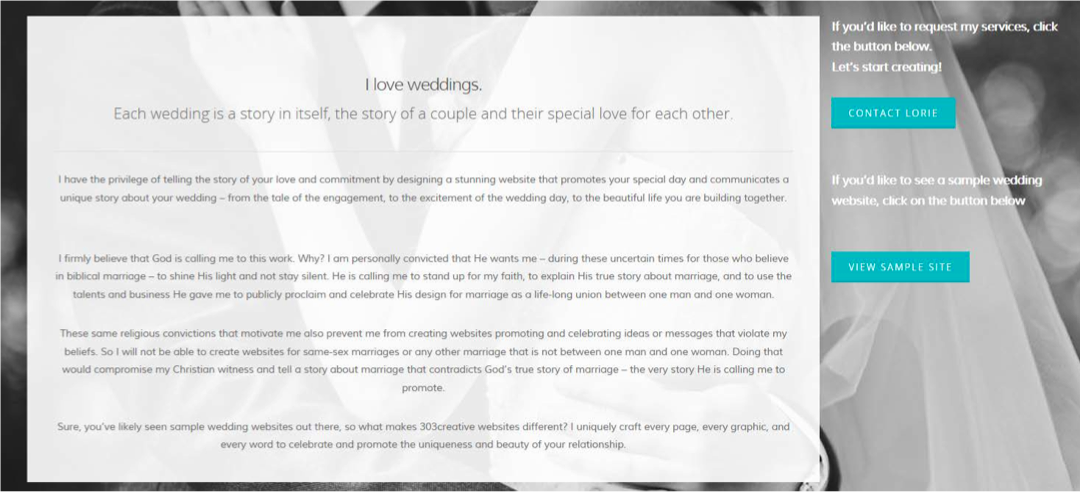 ADF does not exactly have a winning streak representing business owners in LGBT religious freedom cases.

The group lost a case involving a photographer in New Mexico who was sued for declining services for same-sex couple's ceremony. In Washington State, the group is currently representing a florist who was sued for refusing arrangements for gay couple's wedding — after losses, the florist is appealing the case to the state's supreme court. A printer in Kentucky lost with a state commission, later prevailed at trial court, and now the case is heading to a state appeals court. And in Colorado, ADF also represented Masterpiece Cakeshop after it denied service to two men who wanted a wedding cake. Tedesco is now asking the US Supreme Court to take that case.
"Our clients got sued in those cases," Tedesco explained.
Representing clients on the opposite end of the lawsuit may provide ADF an early advantage, he said. Several past cases began when a customer filed a complaint with state human rights commissions. "In those commissions, the deck is really stacked against our client," said Tedesco, who noted that members of such boards — which adjudicate certain disputes under state civil rights laws — are political appointees and not necessarily lawyers. "The pre-enforcement challenge avoids the prospect of having their cases heard in one of these biased civil-right commissions."
"In federal court," Tedesco said, "you have the rules and standards of impartiality that level the playing field."
By filing the web-designer's case in federal court in Colorado, Tedesco may also be able to appeal this case later to the 10th Circuit Court of Appeals — which may provide greater opportunity to establish case law in a swath of other states.

The Colorado attorney general's office, which is named as a defendant in the case and represents other state officials named in the suit, declined to comment for this story.
"The pre-enforcement challenge avoids the prospect of having their cases heard in one of these biased civil-right commissions."
Yet Tedesco thinks he has a particularly compelling case against the Colorado with Smith's lawsuit, saying her website business is inherently a type of speech. Designing the sites requires drafting text and creating artwork, he said, which can neither be compelled nor restricted by the First Amendment.
Thus, the lawsuit contends, Colorado's state law infringes on Smith's Constitutional rights to free speech and exercise of religion, and violates her Fourteenth Amendment rights to due process and equal protection under the law. The complaint asks a judge to grant Smith a religious exemption from the LGBT nondiscrimination law and also seeks to block a the portion of the state law that restricts businesses from announcing intentions to turn away clients on religious grounds.

Yet Tedesco said he does not only want the law to provide safe harbor for people of faith to deny wedding services. He is opposed LGBT nondiscrimination policies in general.
"The only thing they are being used to do is harass people like our clients," he said. "This is a nationwide problem."