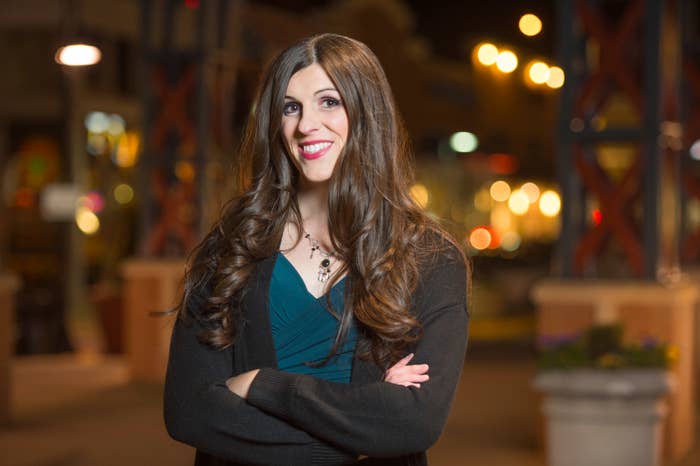 Danica Roem, 32, didn't want her campaign for the Virginia General Assembly to become about her being transgender. But to some extent, it was inevitable.

Roem would be the first out transgender politician to win and get seated in any state legislature, and her opponent, Republican Del. Bob Marshall, recently sponsored a bill to restrict transgender people's access to bathrooms. Plus, Marshall keeps bringing up the issue.
On a conservative radio show last month, Marshall said Roem "clearly is a male," calling her "he" and saying her behavior "goes against the laws of nature and nature's God."
Roem brushed off the jabs this week, saying data collected by her campaign shows her race is very tight, and noting she ran a TV spot that addresses being trans head-on. "I'm dealing with it," the former journalist told BuzzFeed News. "I'm a big girl — I can take care of myself." She's also managed to out-fundraise Marshall by tens of thousands of dollars, and she's welcomed help from state Democrats and labor unions.
And now, she's welcoming help from a new type of backer — the first of its kind in the United States.
The Breakthrough Fund, which launched this week, is a political action committee run by transgender activists and tailored specifically to elect transgender people to office. It's starting with $60,000 to spend in four races, including Roem's, according to the group's co-chair, Hayden Mora. The PAC, an offspring of the group Trans United Fund, is attempting to raise another $120,000 before Election Day.
"We know what it's like to have someone slam the door in our face and say, 'I don't vote for people like you, honey.'"
"Because they are transgender, they face different obstacles," Mora told BuzzFeed News of the candidates. The new group is not exclusively focusing on fundraising — Mora said the organization is assembling a small army of paid staff and volunteers to knock on doors and make phone calls to identify likely Roem voters, then turn those voters out by Nov. 7.
"We know what it's like to have someone slam the door in our face and say, 'I don't vote for people like you, honey,'" he said.
In this role, Mora said the PAC's leadership can serve as both tactician and counselor. "We talk to our candidates after 10 o'clock at night, so they can get out the next day to make the case to be elected. We don't let transphobia and bias get in the way."
"Most campaigns never have to manage an opponent, and an opponent's allies, aggressively trying to disparage them for being transgender," Mora said.
In addition to spending money this fall in Minneapolis, where Andrea Jenkins and Phillipe Cunningham are running for city council, the Breakthrough Fund will back Kristen Browde for town supervisor in New Castle, New York.
Browde told BuzzFeed News that the Breakthrough Fund is "calibrated to deal with the pushback" inevitable for transgender candidates, adding by email, "We crafted a message that has largely taken gender out of the discussion."
Indeed, one challenge for trans candidates is shifting the focus toward traditional local issues. Roem, a policy wonk from her political reporting career, has oriented her campaign around unclogging Route 28, which runs from the suburban 13th District into Washington, DC.
"While she has talked about her gender identity, she is also trying to focus on certain bread-and butter issues, like traffic congestion, which is a big deal in Northern Virginia in particular," Kyle Kondik, who analyzes elections for the University of Virginia's Center for Politics, told BuzzFeed News.

Any yet, it would be "historic" for Roem to prevail, he said, both because she's trans and because incumbents are rarely defeated in Virginia House races.
Marshall, an 11-term incumbent who won the seat in 1991, has sponsored a firehouse of bills appetizing to the Evangelical right. Among them was the state's law banning same-same sex couples from marrying; he later introduced a bill to bar transgender people from using restrooms that match their gender identity in government facilities (it died in committee). But the district has shifted purple in recent years, going for Hillary Clinton last year by 15 points.
"It would be symbolic if she were to win — a transgender woman winning this election against someone like Bob Marshall, who's so diametrically different than her," Kondik said.
The absence of high-profile transgender politicians has created a self-perpetuating barrier, Mora said. The public's lack of familiarity with transgender people can make candidates more vulnerable to smears, in turn making it harder to win elections — or discouraging them from running at all.
"Increasing the representation of transgender folks in public office is crucial to help the public know who trans people are, and counter the fear-mongering and lies the far right tells about who we are," he said.
As an example, Mora pointed to an automated phone call early this month voters in the 13th District received from the American Principles Project. The robocall said Roem wants to "allow boys to play on girls' sports teams and compete in girls' leagues," the Washington Post reported.
Marshall did not respond to a request from BuzzFeed News to comment on his statements about Roem's gender identity and the claims from his supporters.
For her part, Roem is grateful for the Breakthrough Fund's support in the final heat, in addition to support from other LGBT groups, including the Human Rights Campaign. "Trans people are trying to give themselves a voice in politics when they have been shut out for so long," she said. "Getting one of our own elected, it means we have a seat at the table, from transportation politics to civil rights."