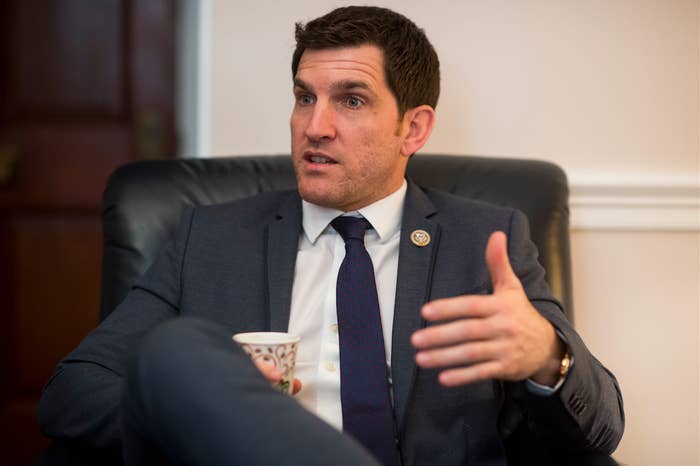 WASHINGTON — Rep. Scott Taylor was on his cell phone Tuesday morning, driving his toddler to daycare as he explained why one of his first bills in Congress will break from Republican Party line.

"Daddy duties, man," the freshman Republican said, pausing to give his kid a hug and say goodbye before getting back on the road.
"I think it is important for the Republican Party to recognize issues like this," Taylor, who was elected by Virginia's 2nd District last fall, told BuzzFeed News over the phone. "It's not Republican orthodoxy, but I don't care. The country is changing."
The change is a "generational gap" in conservative support for LGBT rights, as Gen Xers and Millennials approach the helms of government. "That is not to bust on folks who aren't in our generation, but I think the public is more accepting now."
Born in 1979, the former Navy SEAL plans to introduce a bill within the next two weeks that would ban discrimination against LGBT renters and homebuyers, one of three bills he is planning to introduce after less than two months in Congress. (The other bills will address cyber security and and trade.)
"I feel there is absolutely a gap of protections for this vulnerable population," Scott explained, pointing out that he co-sponsored similar housing bills when he was in the Virginia General Assembly.
A 2013 report by the Department of Housing and Urban Development found that same-sex couples are treated worse than heterosexual couples in online rental housing, primarily by receiving significantly fewer responses to e-mails asking about advertised units.
"It's not Republican orthodoxy, but I don't care."
After staff sign off on technical aspects of the bill's language, Scott will begin shopping for co-sponsors. Of course, he is all but certain to hit obstacles on his own side of aisle. Republicans blocked a bill sponsored by Democrats to ban LGBT discrimination in 2015 and 2016 and, at the same time, have rallied around legislation to protect religious people opposed to same-sex marriage.
Taylor's bill, however, is more narrowly tailored than a signature LGBT bill from Democrats in recent years; his focuses solely on real-estate discrimination.
Taylor said the National Association of Realtors will support him, but he hasn't consulted Republican leadership yet, though he's upbeat about prospects. "There is nothing better than being your own lobbyist for your issues," he said.
Yet, while Scott's support for LGBT rights is strong, his grasp of the underlying issue is looser. Asked if his bill would cover "gender identity" discrimination, thereby protecting transgender people, he seemed confused whether all LGBT people were protected just by banning discrimination on the basis of "sexual orientation."
After discussing the issue, Taylor asserted repeatedly that he is interested in protecting transgender people by inserting "gender identity" language into his bill as well, but cautioned that the addition could make it more controversial. "I'm all for putting that in there, but I think there would be more resistance."
Taylor's bill would amend the Fair Housing Act of 1968 — which protects classes based on race, sex, religious, and other characteristics — to also ban landlords from, say, turning away a gay couple, even if the proprietor has a religious objection.
"There are social conservatives who don't approve of that lifestyle, and that's fine," he said, "but that shouldn't stop people from being happy and not being discriminated against." He argued someone's moral beliefs are insufficient grounds for balking at a business transaction.
But what if religious conservatives argue that their faith prevents them from renting an apartment to a gay couple?
"Eh," he said, "I think Jesus would be okay with it."