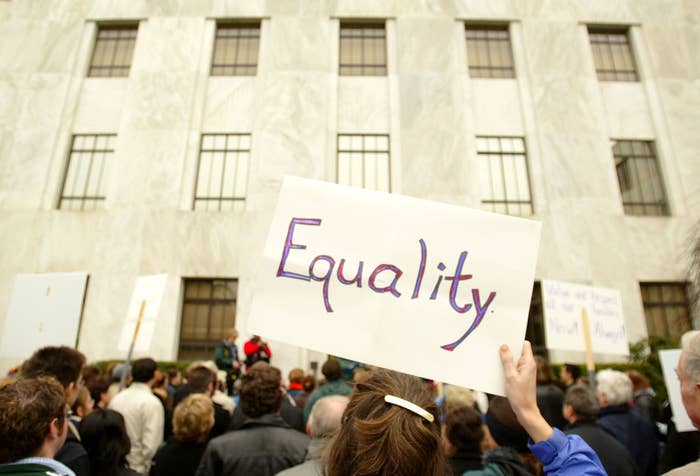 Margarita Vejo, who refers to herself as a "devout Christian," is suing for civil rights violations after she was fired from her internship at a public high school in Portland, Oregon, after asking questions about a curriculum she thought placed too much emphasis on LGBT acceptance. A schedule for the case, which accuses both her school and college of discrimination, is pending.
Meanwhile in a nearby suburb, a case gained national attention when Sweet Cakes by Melissa, a bakery owned by Aaron and Melissa Klein, turned away away a lesbian couple that wanted a wedding cake. That case, in which the state fined the couple $150,000, will have its next hearing in March 2015.
Both cases share the increasingly contentious battleground of religious freedom. Social conservatives and religious groups around the U.S. say they are bearing the brunt of unconstitutional discrimination for publicly expressing their religious views. Also in common between the cases: They share the same lawyer.
Herbert Grey promotes himself as a "Christian Attorney" in his listing on Neighborhood Christian Lawyer, an online network of attorneys who "apply the Bible's teachings in our legal practice." He contends that if LGBT people can enjoy legal defenses against discrimination, so too should Christians who face retaliation for expressing their views. But Grey faces opponents who counter that anti-discrimination laws prohibit unequal treatment based on sexual identity in places of public accommodation, such as schools and businesses.
As conservatives have lost a cascade of critical legal rulings and ballot measures that legalized same-sex marriages — and a Gallup poll in May showed 55% of Americans now favor marriage equality — religious freedom defenses have become a new political line in the sand. Just 10 years ago, same-sex marriage bans were a winning issue.
"Tolerance is not a one-way ratchet," said Grey, who spoke to BuzzFeed News over the phone.
"My position is that it is not OK to favor one protected class and not another protected class," said Grey, referring to First Amendment protections for free speech and religious expression. In representing Christian clients, he said, "I bring my faith to work with me."
In 2004, Grey wrote a voter's guide statement backing a successful ballot measure to ban same-sex marriage. He won a federal court case two years later on behalf of a preacher who sought to extol the scriptures inside public events; the preacher previously was ejected from two gay pride festivals and an AIDS walk. In 2008, Grey filed a lawsuit designed to stymie a statewide civil union bill passed by the legislature (the bill became law anyhow). And the conservative group Alliance Defending Freedom awarded Grey in 2009 for his pro bono legal services for religious freedom causes and the aforementioned lawsuit against the civil union bill.
Nevertheless, despite opposition from socially conservative groups and pastors, Oregon passed an anti-discrimination law for LGBT people in 2007. This year, a U.S. District Court judge struck down the Oregon same-sex marriage ban Grey supported a decade before.
Grey is hardly a lone ranger. A religious freedom rally in Dallas on Nov. 2 featured a star-studded lineup that included Mike Huckabee and Todd Starnes from Fox News. They were protesting city officials' attempts to subpoena sermons from pastors who fought an anti-LGBT discrimination law there. U.S. Catholic bishops are also thrusting religious freedom to the forefront of their agenda this week, with Archbishop William E. Lori of Baltimore warning that "laws redefining marriage" pose a particular threat to businesses applying religion to their commercial activity.
Grey's latest lawsuit testing religious freedom concerns Margarita Vejo (The Oregonian posted the complaint). Vejo was attending Lewis and Clark College in Portland, Oregon, to obtain a masters degree to become a student counselor. As part of her coursework last fall, she was performing an internship at Madison High School. However, the internship allegedly turned sour when a school supervisor sent a letter — posted here by The Oregonian — to college officials asking to terminate Vejo's internship. According to the letter, which Vejo's attorney filed along with other court records, Vejo said LGBT students were "wrong and bad" and she asked why the school maintains a gay-straight alliance. The letter adds that Vejo showed a "color-blind prejudice" to students of color and poor students who required additional sensitivity. The suit contends that the college, in turn, ended the internship and refused to let Vejo receive a degree in her chosen field, despite having reached nearly the end of her two-year program with a 3.9 grade point average.
"It's all based on someone's disagreement with her value system, which is protected under federal and state law," Grey said.
Vejo's lawsuit — which names the college, the high school, and the school's principal and counseling supervisor as defendants — says the termination violated her constitutional rights to free speech, religious freedom, and equal protection. Also claiming she was discriminated against for her Russian heritage, Vejo is seeking a jury trial to collect attorney's fees and lost wages she may have received with the counseling degree she was seeking.
"There should be the right in the context of an academic program to ask about why students are all pushed into an LGBT orientation," said Grey. "She was asking supervisors why the answer to everything is that a student should explore their sexual orientation."
Grey said Vejo could not comment for this story, and he is uncertain if she said LGBT people were "wrong and bad," as the school supervisor claimed in the letter. "If she said that, it was taken out of context," he said. But Grey said those statements have no bearing on Vejo's abilities as a school counselor because she raised them privately with her supervisor and did not express those views to the students themselves.
Asked if a counselor who expresses openly negative views of LGBT students among staff should be allowed to work in a public school, Grey said, "That is not our case, but even if it was, I would say yes."
Christine Miles, a spokesperson for Portland Public Schools (PPS), told BuzzFeed News that the district is looking into the claims, but declined to comment directly on the case, citing litigation. A statement from PPS explained: "We disagree with the assertions in the complaint as to PPS," adding the school district "welcomes people of all belief backgrounds" and that its "core responsibility is to support and serve our diverse student body."
Lewis and Clark College also declined to comment directly on the lawsuit, but a statement from dean of the Graduate School of Education and Counseling, Scott Fletcher, pointed out guidelines for ethical standards. His statement continued: "Coursework is designed to increase students' effectiveness and level of comfort when working with diverse populations. As part of this effort, and as in all graduate school programs, we adhere to our bedrock principles of nondiscrimination in what we teach, how we treat our students, and the curriculum we present."
As Grey pushes forward on his cases, he says they share a core point: "The government doesn't have a right to enforce orthodoxy, especially when belief and expression of belief are protected by the Constitution."
Scott Fletcher is dean of the Lewis & Clark Graduate School of Education and Counseling. A previous version of this story misstated the name of the school.