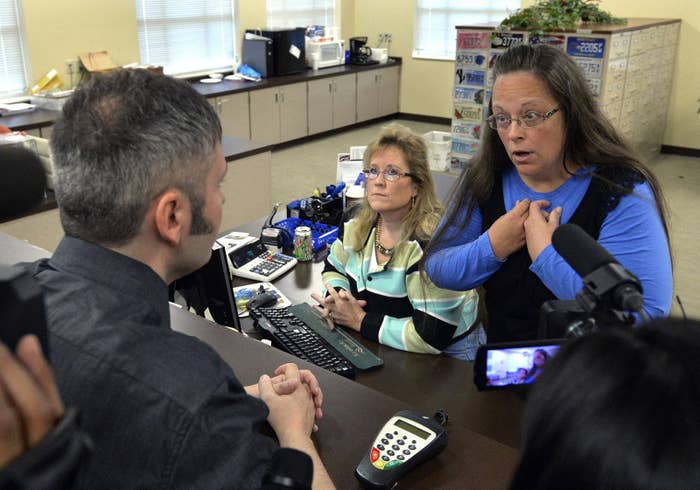 Two men who became viral video stars after being denied a marriage license by Rowan County Clerk Kim Davis in 2015 can continue their lawsuit against her, the Sixth Circuit Court of Appeals ruled on Tuesday. The judges reversed a lower court's decision to dismiss the case, saying the couple's efforts to seek monetary damages from the Kentucky official can continue.
The decision reanimated a legal and cultural battle that had arrested the country's attention after the Supreme Court granted same-sex couples the right to marry.

At the time, Davis became a poster child for social conservatives when she said issuing the licenses to gay couples would violate her Christian mores. She denied all marriage licenses and became the target of three lawsuits in federal court — including one lawsuit that led to her being jailed, and then released to a cheering crowd.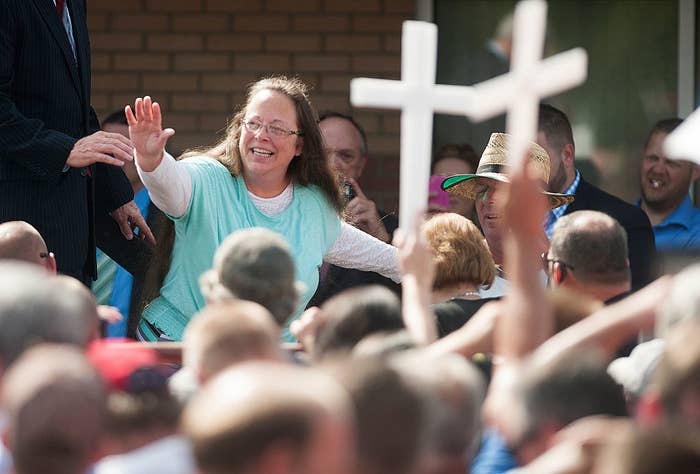 To understand Tuesday's ruling — and this case against her — we must back up.

The highest-profile case against Davis, Miller v. Davis, was brought by several couples who asked a federal court to force Davis to issue marriage licenses. Davis's office did eventually issue the licenses, and later, state lawmakers passed a law saying Davis's name didn't need to appear on the marriage forms. Those developments led US District Court Judge David Bunning to dismiss the case as moot — and when he did, he also tossed out the case filed by the two men in the viral video.
Those men are David Ermold and David Moore, who'd gone to Davis's office on July 9, 2015, to get a marriage license.

There was a crowd. There was yelling. Then there was another lawsuit. And in their lawsuit, the men weren't suing for an injunction to force Davis to issue licenses (the other lawsuit was already doing that). Instead, they were suing for "actual and punitive damages," saying Davis violated their constitutional right to marry. But when the district court dismissed all three cases as moot, Ermold and Moore appealed. Their point: They still were suing for damages, not for a license, so their case was still relevant.
Cut to Tuesday: The Sixth Circuit agreed with them.

"We conclude that the district court's characterization of this case as simply contesting the 'no marriage licenses' policy is inaccurate because Ermold and Moore did not seek an injunction — they sought only damages," the court writes. "This action is not a general challenge to Davis's policy, but rather seeks damages for a particularized harm allegedly suffered by a specific set of plaintiffs."

The opinion continues, "The Supreme Court has held that a damages claim is not rendered moot because a related injunctive-relief claim becomes moot."

A lawyer for the couple, Thomas Paul Szczygielski, told BuzzFeed News he is "pleased that the Sixth Circuit recognized that David and David's damages claims were not mooted by later receiving a marriage license or the Kentucky Senate's decision to remove county clerks' names from marriage-license forms."
BuzzFeed News asked lawyers for Davis for comment.