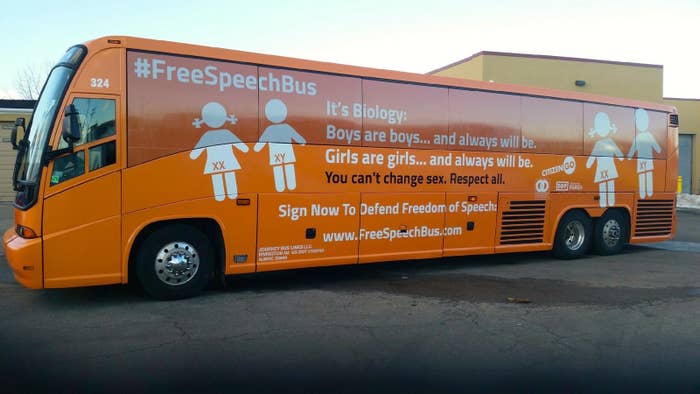 An orange bus rolled onto the streets of Manhattan Wednesday to make its first stop on an East Coast tour, during which a load of activist passengers will evangelize that transgender people don't exist and citizens must rise up to complain about their growing acceptance.
The creators are calling it the "Free Speech Bus," and they've decorated it with male and female stick figures along with the slogan: "Boys are boys... and always will be. Girls are girls... and always will be. You can't change sex. Respect all."
On Wednesday, they parked outside the United Nations headquarters, where ambassadors are considering a sex education resolution that a spokesperson for the bus argued promotes "an ideology that gender is fluid."
"We are trying to strike back against that," said Joseph Grabowski, a spokesperson for the National Organization for Marriage, one of the three conservative groups behind the project. They hope parading the bus through major cities will unleash a silent majority that they believe is frustrated by shifting norms about gender and families.
In their efforts to block LGBT legal protections since the Supreme Court resolved questions about same-sex marriage, religious conservatives have struggled to spark conversations among ordinary people. While they have sometimes reached the airwaves during controversies around bills to restrict bathroom usage, they've often played political defense, or found their message buried in the back of newspapers and the back rooms of legislatures.
This week, groups hope to stimulate a debate among media and lawmakers by using the most classic of political props: a gussied-up bus and a provocative message.
The National Organization for Marriage partnered with the International Organization for the Family — headed by NOM President Brian Brown — and CitizenGo, a social conservative online advocacy platform headquartered in Spain, on the project.
The US bus copies a version rolled out in Spain in February that declared, "Boys have penises. Girls have vulvas. Don't let them lie to you." One Madrid councilman declared it the "bus of shame," and city officials ordered it removed from the streets for violating a traffic law restricting advertising on private vehicles.
When CitizenGo announced that it would take its bus tour to the United States, a graphic indicated that the bus would carry a similar message: "Boys have penises. Girls have vaginas. Don't be deceived."

But the bus doesn't actually say that, Grabowski said. "We think we can make the point a little more subtly."
"We need a discussion about how to respect everyone," Grabowski said in a phone call. But he also claimed that being transgender is a "disorder" and that a respectful discussion does not extend to recognizing a transgender person's gender identity in public settings. (The American Psychiatric Association does not classify being transgender as a mental disorder.) He added, "They can live that out privately."
The tour will soon head north, hugging the New England coast before hairpinning south to Washington, DC.
However, New York City was a key launching point in the US. The city has worked to distinguish itself as a safe harbor for transgender Americans — passing rules to protect their rights everywhere from their homes to public restrooms. But Grabowski said that people in progressive cities shouldn't stay silent if they see a transgender person using a restroom that matches their gender identity.
"One of the purposes of the bus tour is to have people speak up if they feel uncomfortable and let the business owner know," Grabowski said. "This can't be considered transphobic or bigoted."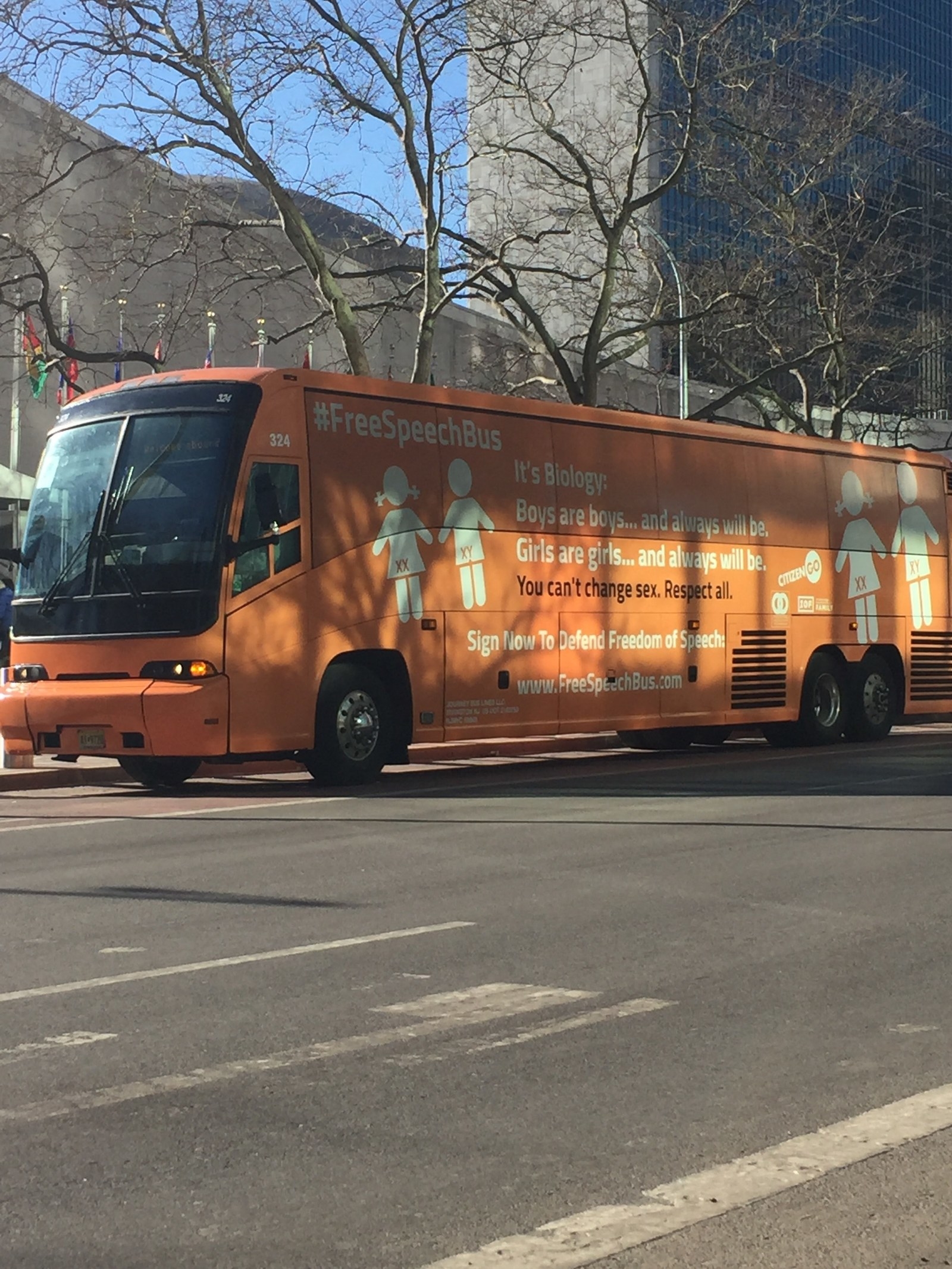 The groups hope the rolling spectacle can grab the attention of lawmakers and the public, convincing them that opposition to transgender rights is grounded in science, not animus.
Asked if transgender women are women, Grabowski said, "No, we believe if you're born a man, you're a man."

"They are a small segment of the population, with a disorder, that has quite a big megaphone for the demographic it represents," he said. "This is not about live-and-let-live," he added, saying transgender people pose an threat to norms of sex and procreation. "This is about what is best for the common welfare of society."