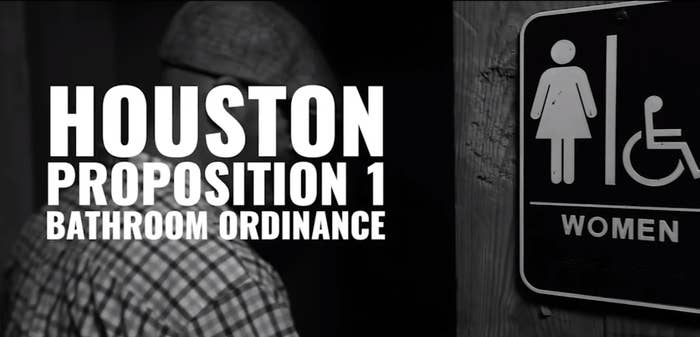 Male sex offenders will prowl women's restrooms to corner young girls inside bathroom stalls if voters in Houston, Texas, approve a broad nondiscrimination law on the Nov. 3 ballot, according to a new TV commercial running in the nation's fourth most populous city.

"Any man, at any time, could enter a woman's bathroom simply by claiming to be a woman that day," says a female narrator in the ad, which plays largely on fears of transgender women and men posing as transgender women using public facilities.
"Even registered sex offenders could follow women or young girls into the bathroom," the ad intones. "And if business tried to stop them, they'd be fined."

Early voting began Monday on the proposal, called the Houston Equal Rights Ordinance, which would bar discrimination on the basis of race, religion, sexual orientation, and gender identity. The measure would also prohibit discrimination against a dozen other classes of people.
If upheld by voters, the law would apply in places of public accommodation, jobs, housing, and for services.
Despite the civil rights ordinance's extremely wide scope, an opposition group behind the ad — Campaign for Houston — calls it a "bathroom ordinance" and focuses on the argument that it should be rejected to keep women and girls safe. The 30-second TV spot began running on Houston-area stations last week, and reflects bathroom-focused messages found the campaign's other materials.
"Protect women's privacy — prevent danger," the narrator says over eerie noises in the background. "Vote no on the Proposition 1 bathroom ordinance."

It ends with a man cornering a small girl in a restroom stall.

The ordinance on the ballot was passed by Houston City Council in 2014, leading activists to run an referendum campaign to repeal it. If voters reject the measure in November, it will be void.
Although broader in scope than LGBT rights, the referendum in Houston is notable as a possible milestone after the U.S. Supreme Court ruled for national marriage equality in June. As a major U.S. city in a conservative state, Houston may be a national bellwether for nondiscrimination bills, from Indiana to Congress. But religious conservatives, such as those behind the Campaign for Houston, have aggressively fought those proposals.
Richard Carlbom, the campaign manager for Houston Unites, which is advocating to approve HERO, said the message of the ad is "blatantly false."

"Following a little girl into a stall, you are going to be arrested — you are going to be prosecuted," he told BuzzFeed News. "There is nothing in the ordinance that would make that scenario legal."
Likewise, Houston Police Chief Charles McClelland said in a press briefing last week that predatory behavior depicted in the commercial would remain illegal if voters uphold the law.
"Nothing will change about the violation of the law," he said, according to ABC 13.

The Campaign for Houston did not respond to questions from BuzzFeed News — such as why the group chose the campaign message and whether it has evidence nondiscrimination laws on the books in other cities have resulted in more incidents of restroom violence.
Seven Texas cities and 19 states have varying LGBT nondiscrimination laws. Texas has no statewide discrimination protections for LGBT people.
But the argument being raised in Houston is hardly unique — rather, it has evolved in recent years as a central talking point used by critics of LGBT nondiscrimination laws. In 2015, debates over such laws have dwelled on restrooms in Florida, California, and Ohio.
This is a mailer from Campaign for Houston: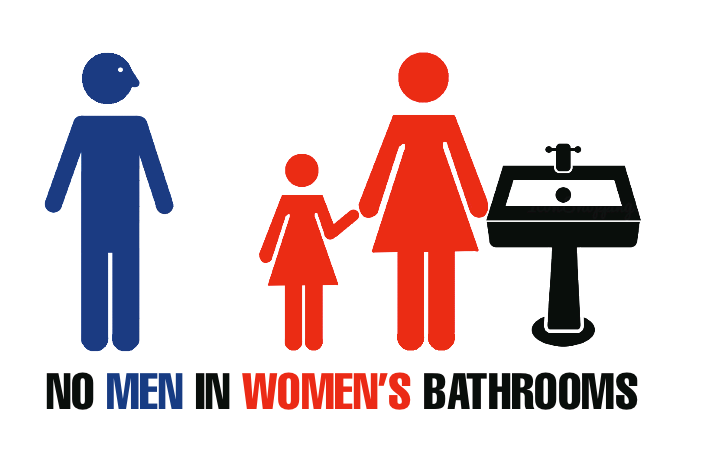 "A man who says that he is a 'transgender female' is still
 a man, no matter what he thinks he is," says a mailer from Campaign for Houston. "A man dressed as a woman is a man who is engaging in deviant behavior."
The mail piece adds that voters should decide for themselves if the law forces women "to potentially be exposed to perverted men who want to invade their privacy and who may even be planning to harm them."
Data suggest the law would mostly be used to address discrimination of racial minorities, not LGBT people.
The city of Houston continues to receive complaints of discrimination that fall under the law's scope, even while it remains in limbo. According to city records, most complaints are regarding racial discrimination — 56% — while only 5% concern LGBT discrimination, according to city records from May 28, 2014, to Sept. 2, 2015.
But dwelling on restrooms and religion appears to have been effective elsewhere.
In April, voters in Springfield, Missouri, repealed an LGBT nondiscrimination law that had originally been passed by the city council. That vote came after religious conservatives invoked campaign themes of businesses forced to sell products for gay weddings and cross-dressing predators lurking in women's restrooms. In December, voters in Fayetteville, Arkansas, also rescinded an LGBT nondiscrimination ordinance after a repeal campaign said the vote about "privacy" and "faith."
Here is the full ad running in Houston: