Starting Monday, ads like this will begin appearing around New York City promoting transgender people's right to use restrooms that match their gender identity.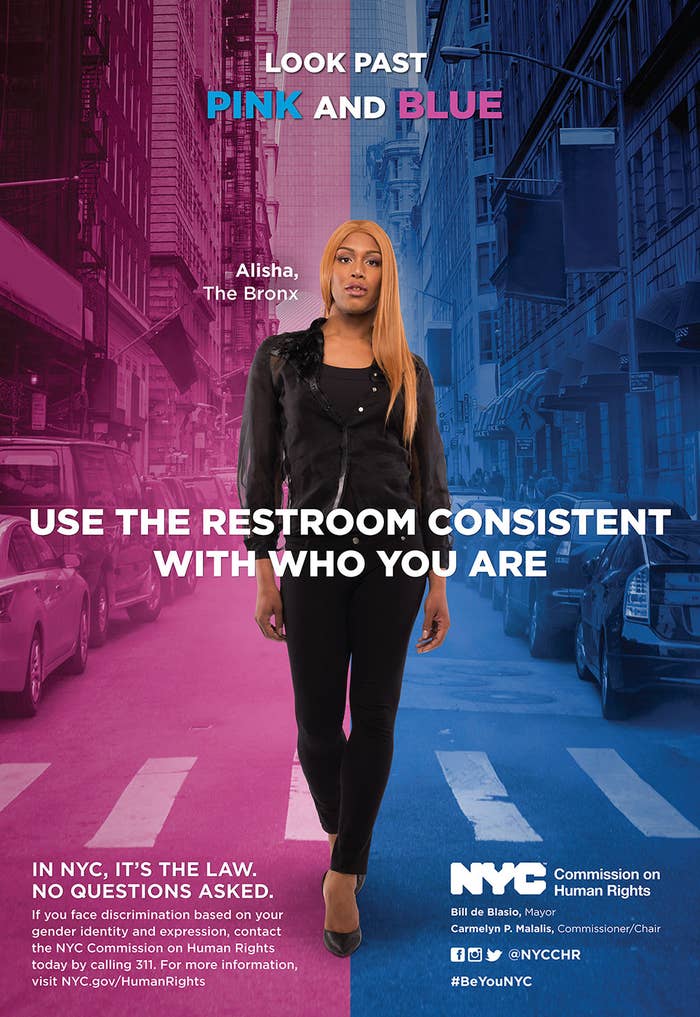 "Use the restroom consistent with who you are," say the ads, sponsored by the New York City Commission on Human Rights. They will appear in subway cars, bus shelters, phone booths, newspapers, and more. The ads will also run in ethnic newspapers in Spanish, Korean, Chinese, Russian, and Bengali.
"In NYC, it's the law," the ads say. "No questions asked."

The campaign, which will cost $265,000, comes after transgender people filed complaints with the city about being barred from restrooms and facing other types of discrimination in places of public accommodation.
Seth Hoy, spokesperson for the Commission on Human Rights, told BuzzFeed News in a statement that the agency "has investigated such cases in the past and continues to receive and investigate complaints where individuals are harassed or denied entry to restrooms because of their actual or perceived gender identity."
That sort of discrimination is illegal in New York City.
In December, the commission released enforcement guidance on gender identity protections under the city's 2002 nondiscrimination law, making clear that transgender people are entitled to access restrooms consistent with their gender.
Mayor Bill de Blasio followed up in March with an executive order directing agencies to provide access to single­-sex facilities without requiring people to show identification or other documents that verify their gender.

The ads feature trans New Yorkers, including Alisha King and Charles Solidum.
"Bathroom discrimination is a regular occurrence for the transgender community," King said in a statement. "So much so that many of us avoid even using public restrooms to begin with. I sincerely hope these ads help people understand that transgender people are just people just like you. We just want to use the restroom safely and be treated with respect."
Mayor de Blasio pointed out that New York City is diverging from some other jurisdictions — such as North Carolina — that have recently moved to restrict trans people's access to restrooms.
"While other cities and states are legislating intolerance and taking away individuals' right to use bathrooms consistent with their gender identity, we are proudly standing with our transgender and gender non­conforming New Yorkers," the mayor said in a statement. "Every New Yorker has the legal right to use the bathroom consistent with their gender identity, no questions asked."