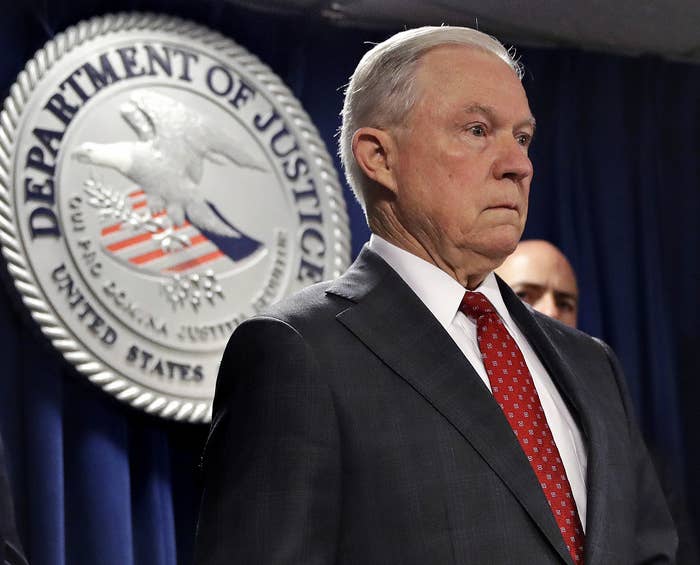 Attorney General Jeff Sessions made a spectacle of announcing his Religious Liberty Task Force last Monday, when he said a "dangerous movement" threatening people of faith must be "confronted intellectually and politically and defeated." Hosting a Religious Liberty Summit inside the Department of Justice headquarters, Sessions had surrounded himself largely with players from the religious right, including anti-LGBT, anti-abortion organizations, which led to widespread condemnation from civil rights groups.
Despite the fanfare, however, Justice Department officials haven't provided basic information about Sessions' new task force or what it will actually do.
Who will be on it? When will it meet? Is there an agenda for its meeting? Will its proceedings be open to the public?
The Justice Department didn't answer those questions from BuzzFeed News. A DOJ point person for the task force, Jeffrey Hall, referred inquiries to a DOJ spokesperson, who cited a transcript of Sessions' speech and a memo, which also didn't provide answers. Follow-up questions went unanswered.
Some elements of the task force are known, in a broad sense. Sessions' memo says the panel will implement a wordy yet ambiguous October 2017 policy on religious liberty, reach across federal agencies, conduct outreach, and "develop new strategies, involving litigation, policy, and legislation." Sessions will be the group's chair, along with two high-level political appointees as co-chairs, Assistant Attorney General Beth Williams and Associate Attorney General Jesse Panuccio.
But neither the memo, nor officials, have identified the other representatives who will be assigned to the task force.
Sessions' memo calls for eight or more appointees from Justice Department divisions, including the Office of Legal Counsel and the Office of Legal Policy. Sessions also said Monday the task force would hold "listening sessions" in the coming weeks with religious organizations, but officials have not answered questions about which groups will be included, nor have they released dates of any upcoming meetings.

Given the politicized rollout, the task force may prove a new vehicle to enforce Sessions' hardline agenda.
"My biggest concerns is the lack of transparency and clarity," Johnathan Smith, the legal director of Muslim Advocates, told BuzzFeed News about the panel's unclear mandate, membership, and agenda.
"There is a concern that certain Christian and evangelical communities are being brought to the forefront, and others, particularly Muslim communities, are discriminated against and harassed," he added. "When you create a religious task force and you don't have that detail and transparency, it raises a lot of questions about whether all communities will benefit from this government action."
Lacking details, the panel could be brushed off as little more than a gesture — a bone thrown to the evangelical right before the midterm elections.
But given the politicized rollout, the task force may instead prove a new vehicle to enforce Sessions' hardline agenda, sheltered from oversight because it's housed entirely inside the Justice Department.
By way of comparison, when the White House announced the Presidential Commission on Election Integrity on May 11, 2017, officials announced seven of the members the same day and promised to make it bipartisan, accept public comment, and hold meetings open to the public.
Smith worries the task force could quietly make policies and pressure other federal agencies to rule in favor of federal workers — and in favor of private businesses with government contracts — that raise a religious justification to discriminate.
A few hours after Monday's summit, Williams said in a radio interview on WILK that the task force will field complaints directly. "I think we are going to set up a specific email for that," Williams said. "We can see if there are violations of religious freedom and violations of federal law that we can do something about."
Her statement raises questions about whether the task force will attempt to adjudicate these disputes directly — and if so, whether it will supersede civil rights offices in agencies across the government. Progressive advocacy groups worried that it could enshrine specific religious viewpoints as policy and systematically disenfranchise LGBT people. Those concerns could seem preposterous, except that Sessions and his staff revealed those sorts of political inclinations already, both in how they have run the Justice Department and how they announced the task force.
The Justice Department argued at the Supreme Court to support a Christian baker who refused to serve a gay couple, and it settled more than a dozen cases in favor of religious employers opposed to providing contraception in their health insurance plans. The Justice Department was officially neutral in a case over religious, anti-abortion pregnancy centers, but Sessions sent a deputy solicitor general to argue at the Supreme Court against a California law that required the center to provide information about abortion to pregnant women. Meanwhile, Sessions has defended Trump's travel bans that target majority Muslim nations.
Under Sessions, the Justice Department has also asserted it is legal under federal law to fire private-sector employees simply for being LGBT. And it's unclear that anyone on the task force is atheists or agnostic — or holds political views that diverge from Sessions' — or that the task force will meet with groups that think differently.
Casey Brescia, a spokesperson for the Secular Coalition for America, told BuzzFeed News the Justice Department did not reach out to his organization, as the Obama administration did with its religious initiatives. And just as the Constitution protects religious exercise, he noted, it also guarantees that religion cannot be imposed on secular Americans.
"Sessions is twisting the concept of religious liberty and weaponizing, and using it to assert a political agenda that is the exact opposite of what it was intended for," he said.
The Justice Department did, however, make efforts to argue the task force will advocate for all stripes of faith. The Religious Liberty Summit featured a Muslim speaker, Asma Uddin, who once argued in federal court to ban same-sex marriage and recently praised the Supreme Court's ruling for the baker in the gay wedding cake case. It also featured Harpreet Singh, a Sikh who does community relations for the Justice Department, and Rabbi Ruvi New, who has fought obstacles to build a synagogue in Florida.
But the summit tilted hard the other direction. It featured the baker who rejected the gay couple in wedding cake case, which was argued by the Christian law group Alliance Defending Freedom. Another speaker was Kerri Kupec, who, before becoming a Justice Department spokesperson this year, was the top spokesperson for Alliance Defending Freedom. Another panelist was the lawyer Shay Dvoretzky, who has handled several religious liberty cases, including representing Abercrombie & Fitch when the company refused to hire a Muslim woman who wore a hijab (the Supreme Court ruled against the company). They were joined by Emilie Kao, who represents the Heritage Foundation's DeVos Center for Religion and Civil Society, which has worked to shape anti-abortion and anti-LGBT policies.
The event also featured representatives of Christian adoption services and Christian schools. Sessions' speech was followed by Archbishop Kurtz — former head of the US Conference of Catholic Bishops, an aggressively political anti-abortion, anti-LGBT wing of the Catholic hierarchy — and he talked about the "importance of our partnering with the government" and protecting taxpayer-funded Catholic adoption agencies that turn away gay couples.
A few hours later, Williams, the task force's co-chair, joined a radio show on WILK to and said, "one of most meaningful speeches was by Archbishop Kurtz."
Sessions also made gestures on Monday toward protecting all faiths, such as noting the hate crime charges recently brought against a mosque arsonist in Texas.
Brescia said, "It's true that they will give the minimal attention that they have to minority faiths, to make this legal and legit, but I don't think there can be any doubt about who this task force is intended to serve."
One upside of the task force, said Smith of Muslim advocates, is that citizens can formally request its records in an effort to keep tabs on the Justice Department's work around religious liberty. "Now we at least now know the body that does that — whatever all that is."