The Justice Department Is Evaluating Obama-Era Rules For Transgender Prisoners
Federal lawyers dodged the key question in a federal court case brought by four evangelical Christian prisoners who oppose being housed with transgender women.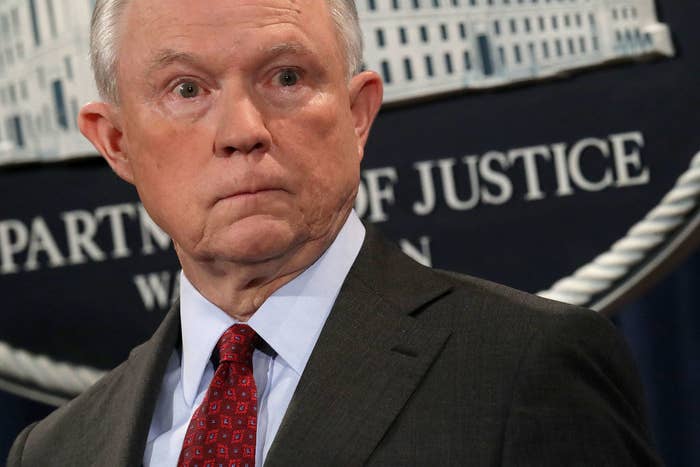 A US Department of Justice filing in federal court on Saturday indicated the Trump administration will reevaluate policies from the Obama administration that let transgender inmates use facilities that match their gender identity, including in housing and shower rooms.
However, the DOJ avoided addressing the core issue of a federal lawsuit over rules to protect transgender prisoners.
The case was filed by four evangelical Christian women in a Texas prison who challenged the Obama-era guidelines, and claimed sharing quarters with transgender women subjects them to dangerous conditions.
Lawyers under Attorney General Jeff Sessions, who are defending the government, however, argued against the women — saying the inmates have not exhausted their administrative options, and haven't yet proven they are threatened by sharing common areas with transgender inmates.
But the government did not defend the transgender-friendly policy itself — indicating the administration is examining what it means.
In a filing in US District Court in Northern Texas, the Justice Department said it expects that the next Bureau of Prisons director, who has not yet taken office, "will evaluate the issues in this case and how the challenged regulation and policies apply to Plaintiffs."
The case began in late 2016 and continued this year. Plaintiffs Rhonda Fleming, Jeanette Driever, Charlsa Little, and Brenda Rhames — each sentenced to a term of more than four years — are serving time at the Federal Medical Center, Carswell, a federal prison in Fort Worth.
The women are represented by lawyers at the Christian legal group Alliance Defending Freedom. Their lawsuit takes aim at regulations established in 2012 to protect transgender inmates from violence under the Prison Rape Elimination Act, and at a guidance memo — issued by the Bureau of Prisons days before Obama left office — on how to handle transgender inmates.
In an amended complaint filed in May, the women's lawyers wrote that Obama's policies are "a politically-driven agenda to affirm that gender identity theory, rather than biological sex, is the normative basis to determine whether an inmate is male or female."
The complaint adds that housing transgender women — who it calls "men" — along with the general female population "creates a situation that incessantly violates the privacy of female inmates; endangers the physical and mental health of the female Plaintiffs and others, including prison staff; [and] increases the potential for rape."
Sharing facilities with transgender women compromises their constitutional rights to privacy and to be free from physical harm, the complaint adds. It also alleges the women are being denied the right to practice their faith under the Religious Freedom Restoration Act.
The women are seeking a preliminary injunction to immediately bar integration of transgender prisoners.
But the Justice Department countered in its brief on Saturday that the women "have not established that they will suffer any imminent harm absent an injunction. The transgender inmates housed at Carswell...are not even in the same housing unit as Plaintiffs."

Further, federal lawyers added, the court lacks jurisdiction over the case because the women "have not exhausted their administrative remedies under the Prison Litigation Reform Act."
The rules created under the Obama administration were designed to reduce the high rates of violence and sexual victimization against transgender inmates by instructing prison officials to "consider on a case-by-case basis whether a placement would ensure the inmate's health and safety, and whether the placement would present management or security problems."
"In making housing unit and programming assignments," a January 2017 Bureau of Prisons memo states, "a transgender or intersex inmate's own views with respect to his/her own safety must be given serious consideration."
The case is before District Judge Reed O'Connor, who has suspended Obama-era rules for transgender protections before. He issued preliminary injunctions in a case concerning guidance for transgender workers and students, and in a case on transgender health care coverage under the Affordable Care Act.
In those two lawsuits, Sessions withdrew the federal government's appeals to defend the Obama administration's policies. Sessions also reversed guidance from his predecessor that said transgender students must be allowed to use facilities that match their gender identity.