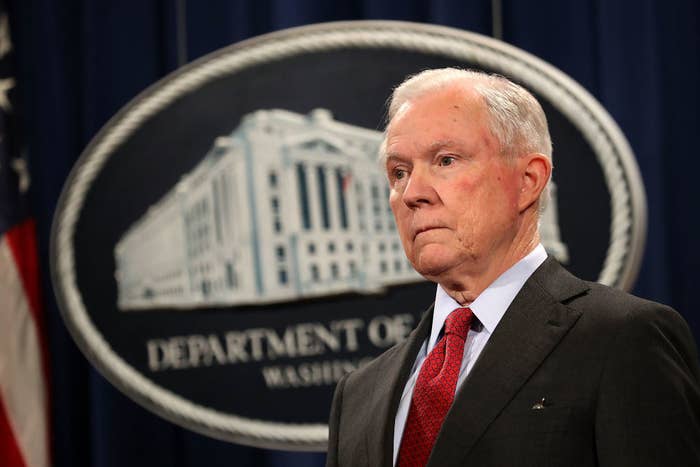 The Justice Department on Thursday rescinded an Obama-era policy that tolerated marijuana businesses in states that had legalized the drug, possibly previewing a crackdown against an above-board marijuana industry that's been proliferating from coast to coast.
Attorney General Jeff Sessions called the former policy "unnecessary" in a memo to prosecutors, saying Congress has found "marijuana is a dangerous drug and marijuana is a serious crime."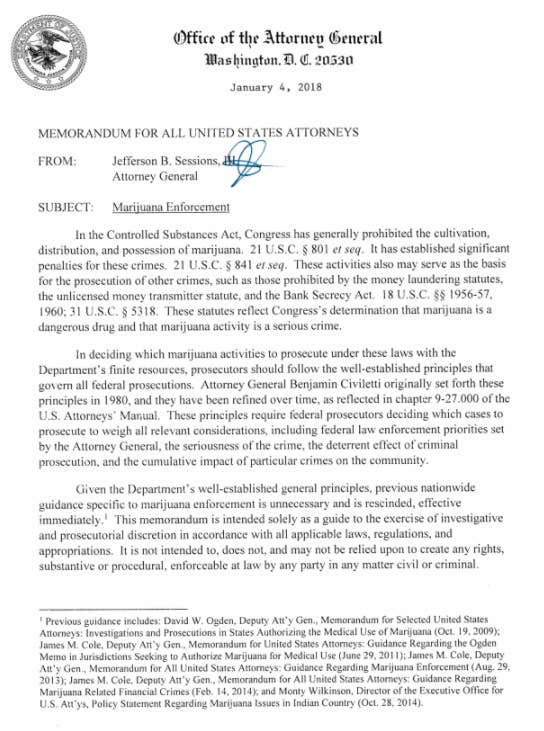 While the Trump administration was trying to distance itself from the past, the impact of its new policy was hazy. Senior Justice Department officials declined to say whether there would be more enforcement of federal marijuana laws against those businesses, or whether Sessions wanted to see more prosecutions under his watch.
Rather, the officials stressed that they wanted US attorneys, who are assigned to districts around the country, to use their discretion to determine whether someone should face federal charges for a marijuana offense. "I think that US attorneys need to determine what cases need to be brought in their district and if they believe additional prosecutions are necessary," one of the officials said during a briefing with reporters Thursday morning.
The announcement comes just days after legal recreational marijuana sales began in California, the largest of eight states to legalize pot since 2012.

Asked if there would be an effort to identify businesses that should be prosecuted, or an attempt to warn business they were violating federal law, one of the officials told reporters, "I think there is no current plan to do that specifically." On whether the department would take legal action against states that had legalized marijuana or taken other steps to permit businesses to operate, the official said that "further steps are still under consideration."
"I can't sit here and say whether or not there will be more marijuana prosecutions," the official added. "We believe that US attorney offices should be opened up to bring all the cases they believe are necessary."
"I can't sit here and say whether or not there will be more marijuana prosecutions," said a senior Justice Department official.
A Justice Department official on Thursday said the Obama-era policy had been misinterpreted as a "safe harbor" for the marijuana industry, creating a widespread belief "that certain marijuana operators would not be prosecuted" if they complied with state laws. But the official declined to explain how the department reached that conclusion — or whether there was any evidence to support it or if this perception was also held by federal prosecutors.
The policy that supposedly created that confusion — and was rescinded Thursday — is the August 2013 Cole memorandum. Following legalization laws that were passed in Colorado and Washington state, the memo had directed federal prosecutors to de-prioritize enforcement against state-compliant pot businesses that met a number of criteria. Prosecutors should focus on problematic business operators, such as those who allow pot to cross state lines or sell cannabis to minors, the memo said.

But that old policy still allowed prosecutors to charge business owners with violating federal pot policy at any time, stating, "Even in jurisdictions with strong and effective regulatory systems, evidence that particular conduct threatens federal priorities will subject that person or entity to federal enforcement action." It also made clear it was not "creat[ing] any rights" for those affected by it.

The withdrawal of the Obama-era guidance could also put banks that do business with the pot industry at greater risk of prosecution. Financial institutions have been more comfortable working with marijuana businesses since the Treasury Department issued guidance in 2014, but that guidance was based on a 2014 Justice Department memo that Sessions also withdrew on Thursday. The 2014 memo stated that "prosecution ... may not be appropriate" for companies that provide financial services to marijuana-related businesses that don't meet the enforcement priorities laid out in earlier memos.
Republican Sen. Cory Gardner of Colorado, one of the first states to legalize recreational pot, tweeted his disapproval of the change, saying it contradicted promises made to him by the Trump administration and that he is now willing to stall federal nominees in retaliation.
Other states that have legalized recreational marijuana sales include Alaska, Maine, Massachusetts, Oregon, Nevada, and Washington state.

Former Justice Department prosecutors in states with legalization laws believe a widespread crackdown on the pot industry is unrealistic. Former US Attorney Jenny Durkan told BuzzFeed News in 2017 DOJ that federal agencies "have very limited tools, and I think none of them would be successful ... I just don't think they can stick the genie back in the bottle."
Durkan, who was the top federal prosecutor in Washington state and is now the mayor of Seattle, said the Justice Department's challenge is both logistical political. "If they wanted to do a law enforcement crackdown, they will lack both the resources and the will to get it done."
Sessions's letter on Thursday instructs prosecutors to "weigh all relevant considerations, including law enforcement priorities set by the Attorney General, the seriousness of the crime, the deterrent effect of criminal prosecution, and the cumulative impact of particular crimes in the community."
Asked about criticism that Justice Department was trampling on the will of voters at the state level, the official told reporters, "We do not have the ability to say what is and what is not against federal law."

Sessions, as leader of the Justice Department, has stressed the importance of treating drugs as a problem for law enforcement, insisting on longer sentences for nonviolent drug offenders and promoting the seizure of property from suspects. He has also cautioned against lax attitudes around marijuana.
But Americans have diverged from the federal government's hardline stance on pot prohibition — with eight states having now legalized its adult recreational use and authorized systems to sell it like alcohol. A Gallup poll late last year found that 64% of Americans support legalization.