The CBS Live Stream Of The Grammys Screwed Up For A Whole Bunch Of People
The company said it was just a brief glitch affecting some customers.
If you couldn't get CBS's live stream of the Grammys to work on Monday night, you weren't alone — and, if you mocked CBS online, you were in especially good company.
CBS had promoted its "All Access" live stream service as a way for fans to watch the annual music awards show.

But for some users, the signal cut out or didn't work at all:
A subscription to CBS All Access costs $5.99 a month; however, viewers were offered a free one-week trial. But many users felt like they'd signed up for something the company didn't deliver.
Others still were mad that the company was apparently cracking down illicit live streams of the awards show — claiming copyright violations — even though their own live stream didn't work.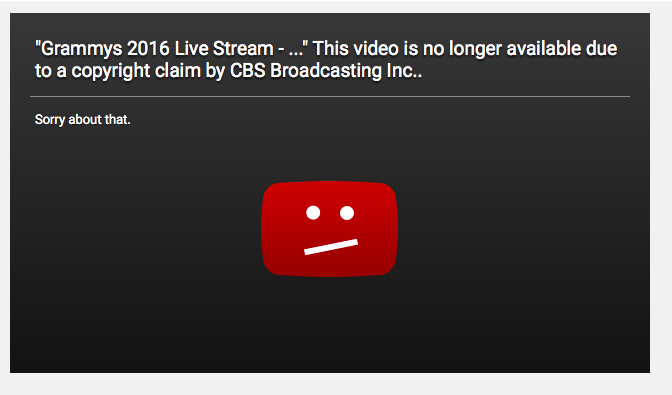 One user tried to cancel — and then that failed.
BuzzFeed News asked CBS asking what went wrong and if it planned to make it up to customers. A spokesperson for CBS Interactive downplayed the issue as a brief glitch for some customers.
"Some users experienced temporary difficulty accessing the live online feed of the GRAMMYs," the spokesperson said. "Our location services provider had a brief issue verifying user location. That issue has since been resolved and all users are back online."