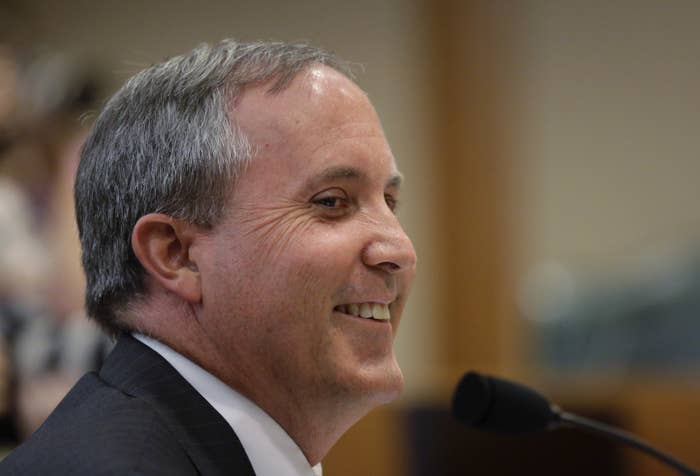 How sweeping was a court order last month that banned the federal government from protecting transgender people's access to restrooms?
Texas Attorney General Ken Paxton and the federal government disagree.
They are now clashing in court about whether the decision — which clearly applies to schools — also encompasses workplaces, both for public and private employees.

In a court filing Monday, Paxton's office argued the Aug. 21 decision applies broadly, suspending the federal government from enforcing rules nationwide that protect transgender workers' access to restrooms that match their gender identity.
Yet that argument differs not only from the Department of Justice's take. It also contradicts a position Paxton's office took just weeks ago, when one of his spokespeople told BuzzFeed News that the August ruling did not directly address workplaces, but addressed guidelines for schools.
Texas argues the federal government must be explicitly barred from enforcing rules to protect transgender people's restroom access in schools and workplaces.
"The scope of the injunction is clear," said the brief filed Monday in US District Court in Northern Texas.
Making a reference to civil rights laws that apply in both workplaces and schools, the latest filing from Paxton's office contended the decision encompasses both. "It applies to intimate areas in both Title VII and IX contexts and enjoins Defendants across the country."

Paxton's office also argued the government must be barred from advancing its legal arguments that transgender people are entitled to restrooms that match their gender in several other cases, a move that could pave the way for the Texas lawsuit to effectively leapfrog to the vanguard of a national legal battle.
Numerous lawsuits over transgender restroom access are percolating in US courts, but the case in Texas may prove uniquely consequential: The judge's preliminary injunction in August applied "nationwide," affecting countless potential workers and students, and possibly disrupting other litigation.
Joined by 10 other states, Texas sued several federal agencies in May to block the government from interpreting two civil rights laws that ban discrimination "on the basis of sex" to also ban transgender discrimination. Primarily at issue are Title VII of the Civil Rights Act of 1964 (which addresses workplaces) and Title IX of the Education Amendments of 1972 (which concerns schools).
Texas argued that the government overreached by enforcing rules and guidance based on those civil rights laws — rules and guidance it calls "regulatory dark matter" — to cover transgender people.
But when Judge Reed O'Connor granted a temporary suspension of the federal guidelines on Aug. 21, his order only explicitly referred to Title IX — the law concerning schools.
Kayleigh Lovvorn, a spokesperson for the Texas Attorney General, responded to BuzzFeed News' question shortly thereafter about the scope of the injunction. "The order applies to all investigations under Title IX," she wrote by email, adding that "this order does not address Title VII."
There could, however, be an effect on workplace cases, she added, because courts consider case law interpreting Title IX when evaluating a case concerning Title VII. "Thus, the injunction will impact Title VII adjudications."
In an attempt to get the judge to clarify questions about the injunction's effects, the Department of Justice filed two briefs (here and here) addressing the injunction's scope. Since then, Texas filed a notice on Sept. 9 that argued the injunction means the government must suspend its legal arguments in several cases, as well as the brief filed Monday.
Monday's brief argues the preliminary injunction applies to enforcement in schools and workplaces, in part because they are intertwined.
"As the Court knows," Paxton's office writes, "schools are not merely institutions of education, but also workplaces and subject to Title VII. Indeed, schools strive not only to provide safe and reasonable educational environments for children, but also safe and reasonable workplaces for their employees."
Further, Paxton's office argued that the federal government couldn't advance its "rule" despite the fact that "the rule may not be visible" — in essence stating the government must freeze all enforcement actions to protect transgender people's restroom access, even where there is no specific guidance document that can be suspended by the court.
Paxon's office advocates carving out one exception, however. The Equal Employment Opportunity Commission could still process complaints and grant grievants a right to sue employers in court for gender identity discrimination, the court brief says, provided that the agency itself "does not get to substantively side with private litigants when access to intimate areas is part of the equation."
In the earlier filing on Sept. 9, Paxton's office argued that, under the injunction, the federal government must be blocked from advancing its arguments in several court cases initiated before the injunction was issued and concerning "intimate areas."
Nevertheless, Texas said the government should be allowed to advance its views in a case currently being considered for review by the Supreme Court that involves a transgender student; the government had filed as a friend of the court with the appeals court in that case.
The Justice Department declined to comment on the latest briefs from Paxton's office.