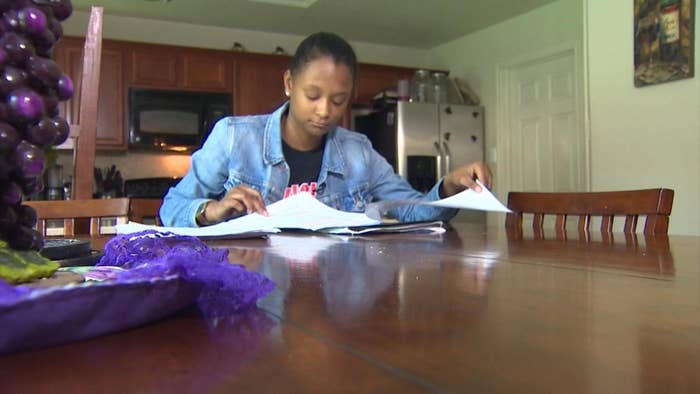 The state of Texas inserted itself into a lawsuit in federal court Tuesday to help argue that a black high school student was required to stand for the Pledge of Allegiance, once again kicking the political football of flag protests into play weeks before the fall election.

NFL players who have taken a knee during the national anthem to protest racial discrimination loom large over the case, which began when India Landry sued the Cypress-Fairbanks Independent School District last fall after school officials threatened to expel her for remaining seated during the Pledge of Allegiance.
Landry — then 17, now 18 — was attending Windfern High School in Houston last fall, where she had abstained from the Pledge of Allegiance more than 200 times without a problem, she said in a complaint filed in federal court. But on Oct. 2, 2017, she was in Principal Martha Strother's office when she refused to stand during the pledge. "Principal Strother upon seeing this immediately expelled India from school saying 'Well you're kicked outta here,'" the complaint continues, adding that a school secretary then added, "This is not the NFL."
On Tuesday, Texas Attorney General Ken Paxton, a Republican up for reelection in November, filed a brief in US District Court for the Southern District of Texas on behalf of the state, asking a federal judge for permission to argue against the student in order to defend a state law that mandates parental permission for students who sit out the pledge.
"Requiring the pledge to be recited at the start of every school day has the laudable result of fostering respect for our flag and a patriotic love of our country," Paxton said in a statement. "This case is about providing for the saying of the pledge of allegiance while respecting the parental right to direct the education of children."
But the student's lawyer, Randall Kallinen, told BuzzFeed News that he believes Paxton's moves are political.
"It's election time," said Kallinen, adding that, while the state can defend its laws by joining lawsuits, the press announcement was designed to get votes. "This is to further their Republican values."
Kallinen pointed out that Landry's mother, Kizzy Landry, supported her daughter's choice to stay seated. But, he said, President Donald Trump chastising NFL players has inflamed conservatives. "Trump condemns the people kneeling for the national anthem, and he said we should kick the bums out," Kallinen said. "When he said those words, he emboldened people within the school district to punish kids who sit during the Pledge of Allegiance."
Asked why she sat out the pledge, Kallinen cited Landry's comment to local news stations and added, "Generally the same things, in many ways, as the people who kneel at the national anthem during NFL games."
Conservatives have seized on the debate over kneeling during the anthem as the midterm elections approach, including in Texas, where the protests have been seen as a convenient wedge issue for Republican candidates.
Landry told KHOU shortly after the incident, "I don't think that the flag is what it says it's for, for liberty and justice and all that. It's not obviously what's going on in America today … I wouldn't stand because it goes against everything I believe in."
"They were making rude comments saying 'This isn't the NFL, you won't do this here,'" she said of school officials.
On Oct. 5, Landry and her mother, Kizzy Landry, attended a meeting with the principal, who said India must stand for the pledge to be let back in at Windfern High School. "Principal Strother said that sitting was disrespectful and would not be allowed," according to the complaint. "Principal Strother suggested that India write about justice and African Americans being killed. Ms. Strother then said the meeting is over and if India does not stand for the Pledge she cannot return to Windfern."
A cascade of lawsuits over the Pledge of Allegiance has risen through US courts for decades, most notably West Virginia State Board of Education v. Barnette, in which the Supreme Court held a student could sit out the pledge in protest. However, the issue in Texas and some other states is more nuanced. In Florida, which also has a law that requires parental permission for students to opt out of the pledge, a lower court judge ruled in a student's favor. But later, the Circuit Court of Appeals for the 11th Circuit issued a mixed ruling, largely reversing the lower court. It found that a student could skip the pledge, but it ruled the parental permission law was not unconstitutional on its face.
As Paxton pointed out in the Texas brief Tuesday, the Texas Legislature enacted Texas Education Code Section 25.082(b), which states, "[t]he board of trustees of each school district ... shall require students, once during each school day at each campus, to recite ... the pledge of allegiance to the United States flag in accordance with 4 U.S.C. § 4."
"Texans also recognize that a critical aspect of the liberty guaranteed by the United States Constitution — and represented by the United States flag — is a parent's right to direct the education and upbringing of his or her children," the Texas brief said. "A State may act to protect that interest, and the Texas Legislature did so by giving the choice of whether an individual student will recite the Pledge to the student's parent or guardian."
But Kallinen contends the state has no legitimate interest in whether students sit or stand for the pledge, and he notes that the court ruling in Barnette protected a student's right to abstain from the pledge. "I say let's go to the Supreme Court and ask them."