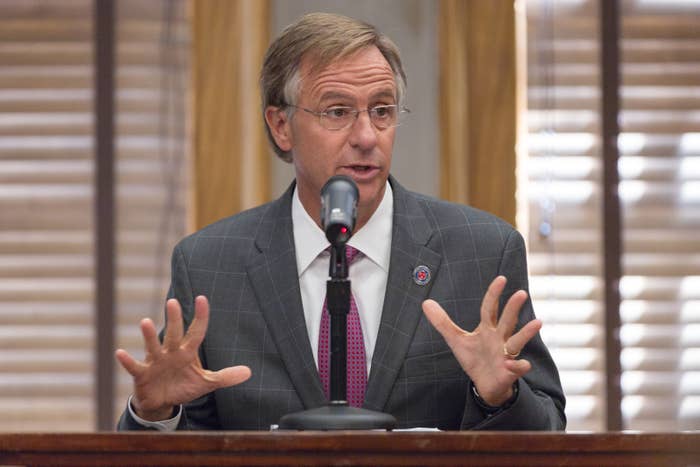 Tennessee Gov. Bill Haslam signed a bill into law on Wednesday allowing counselors and therapists to refuse clients based on their beliefs — seen by several advocacy groups as part of a national legislative effort to enact laws that let service providers reject LGBT people.
Proponents of the law had argued it was necessary to ensure clients would get help from providers best suited for their needs instead of getting stuck with professionals who are a bad fit.
In a statement, Haslam said, "I believe it is reasonable to allow these professionals to determine if and when an individual would be better served by another counselor better suited to meet his or her needs."
"The substance of this bill doesn't address a group, issue or belief system," he added. "Rather, it allows counselors – just as we allow other professionals like doctors and lawyers – to refer a client to another counselor when the goals or behaviors would violate a sincerely held principle."
After the Tennessee legislature passed the bill earlier this month, LGBT groups pressured Haslam to block it. However, their efforts were minimal compared to the crush of corporate lobbying faced by governors of Mississippi and Georgia, where legislatures this year passed broad religious freedom bills that critics said allowed services and products to be denied to LGBT people. Georgia's governor ultimately acceded and vetoed the bill — Mississippi's governor did not, and is now in the bull's eye of protests.

It would provide counselors immunity if they turn away a client whose goals, outcomes, or behaviors conflict with their beliefs.
The comparatively moderate outcry over Tennessee's bill appeared to result from its narrower scope.
House Bill 1840, also known as Senate Bill 1556, provides counselors and therapists immunity from liability if they turn away a client whose goals, outcomes, or behaviors conflict with their beliefs.
It was originally introduced to protect sincerely held religious beliefs, but lawmakers widened it slightly. As passed, it would instead protect counselors acting on "sincerely held principles."
Counselors who decline clients would need to refer them to a provider who will see them, and it does not apply to clients in risk of imminent danger.

Haslam said those exemptions "addressed concerns I had about clients not receiving care."
Although sweeping recusal bills have drawn national outcry the past couple years, other narrowly tailored bills — which protect one group or industry — have seen less resistance.
Take Kansas, which passed a bill in March to protect religious student groups that exclude certain members, which critics said was designed to let Christian school groups ban LGBT students. Gov. Sam Brownback signed it.
"Although piecemeal bills like the one in Kansas may not garner the same type of national backlash we see in North Carolina, Georgia, and elsewhere, every single one of them impacts LGBT Americans in communities across the country," Dan Rafter, a spokesman for LGBT advocacy group Freedom For All Americans, told BuzzFeed News.
Another example is Michigan, where the legislature passed a bill last year to let publicly funded adoption agencies turn away parents on religious grounds. It was similarly regarded as means to let certain providers — particularly Catholic charities — shut out same-sex parents. Gov. Rick Snyder signed it into law.
But Snyder had a different reaction to a more general religious freedom bill: He announced earlier the same year that if the legislature passed the bill, he would veto it.
"Businesses have started to take note of these types of smaller bills."
"While they may not all generate the tsunami of bad press," Rafter said of the recusal bills with a narrower breadth, "they all chip away at a state's reputation. Businesses have started to take note of these types of smaller bills and it's only a matter of time until they start speaking out in greater force."
In Tennessee, Gov. Haslam has spoken up about a different bill opposed by LGBT advocates — a measure to ban transgender students from school restrooms that match their gender identity. Haslam said it could jeopardize access to federal education funds.
But while Haslam had taken a position on that measure — which is currently frozen in a Senate committee — he kept his card close to his chest on the counselor bill.

"The governor is deferred to the will of the legislature on this bill as amended," spokesperson Jennifer Donnals told BuzzFeed News. She declined to explain what the sentence meant. She continued, "As with every piece of legislation that comes to him, he will review it in its final form before taking any action."
Halslam did not face the same pressure over HB 1840 as governors in states with broader recusal bills, but he encountered some pushback.
The American Counseling Association has said the bill conflicts with a code of ethics and targets LGBT people. An online petition asked Haslam to veto the bill because it would "make it harder for LGBTQ people to get mental health care."
Meanwhile, the Family Action Council of Tennessee, a group that opposes LGBT-protection laws, advocated for the bill — though the group said it is not designed to target LGBT people.