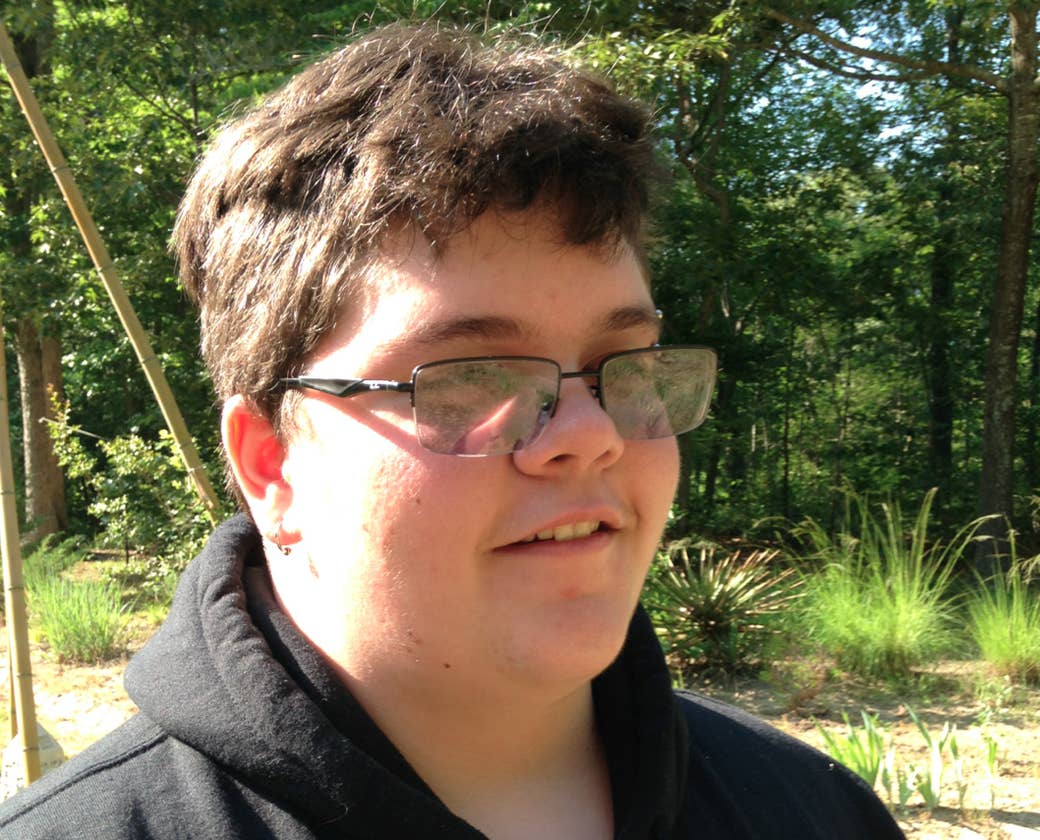 Before 16-year old Gavin Grimm filed a lawsuit in federal court on Thursday that could put him under a national spotlight, he already had endured more scrutiny, and embarrassment, in his rural home county in Virginia than most people experience in a lifetime.

Last fall, the Gloucester County School Board held two rounds of meetings — packed with students and parents — over a proposal aimed at solely Grimm. While he sat in the room, public testimony called Grimm a "freak" and compared him to a dog, while some speakers debated his anatomy as a transgender boy. Then, in a 6–1 vote, the board passed a policy to prohibit transgender students from using restrooms that don't correspond to their "biological genders."
Put simply, Grimm was banned from the boys room — where he had been using the restroom without incident for seven weeks with his high school's permission before fervent religious groups and fearful parents found out. The groups pressured the board to keep him out, citing privacy concerns and the specter of sexual misconduct.
"The people of my community had a discussion about where I could use the bathroom — and my genitals and anatomy — that was mortifying and dehumanizing in a way I can't begin to describe," Grimm told BuzzFeed News.
"As long as I live in Gloucester County, I can never live a life as Gavin Grimm, your neighbor. I'll always be the one who was in the news, the one who created a controversy at school," he said.
But on Thursday, the morning after his sophomore year ended, Grimm took a step that puts him front and center in an even bigger controversy before federal courts.
Kim Hensley, the one school board member who voted against the policy, agreed with Grimm, saying the policy "violates the civil rights of transgender students by denying them equal access to school facilities."
In a detailed lawsuit written by the American Civil Liberties Union and filed in U.S. District Court, Grimm argues he has a constitutional right to use the boys restroom under laws that ban sex-based discrimination in schools that accept federal money. Under Title IX of the Education Act of 1972 and the Equal Protection Clause of the 14th Amendment, the suit says, a federal judge should impose an injunction that forces his school board to grant him access to the boys restroom when he returns to classes in September.
"It's outing me on a larger scale than I ever imagined," Grimm said of the federal complaint. "That is frightening. I just wanted to live my life as the normal guy that I am. But I am prepared to face whatever stress comes my way. My best case scenario would be to make sure no one in Gloucester Public Schools ever has to go through this sort of thing again."
If Grimm wins, the decision would apply to him, officially. But the repercussions of the suit could reach beyond Grimm and the 37,000-person county's one high school.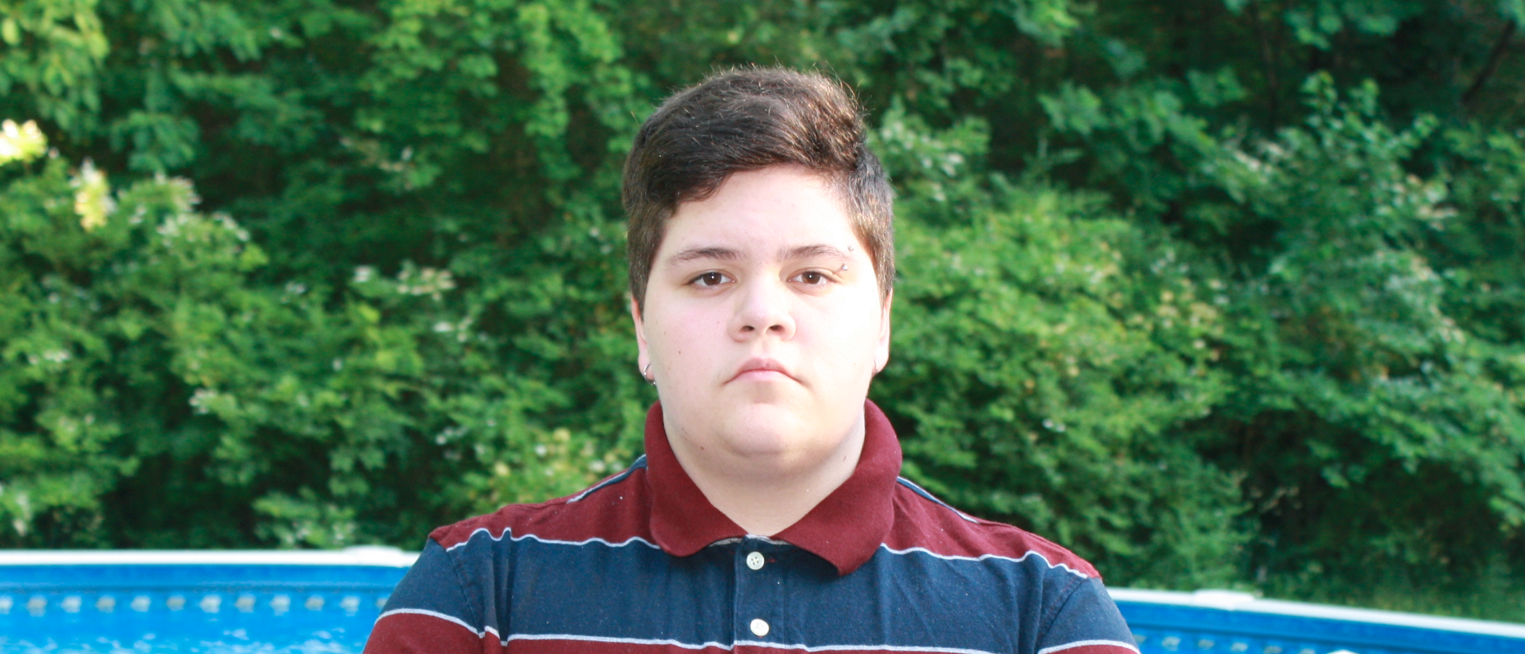 A nearly identical debate has roared the last several months in other parts of Virginia. In Stafford County, the school board passed a measure to ban one trans student from the girls restroom, while Fairfax County's school board took the opposite tack in May, voting to ban transgender discrimination across the board. In that case, parents and advocacy groups focused on bathroom use; a board meeting on the policy became so rowdy that police arrived. Similar debates over transgender people using restrooms have bubbled up in California and Miami.
A ruling in Grimm's favor could cement previous interpretations of the law by federal agencies and lower courts — in a way only federal courts can — and influence school boards around the country that consider similar policies, proponents argue.
Joshua Block, a staff attorney for the ACLU who drafted the suit with the ACLU of Virginia, told BuzzFeed News, "We want to establish as clearly as possible that these rights exist and these protections exist, and the gold standard for that is federal court decisions."
The Obama administration has found barring transgender students from restrooms that correspond with their gender identity violates Title IX, which bans gender-based discrimination in public education facilities.
"We want to establish as clearly as possible that these rights exist and these protections exist, and the gold standard for that is federal court decisions," said ACLU staff attorney Joshua Block.
Among the examples: Education and Justice Department officials found a California middle school could not discriminate against a student under Title IX in 2013, addressing a complaint that rose from restroom use. In February, the DOJ affirmed its position that transgender students may use the restroom reflecting their gender identity by filing a brief in federal court for a Michigan case involving a 14-year-old transgender student who'd been banned from the boys restrooms. The Equal Employment Opportunity Commission found in April that problems transgender people face in the workplace, including bathroom restrictions, can violate Title VII of the Civil Rights Act of 1964. And in Maine last December, a state court ordered a school district to pay $75,000 for requiring a transgender student to use a staff bathroom.
Grimm's case would crystalize and affirm those decisions, Block said.
"The way to make lasting change in the law is to establish federal precedent. Agency decisions are very persuasive authorities that are deferred to, but the final authority on what our constitution means are the federal courts," said Block.
BuzzFeed News asked every school board member to comment on the allegations in the lawsuit.
Kim Hensley — the one school board who voted against the policy and an attorney — was the only to reply Thursday. She agreed with the lawsuit's claim, saying the rule approved in December "violates the civil rights of transgender students by denying them equal access to school facilities."
"Failing to comply with Title IX puts our federal funding at risk," she continued. "That funding pays for many programs including free lunches for hungry children, math and reading specialists to help struggling students, and special education. We need these programs for our students."
The school board never considered the rule until until Gavin came out and parents made restrooms an issue, Hensley continued, adding, "I am not aware of any complaints made directly by students or any problems arising from a transgender student's use of his gender-identified bathroom at the High School prior to the ban implemented by this school board policy."
"I respect Gavin Grimm immensely," she said. "He has been subjected to vitriol that would crush others. His willingness to stand up and challenge a discriminatory policy is beyond courageous."
But bringing the case federal judge could also set exactly the wrong precedent for Grimm and other transgender students.
In Pennsylvania, a federal judge dismissed a case in March filed by Seamus Johnston, a transgender college student who raised similar arguments to those in Grimm's case. Though Block calls the decision "grievously incorrect," Judge Kim R. Gibson ruled Johnston had no rights to use male restrooms and locker rooms.
Because it is acceptable to separate male and female restrooms generally, a transgender student may be barred from a restroom based on his or her sex at birth, Judge Gibson ruled. "Thus, while the Plaintiff might identify his gender as male, his birth sex is female. It is this fact … that is fatal to Plaintiff's sex discrimination claim," wrote Gibson.
While that ruling is being appealed to the 3rd Circuit, the Gloucester County School Board appears likely to lean heavily on that decision in its defense.
Several times since December, BuzzFeed News contacted members of the school board who backed the transgender bathroom policy, to no reply. However, a lawyer for the board cited the Pennsylvania ruling heavily in a recent letter to the Justice Department.
The ruling in the Johnston case "sums up what the Board believes to be the appropriate legal resolution of this matter," two attorneys for the board wrote.
The board was responding to a complaint filed by Grimm in December. The DOJ has not yet issued a decision on that complaint, which cited many of the details described in the lawsuit filed Thursday.
"You are the black sheep; you're the one being singled out," Grimm said. "It's a walk of shame."
Starting at the beginning of Grimm's sophomore year, officials at Gloucester High School had allowed him to use the boys restroom. None of the students had complained in nearly two months of him using the restrooms, according to Grimm's lawsuit.
"Using the girls' restroom is not possible for Gavin,' the suit explained. "Even before he began treatment for Gender Dysphoria [the medical term for the experience of transgender people], girls and women who encountered Gavin in female restrooms reacted negatively because they perceived Gavin to be a boy. For example, when Gavin was in eighth and ninth grade, girls would tell him, 'This is the girls room,' and ask tell him to leave."
When the board passed its restroom policy, it required schools to create gender-neutral restrooms for students who did not feel comfortable in a single-sex restroom. The high school modified urinals to make them more private. But that solution was inadequate, Grimm said.
"I have not seen a single other student use" the single-stall restrooms since they were installed this school year, he said. So, if someone does use them, "everyone knows exactly why you are there. You are the black sheep; you're the one being singled out. It's a walk of shame."
The suit argues it's backward to single out the school's one transgender student to use a different facility.
"The privacy modifications made to the restrooms address the already far-fetched concern that Gavin might see the genitals of another boy while using the restroom. Any boy who still feels uncomfortable with using the restroom at the same time as Gavin may avail himself of the recently installed single stall bathrooms. But the School Board may not place the burden solely on transgender students to use separate restroom facilities to address the alleged discomfort of others," says the lawsuit.

"Excluding a transgender boy from the restroom that corresponds to the student's gender identity, or forcing the student to use a separate facility from other boys, communicates to the entire school community that he should not be recognized as a boy and undermines the social transition process," the suit says. "By requiring Gavin – a transgender boy – to use separate restrooms because of his 'gender identity issues,' the School Board has and continues to exclude Gavin from participation in, deny him the benefits of, and subject him to discrimination in educational programs and activities at Gloucester County Public Schools and Gloucester High School 'on the basis of sex,' which violates Gavin's rights under Title IX."
For his part, Grimm understands the arguments raised by critics, but he thinks they're naive about what it means to be transgender, and he said he didn't ask for this high-profile dispute.
"All I did was approach my school was and ask if I could live my life as my doctor recommended, which is live as a male," he said. "In response, the community set this in motion."

"Sexual misconduct in bathroom should be dealt with on individual scale — trans or not trans, male or female," he continued. But he dismisses the idea that someone would quickly pretend to be trans to snoop on boys or girls. "Transition is a long and drawn out process. No student can just wake up one day and say, 'I'm a boy now,' or, 'I'm a girl now,' and just walk to the bathroom. I don't think there would be any student willing to face the harassment and discrimination of transition solely for the purpose of entering a bathroom."
"I just want to live a normal quiet life."