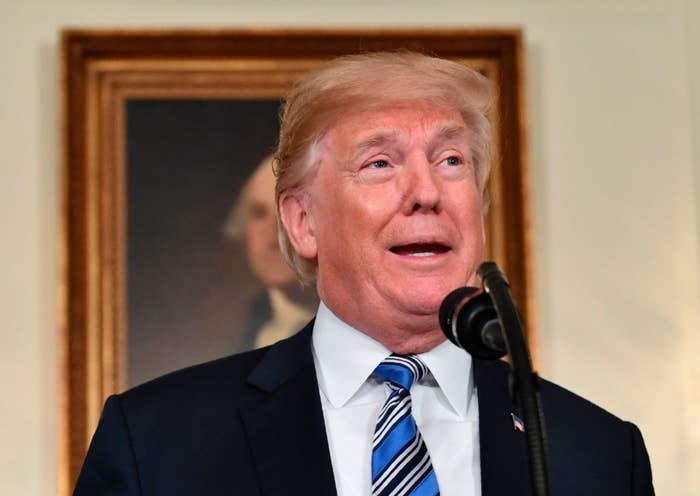 When a federal judge in Seattle holds a hearing Tuesday over President Donald Trump's transgender military ban, she will face an odd question: Does the Trump administration even have a policy banning transgender troops right now?

No, not in writing. Not anywhere, technically.
Neither the Justice Department nor the Pentagon could cite such a policy when asked repeatedly by BuzzFeed News if one existed, and none has been posted online or filed in court.
This runs counter to briefs filed by Justice Department lawyers Friday in federal courts in both Seattle and Washington, DC, which said dozens of times there was a "new policy."
Maj. David Eastburn, a spokesperson for the Department of Defense, did not cite any policies in an email asking for them Tuesday, instead saying officials are abiding by court orders from last fall that allow transgender troops to serve for now.
A Justice Department spokesperson simply referred back to court briefs that say there is a "new policy."
The administration created the situation Friday night, when Trump rescinded his August memo that banned transgender military service. Federal lawyers simultaneously released recommendations from Defense Secretary James Mattis to ban most transgender troops and a 44-page Pentagon report laying out how and why the government should ban transgender soldiers.
Although Trump's order gave Mattis and the Department of Homeland Security unfettered license to create rules they want, Mattis's recommendations are not codified in any rule, and the Pentagon hasn't yet issued any policy implementing the recommendations.
"There is no policy," Peter Perkowski, a lawyer for OutServe-SLDN, which is representing transgender soldiers in the Seattle lawsuit, told BuzzFeed News. "It is strange that the government, in its submission to the court, was referring to this as the Mattis policy, but Mattis didn't promulgate anything."
Instead, the US military is left with a sort of Schrödinger's cat of would-be policies: The ban doesn't technically exist, while simultaneously existing as a set of possible rules.
Much like Trump's travel ban, each new permutation of the transgender ban has raised questions about what it is intended to do and what, legally, could take effect right away.
"Just like in the travel ban cases, they kept issuing different orders, and then the question became whether it was covered by this previous injunction," Perkowski said.
What exists with the transgender ban is even more complicated — a vacuum created by the lack of a policy, which a lawyer for the transgender troops called a "blank space." That gap, though, could just be a sign of a new legal strategy.
This could serve a legal function, or it may be a result of the policy being rolled out in chaos.
It's possible this purgatory results from Trump rolling out policies in chaos (after all, Trump announced his ban with tweets in July that surprised his own top general), or this may be a clever sleight of hand that serves a legal function.
The Justice Department has spent months trying to untangle the military from court orders that temporarily blocked Trump's August memo banning transgender troops. By withdrawing the August memo Friday and leaving nothing in its place, the administration attempted to wiggle out from those court injunctions, and the Justice Department now claims there is no policy left to challenge.
"Because that Memorandum has been revoked, a declaration from this Court as to the constitutionality of that Memorandum would amount to an impermissible advisory opinion," Justice Department lawyers said in a brief filed Friday in US District Court in Western Washington.
The Justice Department argues the case is moot and the plaintiffs "cannot show that they would suffer any cognizable injury from the new policy … If Plaintiffs decide to challenge the new policy upon implementation, courts can review it at that time."
Eastburn said on behalf of the Pentagon, "The policy we're adhering to is the one we've been directed to comply with via the four circuit court rulings. Because those cases are ongoing, I'm not able to comment further."
Shannon Minter, legal director of the the National Center for Lesbian Rights, which is representing plaintiffs in two of the four lawsuits challenging the ban, told BuzzFeed News, "It's completely obvious that this is just a litigation strategy to get out from under the existing preliminary injunction."
As Minter sees it, the Pentagon could release the language of the new policy without violating the injunctions so long as the policy was not implemented.
But without any written policy, what would Judge Marsha Pechman and other courts be ruling on at this point — what specifically do LGBT advocacy lawyers want blocked?
"I guess that's a fair question," said Perkowski.
Perkowski still argued he holds the upper hand over Trump thanks to the voluntary cessation doctrine. The legal standard holds that a defendant can't simply have a case dismissed by declaring they'll stop an offending activity — the defendant must actually take steps to cease. In this case, the government is asking to have an injunction lifted because, it says, there's no live threat from a policy.
But as Perkowski counters, Mattis's recommendations and Trump's endorsement telegraphs exactly what they plan to do — and they haven't ceased at all.
Minter said a judge doesn't need to see any formalized policy in order to suspend it from taking effect preemptively. While the currently enacted orders blocked Trump's August memo, they could be modified by a court to ban the government from enforcing any new policy that would have the same effect.
This limbo — which could go on indefinitely — creates more than an academic problem for hundreds or thousands of transgender troops, Minter said, who wonder if a new set of rules will suddenly disrupt their careers.
For the time being, Minter said, "The official current policy of the US military is the open service and equal access to enlistment that was adopted under Sec. Ash Carter."