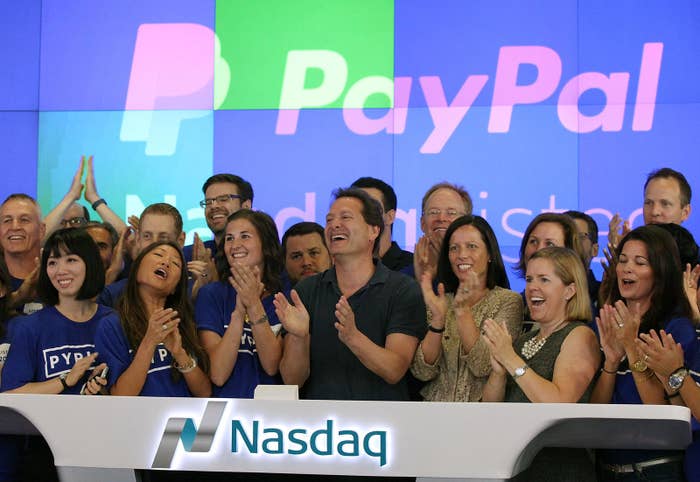 Republican state lawmakers filed a record number of bills the past few years to roll back LGBT rights and restrict transgender people's access to restrooms. While a handful of the measures passed, including a bathroom law in North Carolina, others died or were scaled back — including in Georgia, Arizona, and Indiana — after business coalitions exerted pressure at the eleventh hour.
Now, for the first time, tech companies are holding a national summit of business and LGBT leaders to discuss strategies for defeating a new crop of bills before legislatures can gavel in come January.
The meeting, organized by Salesforce and PayPal, convenes in San Francisco on Wednesday with up to 100 leaders from LGBT and business groups.
"The tide of legislative attacks has been increasing," said Jenny Pizer, the law and policy director of Lambda Legal, who will give a presentation about bills that allow services to be denied on the basis of religious objections.
Noting that LGBT people face a "coming onslaught of state legislation," she called the summit "tremendously important and promising," adding, "businesses have played an evermore decisive and high-profile role in saying, 'No.'"

An invitation to the event, obtained by BuzzFeed News, said the agenda would cover battleground states for next year's legislative fights and "a strategic discussion around the various ways we can collaborate in each state."

Justin Higgs, a spokesperson for PayPal, added by email, "Through this event, we strive to play a part in helping businesses protect employees, customers, and families from discriminatory actions in communities where they live and operate."
In Texas this week, a bill that was pre-filed would void all local LGBT nondiscrimination ordinances, such as in Austin and Dallas.
The event invitation says that groups slated to give presentations to business leaders include the Human Rights Campaign, Freedom for All Americans, the National Center for Transgender Equality, Lambda Legal, ACLU, Gill Action, and the Transgender Law Center.
"Our goal is to partner with key businesses engaged in these equality fights across the nation and develop a better communications framework for the future," says the invitation.
Sources familiar with the meeting who spoke to BuzzFeed News said the summit was likely to focus on bills that aim to preempt local regulations, restrict transgender people's access to restrooms, and protect those with religious objections to same-sex marriage.
In addition, the sources said, the summit will likely consider pro-LGBT legislation in more moderate states that would ban discrimination on the basis of sexual orientation and gender identity. The elephant in the room for such a conversation, however, is whether LGBT advocates should support compromise bills if they don't cover public accommodations.

Pizer noted that companies are increasingly motivated to protect LGBT employees in states where bills are cropping up.
"I think our community is going to need ever more visible outspoken leadership from the business community and other communities to deal with the coming onslaught of state legislation in states and in Congress."
UPDATE
A spokesperson for Gill Foundation said the group's sister organization, Gill Action, which handles lobbying activity, will be presenting at the event. The invitation had named the Gill Foundation.