The Supreme Court announced on Monday that it would hear the case of a Christian baker in Colorado who refused to make a wedding cake for a gay couple, teeing up the country's highest stakes legal showdown about whether laws that protect LGBT people from discrimination can violate religious people's constitutional rights.

The justices granted certiorari to hear the case, Masterpiece Cakeshop v. Colorado Civil Rights Commission, in its next term, which begins in October.
"We were surprised," Kristen Waggoner, general counsel of Alliance Defending Freedom, a religious legal group representing the baker, said in an interview with BuzzFeed News on Monday morning. The high court had been silent on the case for months, leading many legal experts to believe the court would reject it.

Now, with the first chance to set national precedent on an issue percolating around the United States, she said: "We hope that Americans with a different viewpoint on marriage wouldn't be or forced to express messages they disagree with."

However, lawyers for the couple warned that a ruling in the baker's favor could implicate more than wedding cakes for same-sex couples, instead creating a loophole that allows discrimination against other classes of people too.

"This case isn't about cakes — it's about people being turned away from a business simply because who they are," James Esseks, head of the LGBT & HIV Project for the ACLU, told BuzzFeed News.
"The ruling that the baker wants here would decimate our civil rights laws."
"The ruling that the baker wants here would decimate our civil rights laws, not just for LGBT people but for all people protected by our nondiscrimination laws," he said. "Businesses could say, based a person's religious belief, they will not serve these people or those people."
Since same-sex couples won the right to marry in states and later nationwide, conservative activists have doubled down on lawsuits and legislation that promote religious freedom. They argue that providing wedding-related services to same-sex couples amounts to participating in the ceremonies, thereby violating rights to religious exercise and free speech.

Bakers, florists, and photographers are selling creative services, the activists say, and cannot be forced into artistic expression.

While it remains legal in many parts of the US to turn gay couples away from businesses, 21 states ban discrimination in public settings on the basis of sexual orientation, including Colorado. If a business bakes wedding cakes for straight couples, the thinking goes, nondiscrimination laws require they must provide the same service to gay couples.

In July 2012, Charlie Craig and David Mullins attempted to order a wedding cake from Masterpiece Cakeshop in Lakewood, Colorado, but owner Jack Phillips declined, saying that it would violate his religious beliefs.

"I'll make you birthday cakes, shower cakes, sell you cookies and brownies, I just don't make cakes for same-sex weddings," court records say Phillips told the men.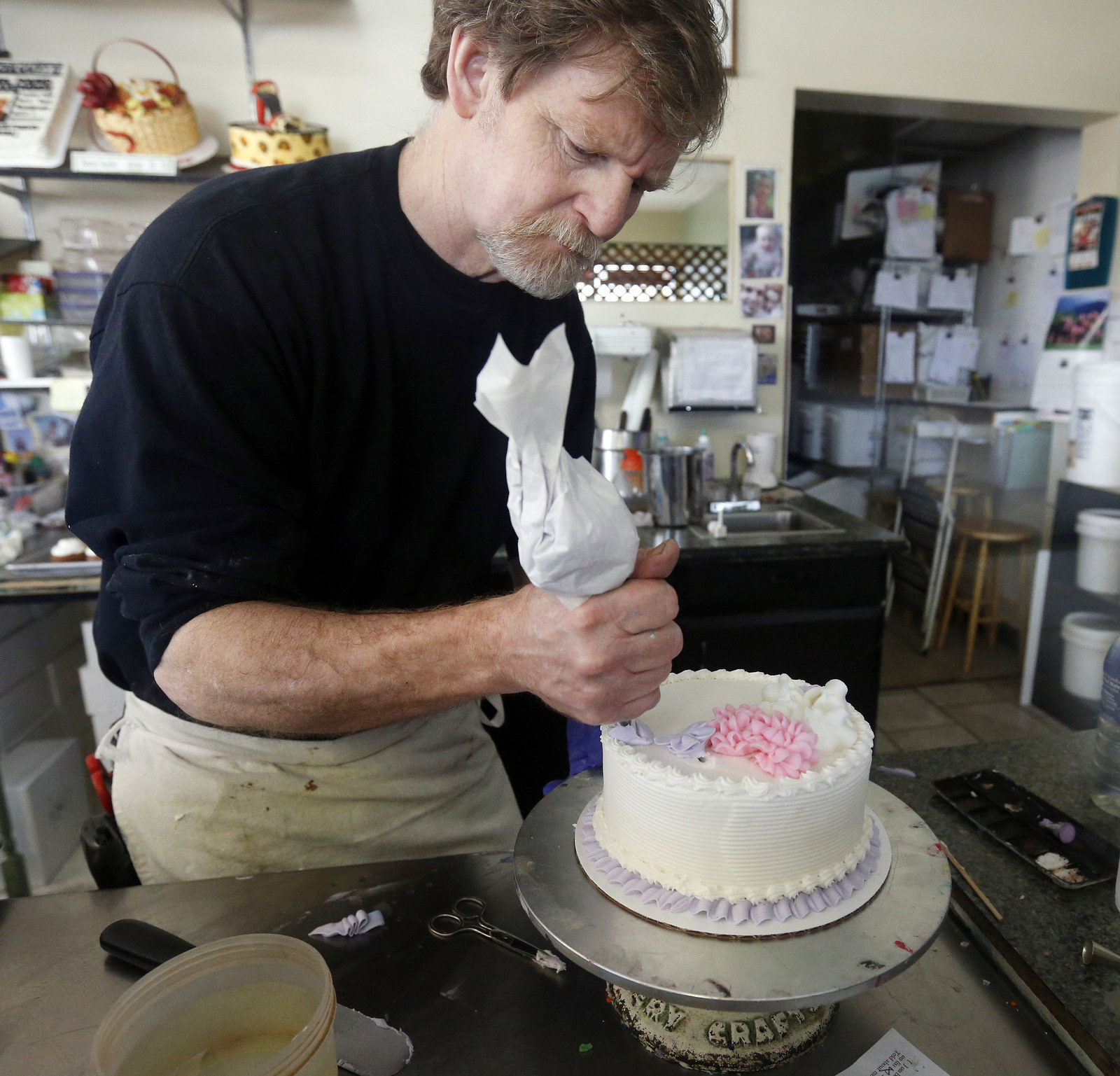 Represented by the ACLU, the couple filed a complaint with the Colorado Civil Rights Commission, which found in 2014 that the baker ran afoul of a state law banning discrimination on the basis of sexual orientation. A Colorado appeals court upheld that decision, saying that if the baker "wishes to operate as a public accommodation and conduct business within the State of Colorado, [the Colorado Anti-Discrimination Act] prohibits it from picking and choosing customers based on their sexual orientation."

The court added that the law "does not impose burdens on religious conduct not imposed on secular conduct."

The state supreme court declined to take the case.

Phillips, who is represented by the Christian advocacy legal group Alliance Defending Freedom, then asked the US Supreme Court to accept the case, which it did on Monday.
"The suggestion that there is a slippery slope is absurd in light of case law."
Speaking on behalf of the group, Waggoner dismissed concerns that a ruling could eviscerate civil rights protections more broadly, such as allowing a baker to refuse a cake to a mixed-race couple. "It's a red herring," she said. "The suggestion that there is a slippery slope is absurd in light of case law."

"This case is about marriage; this is not about sexual orientation," she added, emphasizing that she doesn't want a ruling so broad it allows people of color to be turned away from a business on the basis of race. "The ruling we are seeking is that when there is custom artistic expression, it is protected under the free speech clause and people of faith are not targeted because of their religious beliefs."

The ACLU's Esseks was disappointed the court took the case, he said, but he noted that lower courts — from Washington state to New York — have consistently found that religious defenses failed to allow discrimination against same-sex couples.

"We are hopeful that the court will end up in a place where it preserves nondiscrimination and religious freedom for everybody," he said.
Alliance Defending Freedom is also representing a florist in Washington state who turned away a gay couple seeking flowers for their wedding. The state supreme court ruled against the florist in February. Waggoner said the group will formally petition the Supreme Court on July 14.

The high court had been pondering whether to green-light the Colorado case for months, declining to take action during its weekly reviews. At least four of the justices' support was needed for the case to be accepted.

The case asks: "Whether applying Colorado's public accommodations law to compel Phillips to create expression that violates his sincerely held religious beliefs about marriage violates the Free Speech or Free Exercise Clauses of the First Amendment."