Students Should Not Have Been Punished For "Gay O.K." Shirts, District Says
The students were trying to draw attention to anti-LGBT bullying at their Texas middle school. The students say they made the T-shirts after getting no help from administrators.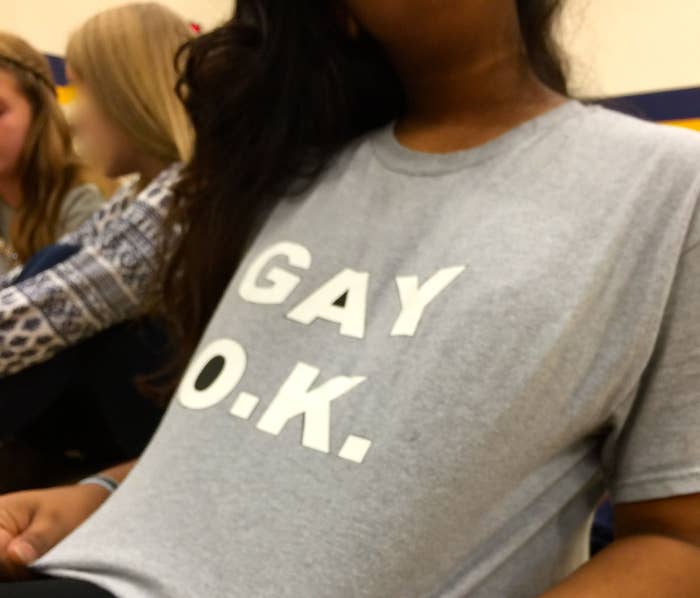 A Texas middle school crossed the line last week by telling more than a dozen students to remove "Gay O.K." T-shirts and ordering those who refused to go home, according to the school district that oversees Faubion Middle School.

"We told the campus administration that they should not have asked the students to take off the shirts, or change shirts," Cody Cunningham, the chief spokesman for McKinney Independent School District, told BuzzFeed News. "We told them that students have every right to wear the shirts."
Students were trying to draw attention to anti-LGBT bullying at the school, two students who wore the shirts told BuzzFeed News. Another student who'd come out as bisexual had been persistently harassed in the hallways by a group of boys who called her a "dyke" and a "fag," they said.
When a vice-principal heard about the bullying and failed to intervene, the students say, they made the T-shirts as a last resort.
"They cared more about our simple shirt that said 'Gay O.K' than the extreme bullying that has happened to the people who have come out recently," Sammy Heiman, a seventh-grader who made the shirts, told BuzzFeed News.
At least three of the 15 students who wore the shirts were sent home from the school in McKinney (the same Dallas suburb where police broke up a pool party over the weekend and an officer pulled a weapon on black teens).
School officials did not respond to BuzzFeed News' requests for comment. But students were told they violated a school dress code. Officials cited rules that state, "Any disruptive or distractive mode of clothing or appearance that adversely impacts the educational process is not permitted."
Students say school staff instigated the uproar by making a spectacle of the girls wearing the shirts, lining them up and hauling them out of the lunchroom.
Only then, they say, did some students chant "Gay O.K." in support and other students yelled back. Heiman said she was taken to the principal's office before the argument even broke out.

Regardless of when there was a disturbance, Cunninghamn said the school should have pulled out unruly students, not just those wearing the shirts.
Another seventh-grader who wore a shirt to school that day, Anna Thompson, told BuzzFeed News, she didn't think it would have been an issue if school administrators had let them wear the shirts.
"We weren't causing a disruption until the administration came to our classrooms, even before lunch," she said. "A teacher said my shirt was not appropriate before school even started. Then during lunch they told other kids to change or go home."
The problem began in May, Heiman said, when a seventh grade girl came out as bisexual and a group of boys began harassing her.
"They kept saying rude things to her in the hallways. They would call her 'dyke' or 'fag,'" Heiman said. Even after some of the girls asked the boys to stop, one boy persisted, she added.
When a friend approached the boy in the cafeteria at lunch and asked him to stop, the two took their disagreement to a vice principal, Robert Waite. Heiman said she watched the exchange, in which Waite did not take any action against the boy, but instead mocked the girl to another school staffer, reportedly saying, "This girl's in charge of school bullying."
Heiman said Waite made the girl who reported the bullying sit down.
"She was sobbing by the time she came and sat back down next to me," Heiman recalled. "I was really angry that that was something they would get angry about — about us talking to the bullies — but not about the bullying itself."
She said students made the shirts because asking school staff for help risked further punishment: "It was easier than starting a huge protest or talking to the principals and getting in trouble for it."
About 15 girls chipped in for supplies to make she shirts, and when they wore them to school on June 3, "we all walked in at different times and few of us were called out immediately by teachers," Thompson said.
"Gay-shaming and bullying for being different is a big problem at our school," said Thomson. "There are tons of kids who are different, and our school has a lot of very religious people in it and they like to speak their mind. They like to say that being gay is wrong and bad."

Heimen added, "What bothers me is, if we can't wear 'Gay O.K.' shirts, why are people allowed to wear Jesus shirts, or shirts with crosses on them?" She noted that students wear Christian-themed clothing "all the time."
BuzzFeed News repeatedly asked the school's top officials via email and phone messages if they had received complaints about anti-LGBT bullying before June 3, and whether school staff initiated action against students wearing the shirts before the disruption, but did not get a response.
But Cunninghum said district officials had recieved "absolutely no reports of bullying" from the school before the T-shirt incident. Furthermore, the school said it took no action until students were unruly in the cafeteria.
"Based on the feedback from their staff, [the students] were only asked to leave because of the distraction of the student yelling back and forth," he said.
Now the the district is investigating.
"This is not something that has been resolved," Cunningham said. "We will continue to look at this, and if we believe the administration at the campus level acted inappropriately, we will take take action to make sure it doesn't happen again."
The students, meanwhile, are already organizing for next year. With the help of the drama teacher and librarian, they're starting a gay-straight alliance, or GSA. The group will begin meeting at the beginning of the new school year.