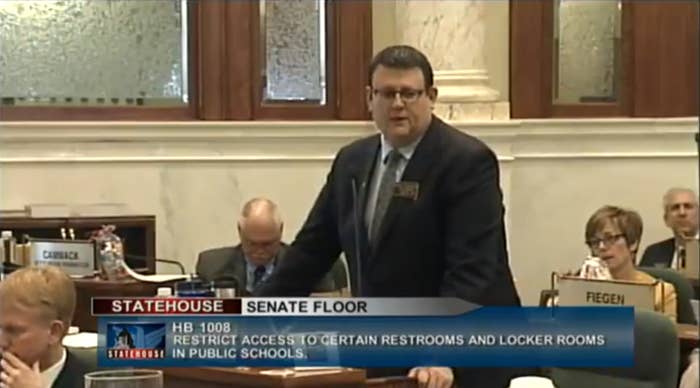 By a 15–20 vote, the South Dakota state senate passed a bill on Tuesday to ban transgender students from using school restrooms that correspond with their gender identity.

After passing the state house earlier this month, House Bill 1008 is expected to head to Gov. Dennis Daugaard in the coming days.
Provided that he signs it, South Dakota would be the first state in the country to pass such a law — likely teeing up a clash with the federal government, which has taken the position that such policies constitute illegal discrimination.

"This issue has been thrust upon us by an activist group of bureaucrats in Washington, D.C.," said Republican Sen. Brock Greenfield.
Sen. Brock Greenfield said on the senate floor that the legislation is a response to the Obama administration's push for transgender rights in public schools.
"This issue has been thrust upon us by an activist group of bureaucrats in Washington, D.C.," Greenfield said. "It's only been a product of recent decisions made at the federal level."
He cited constituent concerns about "co-mingling" of individuals of different birth sex, saying it was "inappropriate."
"Do you feel it appropriate for a 13-year-old girl to be exposed to the anatomy of a boy?" he asked.
But Democrats criticized the bill in floor speeches, arguing the measure presented a slippery slope to further discrimination and could prompt the federal government to withdraw funding for South Dakota's public schools.

Sen. Bernie Hunhoff insisted there were no incidents of transgender students causing problems by using school restrooms — and the state could face retaliation.
"We could have egg on our face with a tourism boycott," Hunhoff added.

House Bill 1008 states that "every restroom, locker room, and shower room located in a public elementary or secondary school that is designated for student use and is accessible by multiple students at the same time shall be designated for and used only by students of the same biological sex."
The bill defines "biological sex" as "the physical condition of being male or female as determined by a person's chromosomes and anatomy as identified at birth."
Although the measure does not mention transgender people specifically, the legislation is the latest in a national movement to ban transgender people from using restrooms that reflect their gender identity. Conservative organizations have united around a battle cry of banning "men in women's bathrooms" to push such policies in schools — and to block or repeal LGBT nondiscrimination laws.
Under Obama, the Departments of Justice and Education have argued that Title IX of the Education Act of 1972 — which bans sex discrimination in publicly funded schools — also bans transgender discrimination as a form of sex discrimination.
The Justice Department weighed in to support a transgender student in the country's most advanced lawsuit over student restroom access. Federal lawyers filed an amicus brief before the 4th Circuit Court in October backing Gavin Grimm, a transgender boy trying to overturn a school district policy that bans students from restrooms that don't reflect their "biological gender."
In South Dakota, the bill makes a gesture to providing a "reasonable accommodation" for transgender students — such as providing a single-person restroom — on the condition that it doesn't burden the school district. But that accommodation would not include allowing trans students to use restrooms that reflect their gender identity.
Gov. Daugaard's office did not immediately respond to a request to comment on whether he would approve or veto the bill. However, Daugaard said at a recent press conference, "I have not met a transgender person that I'm aware of."
Sarah Warbelow, legal director at the Human Rights Campaign, told BuzzFeed News that for the time being, "There is no state that bans transgender students from using facilities that correspond with their gender identity."