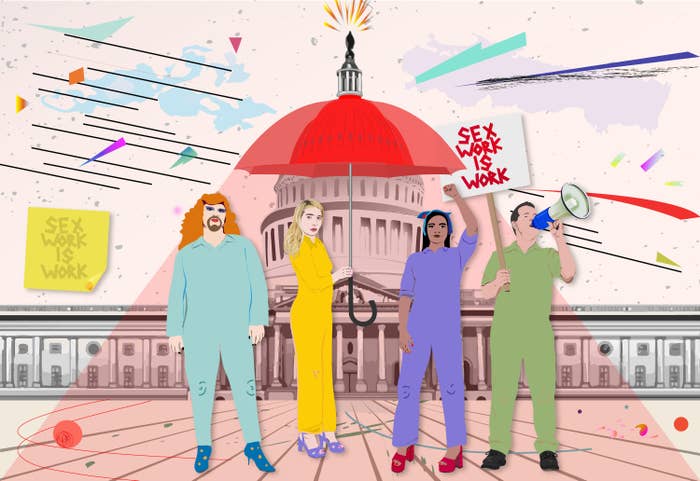 WASHINGTON — Inside a congressional office building on a recent Tuesday, Kate D'Adamo had a tough sell.
D'Adamo had spent the year lobbying in the US Capitol on behalf of sex workers, a workforce that's often maligned and portrayed cartoonishly on TV dramas. On this August morning, as her phone perpetually charged from a giant battery, she was trying to unravel a law passed last year designed to tackle human trafficking that had, in the process, outlawed the online platforms that many sex workers used to screen clients. Known as SESTA-FOSTA, the law has caused more sex workers to work without those tools, making them more vulnerable to predators on the street.
Part of a growing national network of activists behind a backlash against the law, D'Adamo has quarterbacked a bill that's expected to be introduced in Congress this fall to study the ramifications of the law — part of a larger goal of repealing it and, one day, decriminalizing sex work nationwide.

And on this day, she sat across from a legislative aide to a House member from California, looking for members willing to cosponsor the bill.
"The Congress member understands, you know, the harms that the bill that was signed into law has done," the aide told D'Adamo and two fellow activists from LGBTQ organizations who'd joined her. "But I can't see the Congress member coming out publicly and supporting this, just because I feel that we would get a lot of backlash in the district."
"We definitely have people in our district that are against legalizing or making sex work the norm," the aide added.
A bill that merely studies the harms of SESTA-FOSTA may seem like an easy sell, but some, clearly, fear it will be a marching band crashing into Congress's long silent treatment of sex workers. Many are reluctant to get behind the issue publicly, and the aide allowed BuzzFeed News to sit in on the meeting with D'Adamo, provided the Democratic lawmaker he works for remained anonymous. While Democrats ostensibly champion LGBTQ people and women of color who often bear the brunt of poverty and violence — populations far more likely to rely on the sex trade to pay rent — the stigma around sex work has made it a third-rail issue for some lawmakers.
Democratic voters tend to feel differently. This year, a poll by Decrim NY and Data for Progress found that 56% of Democratic voters nationally support decriminalizing sex work (more than three times the number opposed); another poll, by Whitman Insight Strategies and BuzzFeed News, found 83% of LGBTQ people support decriminalizing sex work involving consenting adults.
In his meeting with D'Adamo, the aide explained that since SESTA-FOSTA passed, there's been an uptick of sex work on the district's streets, leading to more 911 calls from constituents. "That's not to say that the Congress member wouldn't vote in favor of this on the floor," he explained. "The people in our district are just very religious. Because of the taboo behind sex work, the Congress member doesn't want to scare away supporters."
D'Adamo could have shot back a hard rebuttal — after all, this is merely a study — but she softened.
"That makes so much sense about the rising calls," she said in a disarming moment. "It's one of those ironic things," she said, connecting the dots between how SESTA-FOSTA shut down websites, thereby driving sex workers into gentrifying neighborhoods.
"How can we actually have this type of conversation for just the regular, you know, everyday, average working person in our district?" the aide asked, possibly cracking the door open for his boss.
"I never go into a conversation and try to change someone's thoughts on prostitution," D'Adamo told the aide. "It's disrespectful for me to think that I can. It's the body, and it's commerce, and it's a lot of different things. I just try to say let's, as a society, change the circumstances that we are creating."
The conventional wisdom of far-left activism tends to be revolution or bust. But as D'Adamo explained, she and fellow advocates didn't attempt a more ambitious bill to repeal SESTA-FOSTA this year because, she said, "I didn't wanna shoot my wad on a messaging bill that gets so much pushback."
That D'Adamo can have these conversations on Capitol Hill at all reflects a seismic shift: Democrats took the House, local lawmakers introduced bills aimed at decriminalization, and the public has taken notice.
D'Adamo is all but allergic to being seen as the face of a movement, and yet she has filled a niche on Capitol Hill, where she's widely respected both by advocates in Congress and by activists on the ground working directly with sex workers.
"She is one of the most vocal and effective advocates on this issue," said Rep. Ro Khanna of California's Silicon Valley, who plans to introduce the bill in the next several weeks to study SESTA-FOSTA's impacts after being approached by D'Adamo and her fellow activists.
"She's really, I think, driving the conversation about the humanity of sex workers and the vulnerability of sex workers," he said.
The measure, which has yet to be finalized, would call on the Department of Health and Human Services and the National Institutes of Health to study the fallout of SESTA-FOSTA.
And it could open a pathway to decriminalizing sex work more broadly, said Khanna, who notes that it traces lines drawn by the drug policy reform movement. "It started with data about the mass incarceration epidemic and how many people were filling our jails because of low-level drug offenses," he said. "Those studies helped us get over our own assumptions about a war on drugs. And I think similarly, it's going to be the same — it's not going to be a quick process, but we need studies and information so that people can make rational public policy about sex work."
The extent to which SESTA-FOSTA succeeded in its stated goal of shutting down sex traffickers is unclear, but Khanna said anecdotes have flooded in that the measure has forced sex workers to walk strolls to meet clients, causing "more violence, more harm to the public."
"It was a wrong vote," said Khanna, who was one of just 12 Democrats to oppose SESTA-FOSTA. "We need to now study it and understand the consequences, which I don't think Congress fully considered. I can't see any reason for opposing the collection of data.
"I thought what made us Democrats is an empathy for people who don't have a political voice," he added. "Sex workers almost by definition represent the most marginalized members of our society. They're often people who come from great economic hardship. I always thought that the Democratic Party stood for that."
It's easy to see parallels between the movement to legalize sex work and the early crusades to legalize cannabis and win LGBTQ rights. Both latter movements faced moral and criminal stigmas, only to become bedrocks of Democratic politics. Legalizing weed and same-sex marriage went from being untouchable a couple of decades ago to all but mandatory in the 2020 Democratic contest, and now sex work has emerged in the Democratic primary, too. Sex work is taking a tactical pathway that's similar to weed's early days: local groups introducing legislation, prosecutors running on the promise to drop charges, lobbyists popping up in DC. So it feels like a potential inevitability that sex work will make similar progress.
But sex work faces challenging aspects, D'Adamo points out. Many sex workers come from marginalized populations and are, almost by definition, in a survival economy. This affords them little luxury for speaking out publicly and risking arrest.
"It would be great if clients of the sex industry would really realize their stake in it," she said. "They don't necessarily feel policed; they don't necessarily feel criminalized."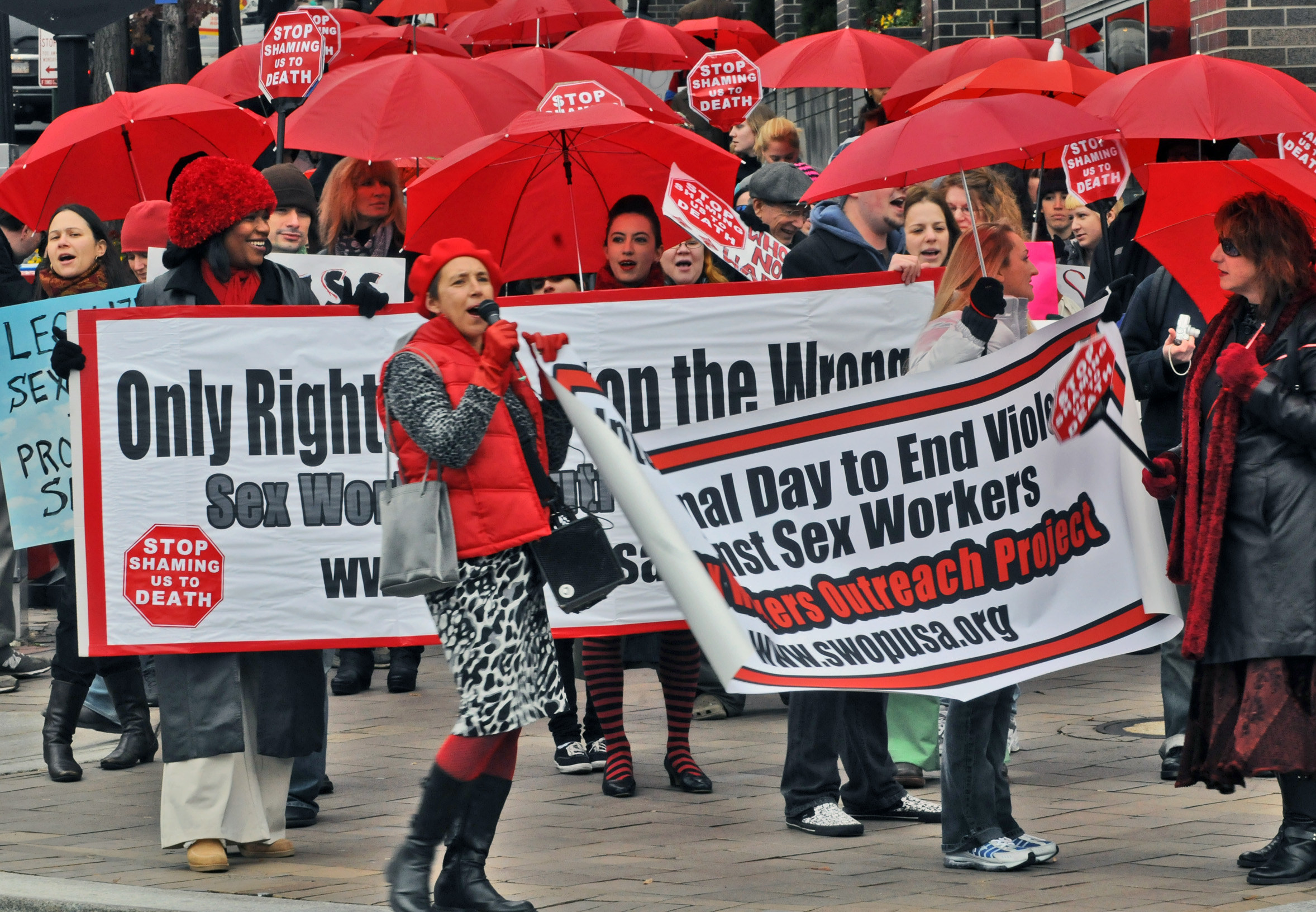 There's also a stigma against those who purchase sex. "If they come out as a client," D'Adamo said, "and they're married and have three kids and are on the PTA, they have a lot to lose."
That's where D'Adamo comes in. She studied political science at California Polytechnic State University and then, in 2008, began volunteering with the Sex Workers Outreach Project in New York City.
D'Adamo doesn't want to be famous, or, frankly, even publicly recognized as a major leader. She declined a photo for this article, despite letting BuzzFeed News shadow her through Congress. She's quick to point out that local groups "are the actual backbone of keeping people alive," and they are responsible for a national groundswell that's suddenly making presidential candidates take stances on decriminalizing sex work. For instance, in Washington, DC, the Sex Worker Advocates Coalition has been a critical backer of legislation in the DC Council to decriminalize sex work. In New York, meanwhile, Decrim NY successfully got a bill introduced in the state Assembly in June.
"I feel like I take up enough space, and I don't need to take up more. It's more important for me to make space and make opportunities for people," she said.
And yet, there's a paradox: In creating opportunities for others, D'Adamo has become more prominent herself.
A queer woman who describes herself as "racially ambiguous," D'Adamo has received particular support from LGBTQ organizations, which have lent staff to the lobbying efforts for sex workers. The 2016 National Transgender Survey found that 12% of transgender Americans have turned to sex work to pay the bills. Researchers have also found that lesbian, gay, and bisexual people are more likely to be incarcerated on prostitution-related charges than straight peers.
When SESTA-FOSTA came out of left field, moving swiftly through both chambers of Congress last year, D'Adamo responded by helping to rally fellow activists. Although the law passed anyway, she has been able to harness the rage into a bona fide lobbying effort.
Tyrone Hanley, the senior policy counsel for the National Center for Lesbian Rights who had joined D'Adamo that recent Tuesday, credits her with pulling together LGBTQ, privacy rights, sex worker, and local organizations in response to SESTA-FOSTA.
"She basically said we need to get our shit together — well, she didn't say it quite that way," Hanley recalled. "From my perspective, she was really leading us in opposing it, and that moment really catapulted the sex workers decriminalization movement."
Thanks to considerable support from the National Center for Transgender Equality and Lambda Legal, this gang of LGBTQ lobbyists has been approaching members of Congress all year. "I give them far more credit, frankly, than I give my own office," Khanna said of the upcoming bill. "They've really been driving this."
For her own part, D'Adamo works part time conducting trainings with the Reframe Health and Justice Consulting, but she dreams of creating a policy clearinghouse on sex work advocacy with information about state laws and tool kits to help local activists introduce and pass decriminalization laws.
But that another problem D'Adamo has faced: a lack of funding. She points out that sex workers lack cash, and their clients don't necessarily donate to advocacy. "I would love clients to be like silent donors," she said.
In a white paper she wrote last fall, "Sex Worker Rights in the United States: Funding Opportunities and Challenges," D'Adamo wrote of the "sparse" contributions that stem in part from "an apparent lack of philanthropic donor interest." Studies in 2006 and 2013 by the Open Society Foundation, Mama Cash, and the Red Umbrella Fund found that of $11 million donated globally to fight for sex worker rights — a fraction of what many movements pull in — just 10% went to groups in the United States and Canada.
"It's still a pretty unfunded movement," she said in a phone call. "Like, one of the things that I find hysterical is how they're talking about the pimp lobby," she said of how some anti–sex trafficking activists portray her work. "I hear it all the time. Just show me where they are 'cause there's no funding in this movement."
D'Adamo is under no illusions that the sex workers' rights movement begins or ends in Congress, however. She was awestruck in late June when Tiffany Cabán appeared to be winning a district attorney's race in Queens after running on a platform to drop sex work charges. Cabán ultimately lost after absentee ballots were counted, but D'Adamo, nonetheless, chalked it up as proof that local elbow grease changed the game. "It teaches us that things we didn't even know are possible are on the table," she said. "If we can't look at this and see it as a success, we're setting ourselves up for a lifetime of sadness and disappointment.
"Revolution takes a minute," she added. "I mean, Russia had two revolutions, like, two years apart. You don't knock a soda machine over in one push." ●