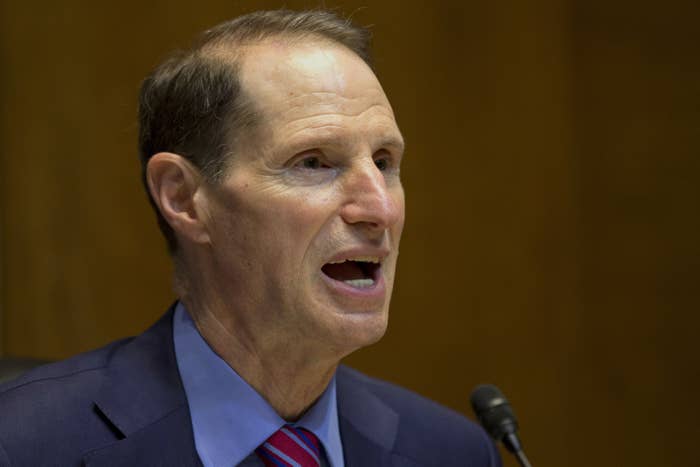 Led by Sen. Ron Wyden of Oregon, eight U.S. senators sent a letter to the Department of Education on Friday calling for officials to be more transparent about religious schools that receive permission to ban LGBT faculty and students — while still taking federal money.

"We are concerned these waivers allow for discrimination under the guise of religious freedom," said the letter sent to to Education Secretary Arne Duncan.
BuzzFeed News first reported on the full scope of the trend on Thursday.
The lawmakers said the Education Department should maintain a public, searchable website that shows the schools that are being granted waivers from a 1972 federal law that bans publicly funded schools from discriminating on the basis of sex in regards to hiring, admissions, and other issues.
Sixty religious universities have applied for exemptions from the law under the Obama Administration, BuzzFeed News found. That's a sharp uptick from the two previous decades.
While such exemptions to Title IX of the Education Act used to primarily concern matters concerning abortion, pregnancy, or banning unmarried faculty, they have shifted in recent years to ban or discriminate against LGBT students or faculty — while the schools continue to receive federal money.

"At a very minimum, we believe that parents, students, and taxpayers have a right to know when institutions of higher education — as recipients of tax dollars — seek and receive exemptions under Title IX as well as the justification of those exemptions," said the letter.
It was co-signed by Sens. Tammy Baldwin, Barbara Boxer, Al Franken, Edward Markey, Jeff Merkley, Patty Murray, and Bernie Sanders.

The senators added: "Already, we have seen the same path used in our legal system to undermine benefits for women, and used to facilitate discrimination on the basis of sexual orientation or gender identity."
The uptick in applications, and their shift in focus, is an apparent response to the Obama administration's interpretation of Title IX , which bans federally funded schools from sex-based discrimination. In April 2014, the Education Department issued guidance stating that Title IX also bans anti-transgender discrimination as a form of sex discrimination.
The Column reported earlier this month on nearly thee-dozen such waivers over 18 months. BuzzFeed News reported on all 60 applications under the Obama administration — plus 187 waivers from previous administrations, mostly filed in the 1970s and 1980s — and how waivers to discriminate against LGBT students are spiking in 2015. On Friday, the Human Rights Campaign issued a report on Title IX waivers.
Forty-three of applications were filed this year, and 22 have already been approved. The rest are pending, but no request for an exemption has ever been rejected by this or any previous administration.

Here is the full letter: