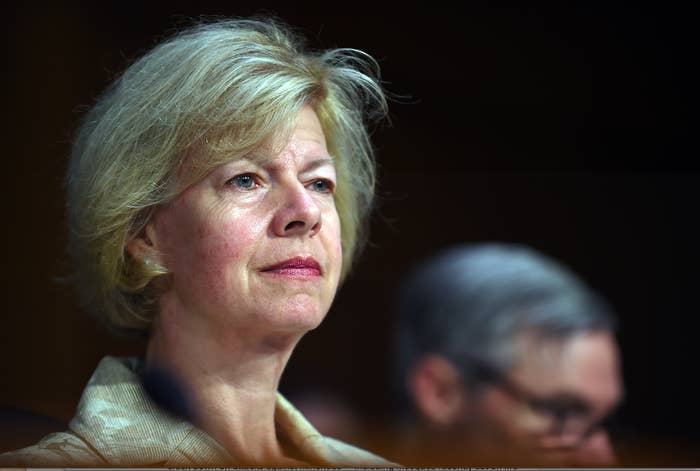 More than two dozen US senators on Thursday urged the Trump administration to crack down on attacks against minorities — including mosques recently set on fire and bomb threats made against Jewish centers — by prioritizing money for the Justice Department's civil rights programs and enforcing federal hate crimes laws.

While the letter, led by Sen. Tammy Baldwin of Wisconsin, takes a diplomatic tone, it ratchets up what will likely be a persistent tension between Democrats and the Trump administration over the government's role in protecting minorities.
In their letter to Attorney General Jeff Sessions on Thursday, the lawmakers noted an "alarming increase in bias-motivated violence," adding, "many members of racial, ethnic and religious minority communities, as well as lesbian, gay, bisexual and transgender (LGBT) people, live in very real fear for their safety."
They also referenced a Kansas gunman who allegedly yelled "get out of our country" at two Indian men last week before shooting them both, killing one.
"They are scared," the lawmakers wrote to Sessions, "and it is incumbent upon you as our nation's chief law enforcement officer to demonstrate to them and all Americans that discrimination and violence against any individual because of who they are, how they worship, or who they love will not be tolerated in our country."
Prosecuting hate crimes falls under the purview of Sessions, who voted as a senator against expanding the federal hate crimes law, in part to include LGBT people. After he was confirmed to lead the Justice Department, Sessions walked back the government's positions on protections for transgender students and expanding voter access.
The senators ask Sessions to prioritize funding for the Community Relations Service and Civil Rights Division, and "reaffirm the Department's commitment to work with state and local officials in prosecuting hate crimes."
The letter comes days after Rep. Keith Ellison, the first the Muslim elected to Congress, asked Sessions to investigate the "desecration of Jewish cemeteries as a hate crime."
In his joint address to Congress on Tuesday, Trump condemned the Kansas shooting and the spike of anti-Semitic harassment. Yet many critics have said Trump has been generally slow and muted in denouncing abusive behavior toward minorities, arguing he cultivated animosity to those groups on the campaign by casting Muslims, Mexicans, and other foreigners as an inherent dangers.
In January, BuzzFeed News analyzed a number of reported hate incidents, which many critics claimed were hoaxes. The vast majority checked out.
Lawmakers pressured the Obama administration to beef up the Justice Department's civil rights work, too, asking him to expand the budget for hate crime enforcement by $41 million last June.
The signers of the letter on Thursday include: Senators Tammy Baldwin (D-WI), Mazie Hirono (D-HI), Richard Blumenthal (D-CT), Ben Cardin D-MD), Edward Markey (D-MA), Chris Coons (D-DE), Sheldon Whitehouse (D-RI), Bernie Sanders (I-VT), Chris Van Hollen (D-MD), Al Franken (D-MN), Mark Warner (D-VA), Elizabeth Warren (D-MA), Ron Wyden (D-OR), Pat Leahy (D-VT), Bob Menendez (D-NJ), Kirsten Gillibrand (D-NY), Cory Booker (D-NJ), Sherrod Brown (D-OH), Jeff Merkley (D-OR), Debbie Stabenow (D-MI), Tom Carper (D-DE), Catherine Cortez Masto (D-NV), Tim Kaine (D-VA), Patty Murray (D-WA), and Amy Klobuchar (D-MN).