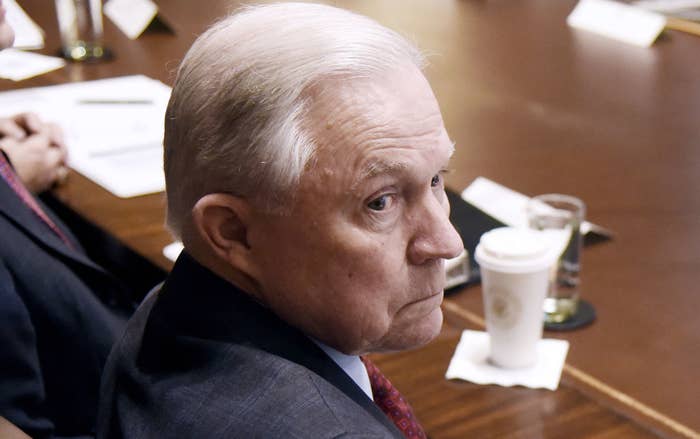 Twenty-one Senate Democrats criticized Attorney General Jeff Sessions on Tuesday for his decision to rescind guidance memos on affirmative action — which instructed schools on how they can legally consider the race of applicants to promote diversity — and pressed him to hand over records on racial discrimination complaints.
"We are deeply concerned your actions will make it more difficult for institutions to open up doors of opportunity to students and communities that have been historically underrepresented or have been left behind," said a letter to Sessions and Education Secretary Betsy DeVos.
Guidance documents don't amount to law, but they carry particular weight for education institutions, which rely on the Education Department for billions of dollars in federal grants.
The memos' rescindment in July, along with a swath of other guidance memos, came after the Justice Department had grown increasingly hostile toward affirmative action policies and threats of litigation around a case at Harvard University.
The lawmakers asked for a list of the complaints of discrimination based on race or ethnicity made to the Department of Education's Office for Civil Rights since Jan. 1, 2016. Further, they asked, "How will the Department advise schools about how to seek diversity in their student body consistent with the Constitution?"
Led by Sen. Patty Murray of Washington state and Sen. Dianne Feinstein of California, the lawmakers also pressured Sessions and DeVos's larger rollback of civil rights enforcement more broadly.
"With almost daily attacks from your Administration on the protections for immigrants, women, children, people of color, people with disabilities, survivors of sexual assault, and LGBTQ students, it is clear there is a coordinated and systematic effort to undermine the law, divide communities, and destabilize American values at every level and in every community," the senators wrote.
On July 3, Sessions rescinded seven so-called guidance documents that explain how the Justice Department and Education Department believed schools can legally maintain affirmative action policies — which historically attempt to incorporate more students of color. They include memos from December 2011, issued by the Obama administration, that interpret two 2003 Supreme Court cases as they apply to higher education and elementary and secondary schools. Combined, the memos had said, Grutter v. Bollinger and Gratz v. Bollinger hold that affirmative action is constitutional when sufficiently flexible and doesn't take race into account as a sole deciding factor in admissions.
Since taking office, Sessions has joined a conservative criticism of these types of memos, which offer the federal government's interpretation of court cases and federal law to private corporations and non-federal agencies.
He rescinded guidance that protected transgender students in February 2017 and scotched 25 more documents in December 2017. When he reversed another 24 last month, including those on affirmative action, Sessions called them "unnecessary, outdated, inconsistent with existing law, or otherwise improper."
Critics of guidance documents have contended they skirt proper rulemaking procedure by failing to get public input, but turning the tables, the senators on Tuesday pressed Sessions to explain whom the DOJ and Education Department consulted before revoking the guidance.