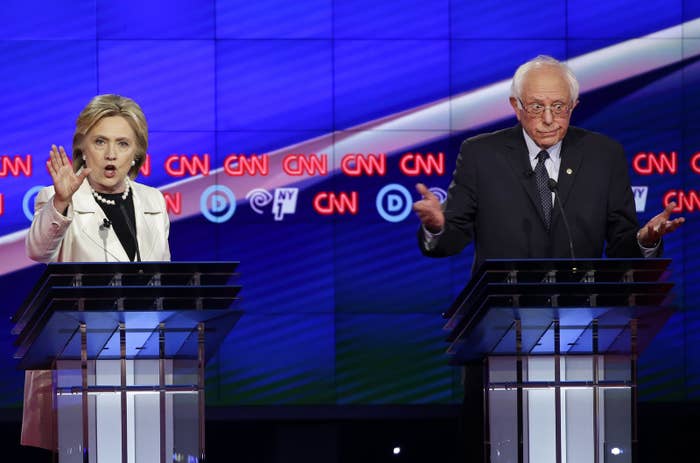 Bernie Sanders declared he was an ally to the transgender community and he vowed to expand transgender protections under existing federal civil rights laws if he's elected — according to his answers to a presidential questionnaire sent in April by a transgender-rights advocacy group.

More than a month after receiving the same questions, however, Hillary Clinton hasn't provided answers to the Trans United Fund's survey — even though her campaign initially indicated she would respond.
"Too often, it seems as if the 'T' in LGBT is silent."
"I think Sanders's answers were thoughtful and strong," said Hayden Mora, chair of Trans United Fund's organizing committee, which was formed this year as a response to a growing effort by conservatives to block and repeal transgender rights.
In contrast, Mora said the group's leaders "feel disappointed and perplexed" by Clinton's silence.
"She has been a champion on these issues," said Mora. "But I'm disappointed. The trans community is in tremendous crisis, not just due to issues of violence and HIV, but also because there is a national coordinated political attack by extremists now more than ever."

Mora said Sanders responded to the 11 pages of questions within 10 days, expressing support for a wide range of proposals, from facilitating health care services by federal agencies to banning discrimination by federal contractors overseas.
"Too often, it seems as if the 'T' in LGBT is silent," Sanders wrote. "In my administration, the T will not be silent."
Sanders said that he supports using civil rights laws to advance transgender nondiscrimination policies "until Congress formally adds those protections to our laws."

In the past month, the Obama administration's Justice Department used an evolving interpretation of civil rights laws to bring a lawsuit against North Carolina, challenging an anti-transgender statute, and it issued guidance with the Education Department on ways to accommodate transgender students.
"The last three weeks have shown the power and importance of the federal government in protecting the barest minimums of basic rights for trans folks," Mora said. "It's powerful that the Sanders campaign took the time to complete the survey and are unabashed in their support."
"We feel disappointed and perplexed" by Clinton's silence.
The Clinton campaign — which had issued a detailed LGBT policy paper last year — initially indicated it would answer the group's questionnaire in an April 11 email that Trans United Fund shared with BuzzFeed News. "The Secretary has been a leader on many trans issues, and we look forward to responding," a staffer on the campaign wrote in the email.
But one month later, more emails between the parties show, the campaign had not returned the questionnaire or responded to a request to summarize Clinton's positions.
Sanders has not always fleshed out his position on transgender rights, either. In April, Sanders said he "would do everything I can" to overturn anti-LGBT laws in North Carolina and Mississippi. However, he did not answer questions from BuzzFeed News at the time about how he might do that.
Providing slightly more detail, Clinton said at the time she would challenge those state laws "through legal action in the courts, pursuing federal legislation, or using the bully pulpit to address actions in the states."
The presumptive Republican nominee, Donald Trump, and his campaign also did not respond to Trans United Fund's questionnaire. Clinton's and Trump's campaigns did not immediately reply to BuzzFeed News' questions Monday about why they did not respond.