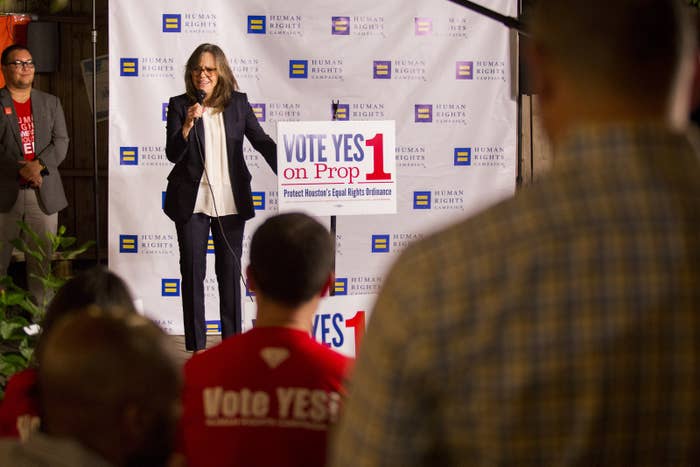 HOUSTON, Texas — "It's a lie. It's a lie. It's a lie. It's a lie."

That was Sally Field on Thursday as she described an ad campaign currently running here in an attempt to repeal the Houston Equal Rights Ordinance, known as HERO. Field stood abreast with a group of women political leaders in Texas who encouraged a "yes" vote on Nov. 3 to uphold the law and denounced the ad campaign as outright lies.
"Do you want to call it a lie, or shall I?" Texas state Sen. Sylvia Garcia said when BuzzFeed News asked the women to comment on an onslaught of recent commercials that claim HERO would allow male sex predators to prowl women's restrooms in order to sexually assault young girls.
Field stepped in.
"When I read what HERO really is," the Academy Award-winning actor told reporters, "I was so amazed there is disagreement."
Titled as Proposition 1 on Tuesday's ballot, HERO bans discrimination against 15 classes of people — including racial minorities, women, people of faith, and LGBT people — in places of housing, employment, and public accommodation. More than 200 jurisdictions in Texas already have LGBT nondiscrimination laws on the books, including many of states largest cities.
Field — who has a long track record of supporting LGBT rights — noted there are no known incidents of nondiscrimination laws permitting men or transgender women to commit predatory acts in in restrooms.
"Not a single case of this," Field said. "Not one single case has ever been reported. And believe me, if it had happened, it would have been reported."
She added: "Evil lies are evil lies."
Politics can be nasty, but rarely do people deploy the "L" word with such vigor.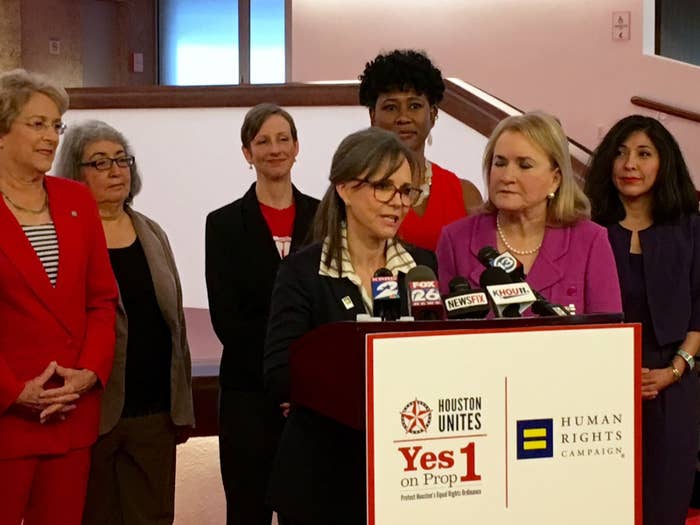 After the Houston City Council passed HERO in 2014, activists with the Campaign for Houston ran a referendum to put the wide-ranging measure before voters in an attempt to repeal it. The group's message has dwelled on LGBT people, particularly transgender women — who HERO opponents consider men — being allowed to use public restrooms that correspond with their gender identity.

Calling the fight underway here contentious would be an understatement — yard signs, radio ads, and brutally effective television ads have pelted voters in the county's fourth largest city for the past two weeks with messages about bathrooms as the sole reason to oppose Prop 1. One TV ad features footage of a man trapping a small girl inside a restroom stall.
"This ordinance does allow perverted men to freely enter women's bathrooms, locker rooms, and showers — invading their privacy when they are most vulnerable," says Rev. Kendall Baker in one of the radio ads. "It's never OK to let men enter women's bathrooms and put women at risk."

At the news conference, Houston City Council member Ellen Cohen said sexual assault "does not happen by men putting on an outfit and walking into a women's restroom."
She cited her 18 years as CEO of the Houston Area Women's Center, devotion to protecting women and children before blasting the anti-HERO ad campaign.
"It's bogus. It's incorrect," Cohen said. "The facts are that sexual assault happens from someone who knows the victim."
The bathroom message, she added, "is a complete lie."

Garcia took the mic after Field and Cohen made their comments. "Bottom line: It's a lie," Garcia said, and she ended the news conference.
Houston's police chief this month confirmed that such scenarios would remain illegal under HERO.
Still, Campaign for Houston — which did not reply to requests to comment regarding the factual basis for the ads — has referred to the law almost exclusively as "the bathroom ordinance."
And the message appears to be effective.
Several sources close to the Houston Unites campaign to uphold HERO told BuzzFeed News that polls have tightened in recent days, putting the yes and no sides in a statistical dead heat.
BuzzFeed News interviewed more than a dozen voters on the streets of Houston this week. While only a handful had heard of the Houston Equal Rights Ordinance, all had heard about the "bathroom ordinance." Several of those voters, having no idea the law on the ballot Tuesday had a wider scope than just restroom use, said they were voting "no" after hearing claims that it would endanger women and children from rapists who lurk in restrooms.