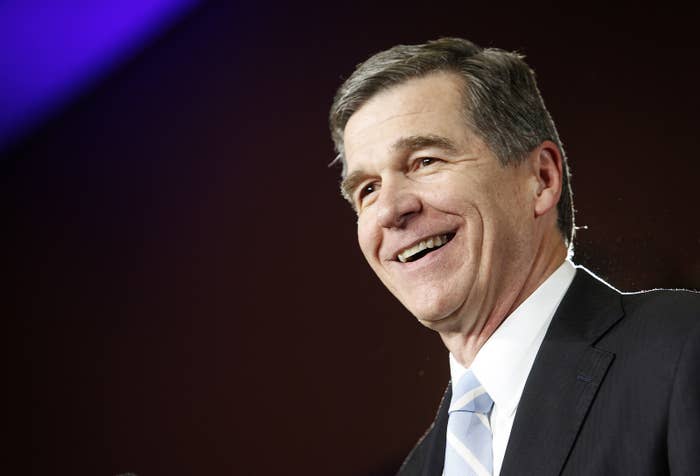 When Roy Cooper was running for governor of North Carolina, he enjoyed lavish support from LGBT activists who bused into the state, knocked on doors, and made thousands of calls on his behalf.

He had earned their loyalty by vowing to repeal an anti-LGBT state law — and in the end, he won by a narrow margin, apparently helped by those busloads of activists.
But in a turnaround, the Democrat is suddenly at odds with the top LGBT organization that helped elect him. On Tuesday, when Cooper announced a proposal to repeal the law, the group said Cooper had gone too far to appease Republican critics.
"We oppose the proposal," Stephen Peters, a spokesperson for the Human Rights Campaign, told BuzzFeed News on Tuesday, noting that it is "risky and unhelpful."
While Cooper's plan would repeal the law, known as HB2, it would also add penalties for crimes committed in restrooms — an effort to quell claims about transgender predators — and create delays for cities trying to pass new LGBT ordinances.
"It's unnecessary at best and damaging at worst."
Peters said his group objected recently when Cooper consulted them on the proposal, arguing language about restrooms responds to a problem that doesn't exist.

"The reality is the folks at risk in bathrooms are transgender people," Peters said by email, adding that "this proposal claims to answer a baseless question. It's unnecessary at best and damaging at worst."
But Sadie Weiner, a spokesperson for Cooper, argued that a compromise of some sort is necessary to broker a repeal.
"Governor Cooper wants HB2 off the books, period, and that is his primary goal with the commonsense compromise he proposed today," she told BuzzFeed News. "Something has to be done to get this law repealed to both end discrimination and bring back jobs and sports that we've lost."

Some LGBT activists were on Cooper's side. Tyler Deaton, a leader of the conservative LGBT group American Unity Fund, said on Twitter, "This HB2 repeal proposal, backed by a Democratic governor in a southern state, is absolutely reasonable and a great starting point for NC."

Under Cooper's plan, Democratic allies in the state legislature would file a bill on Tuesday to rescind HB2. The policy became a national flashpoint last year by banning many transgender people from bathrooms that match their gender identity in government facilities — a rule that Republicans said was designed to keep "men" out of women's bathrooms. The law also blocked local LGBT nondiscrimination ordinances.
To quell safety concerns from Republicans, Cooper's proposal would establish "tougher penalties for crimes committed in restrooms and dressing rooms," according to an announcement from his office. It would also require local governments give the legislature 30 days notice before voting on non-discrimination ordinances.
Draft language of the bill was not immediately available and its viability will ultimately be in the hands of Republicans, who hold supermajorities in both chambers of the legislature. Leaders or the House and Senate did not immediately answer questions from BuzzFeed News about whether they supported Cooper's proposal.
This is not his first stab at repealing HB2. After he won the governor's mansion, Cooper attempted to broker a deal in December with Republicans — but deal fell apart without Republican support.

The state has endured boycotts over HB2, including from professional sports franchises such as the NCAA, which threatened last week to withdraw all championship games through 2022 unless HB2 is scotched.
Peters at the Human Rights Campaign said the group recently stressed to Cooper's office "what we've said all along — the people of North Carolina deserve a full and clean repeal of HB2. While we're sympathetic to the reality that the North Carolina General Assembly continues to fail to act, we've made clear our concern that continuing to move the goalposts is risky and unhelpful."