Rowan County Clerk's Office Finally Issues Marriage Licenses
With the head clerk in jail for contempt of court, a deputy clerk issued a marriage license to William Smith and James Yates. This is the first license issued to a same-sex couple since the Supreme Court's June 26 ruling for marriage equality.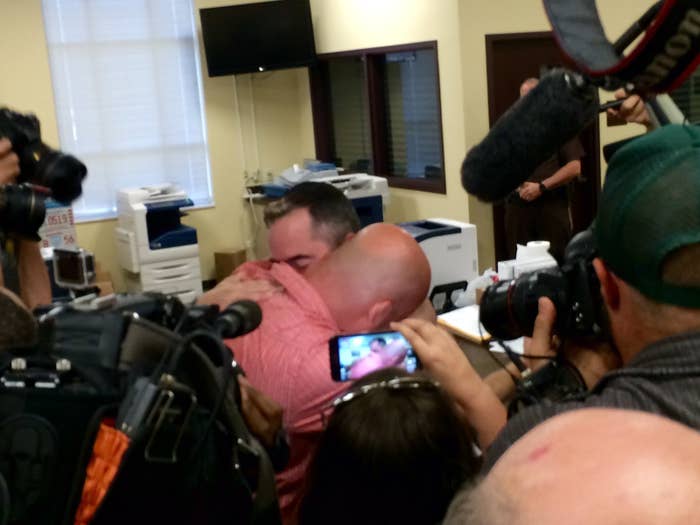 MOREHEAD, Kentucky — A gleeful same-sex couple obtained a marriage license from the Rowan County Clerk's Office on Friday morning — one day after head clerk, Kim Davis, was jailed for refusing to issue the licenses to any couple or allow her staff to issue them.
"This is a blessing," said James Yates, adding that he and his partner William Smith did not know they would be the first couple to obtain the license. "We are very happy. Civil rights are civil rights."
The couple says it was their sixth trip to the office for a license. As the couple exited the office, marriage equality supporters chanted "Love Wins."
Timothy and Michael Long were the second same-sex couple to get a marriage license in Rowan County.
"I'm torn," Timothy Long said about Davis's jailing. "I feel sorry she's there, but she done this to herself."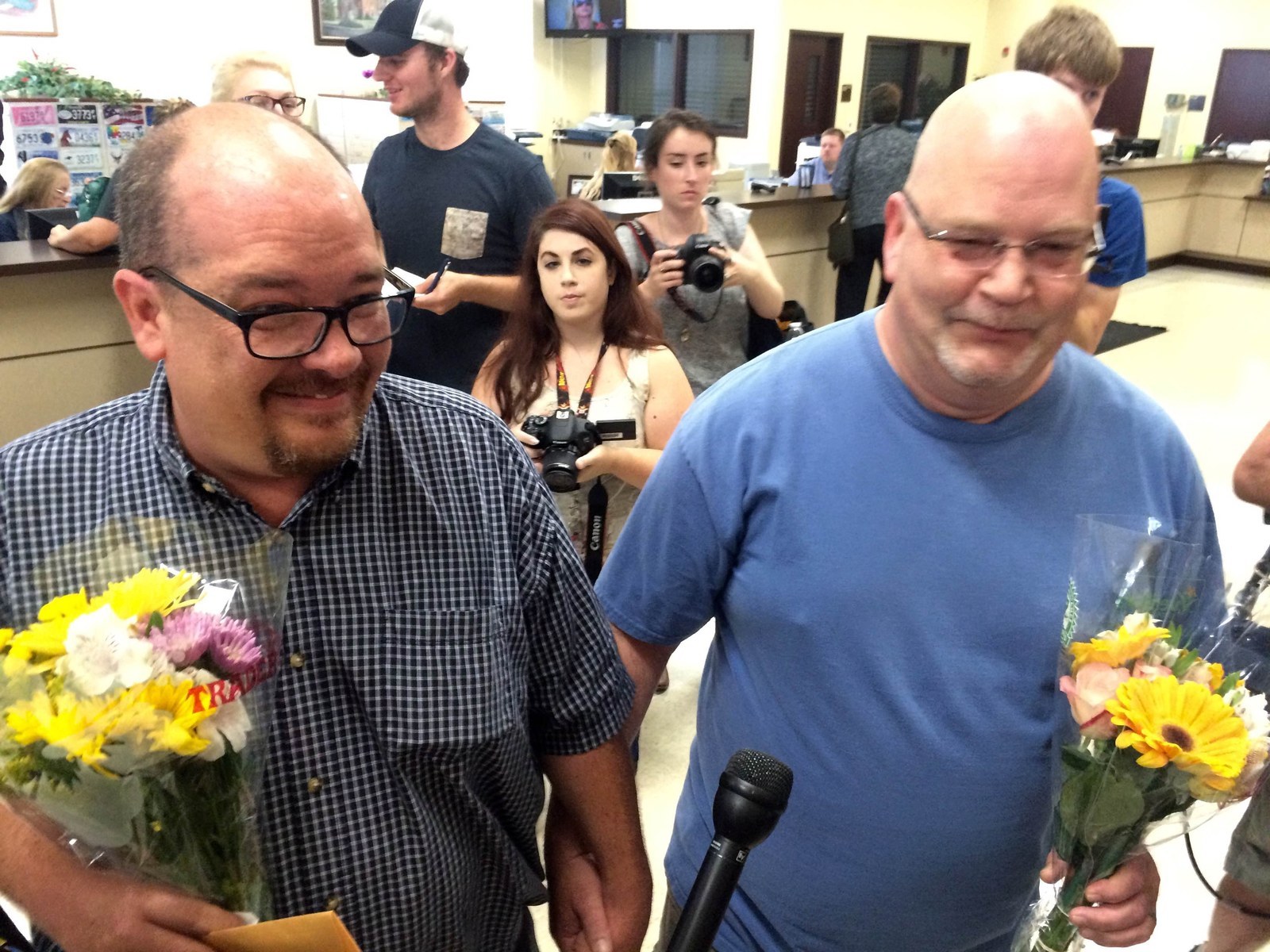 Davis's supporters were furious after Yates and Smith obtained their marriage license, with some yelling "gays are perverts," outside the clerk's office.
A deputy clerk issued the marriage licenses in Davis's absence.

Five of the office's six deputy clerks told a judge on Thursday that they would issue the licenses in accordance with an Aug. 12 court order issued by U.S. District Court Judge David L. Bunning. They agreed to comply shortly after watching Davis, their boss, arrested by federal marshals for contempt of court.
The deputy clerks appear to be acting under the direct authority of Judge Bunning, who said at a contempt-of-court hearing that "the court will continue to have oversight of this matter." However, Bunning said the validity of marriage licenses could be questioned, as Davis, who is elected, still protests the licenses being issued under her name as the head clerk.
By issuing the licenses, the office effectively ended a "no marriage licenses" policy in Rowan County — one of the last holdouts to comply with the Supreme Court's marriage equality ruling in June.

Karen Roberts and her partner, April Miller, were among eight plaintiffs who sued Davis in federal court to issue marriage licenses.
But citing her religious objections to same-sex couples marrying, Davis had refused to let her office issue the licenses to anyone — even though a federal judge ordered her to do so in August and Davis's attempts to keep that order on hold while her appeals were rejected all the way up to the Supreme Court.
One deputy clerk, Davis's son Nathan, did not tell Judge Bunning that he would issue licenses, which appears to leave unresolved questions about deputy clerks invoking religious objection defenses to refuse marriage licenses.
Two other counties in Kentucky, Casey and Whitley, are also still refusing to issue marriage licenses. However, it appears that no same-sex couples have come forward in the rural areas to challenge those counties in court.