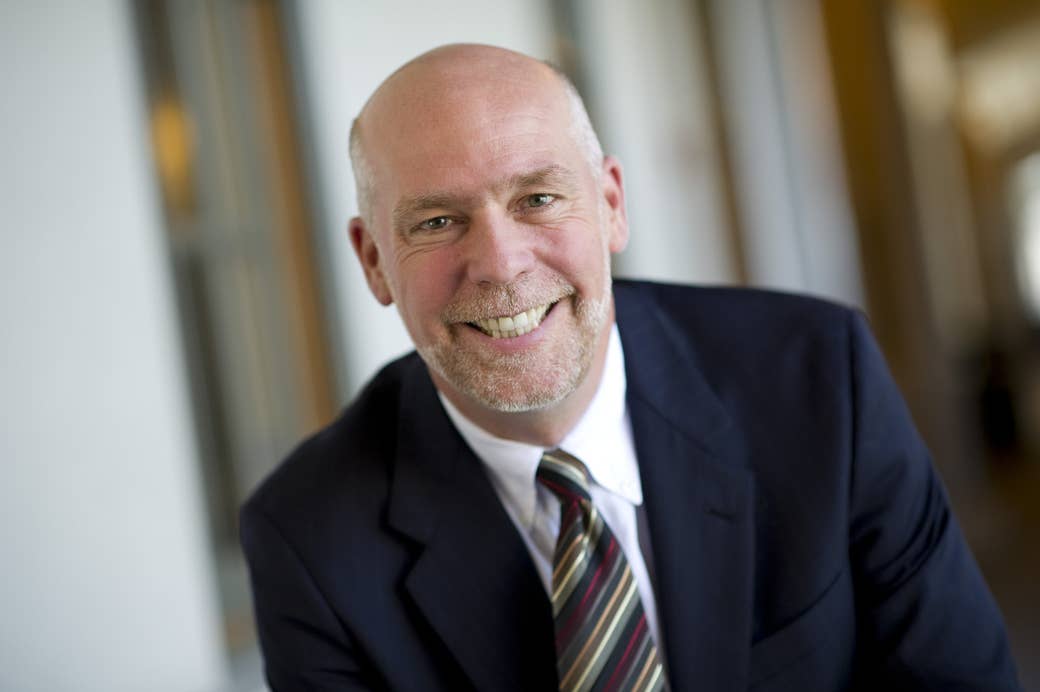 Last September, one month after filing preliminary paperwork to run for governor, Greg Gianforte moderated a panel at the Montana High Tech Jobs Summit. A man in the audience had a question: Would passing a religious freedom law like the one in Indiana, which critics said would permit LGBT discrimination, affect Montana businesses?

Gianforte turned to the panelists, and after the president of one local business said the issue was "not on our radar," Gianforte shut down the subject.
"Thank you," he said abruptly. "Next question."
It was a surprising silence from Gianforte, given his history of advocacy on this very issue. The entrepreneur became wealthy by growing his company, RightNow Technologies, in the city of Bozeman and selling it to Oracle for $1.5 billion. For years, he was quietly one of the state's leading financiers of organizations that advocate for religious freedom laws and oppose LGBT nondiscrimination policies.
Public records obtained by BuzzFeed News also show Gianforte lobbied city officials in Bozeman to block an LGBT nondiscrimination ordinance, arguing that a ban on discrimination could drive away business.
"I think he politically flew under the radar."
But since he stepped into the political spotlight, the 54-year-old Christian has positioned himself as a strictly economic-oriented candidate who will create jobs, and has ducked questions about his positions on LGBT rights and how his religious beliefs would affect his policies as governor.
His campaign has raised more than $300,000 since filing an exploratory committee in August. And when he formally announces his candidacy, which he is expected to do Wednesday, he will cement his status as the state's Republican frontrunner.
But records show a man who has a long history of using religious arguments to push an extreme social agenda. A BuzzFeed News examination of tax returns shows his foundation, the Gianforte Family Charitable Trust, donated more than $1.1 million over a period of six years to some of the political groups leading the charge against LGBT rights in the United States. Tax records list the trustees as Gianforte; his wife, Susan; and son Richard.
On balance, he has given far more money to Christian missionaries and faith-based schools than to advocacy groups. But when the donations were political in nature, they were overwhelmingly to organizations that focus on opposing women's reproductive rights and blocking LGBT equality.
The spokesperson for one recipient, the Family Research Council, on MSNBC in 2010 said that homosexual behavior should be punished by criminal sanctions. Another group, Focus on the Family, still advocates a constitutional amendment to ban same-sex couples from marrying. And an organization in his home state, the Montana Family Foundation, received more than half a million dollars from Gianforte between 2008 and 2012, when the group functioned as the state's primary advocate against LGBT policies.
"This wasn't just a passing issue," Kim Abbot, co-director of the Montana Human Rights Network, told BuzzFeed News. "He's an activist. He's been putting money into these issues for years."
"I think gay people in Montana have to assume that if Gianforte were elected governor, there would be a rollback of protections under his authority," she added. But until recently, she said, "I think he politically flew under the radar."
Gianforte did not respond to requests to comment for this article on his donations to anti-LGBT groups, what he would do if elected, or his own direct activism.
"What happens when the law is in conflict with his own personal beliefs? He hasn't addressed much of that."
In his personal capacity, Gianforte was on the front line pushing against an LGBT nondiscrimination ordinance in his hometown of Bozeman. Public records and interviews conducted by BuzzFeed News show he met commissioners one-on-one, and, when an ordinance appeared likely to pass anyway, he submitted drafts of new versions of the bill. He successfully pressed to weaken the measure so that certain religious employers may be able raise a defense if they turn away LGBT employees or job applicants.
Political watchers in Montana believe this history could play a key factor in the election — if it becomes a central issue, which Gianforte is apparently trying to avoid.
"Gianforte is presenting himself as an economic conservative; he is talking about jobs," Robert Saldin, a political science professor at the University of Montana, told BuzzFeed News. "And that message is very much in line which what has been successful for Montana Republicans."
"I think he is little bit of an unknown quantity in political circles," Saldin added. "Selling his company to Oracle has made him incredibly wealthy — that's what people know — and his donations are really interesting. It's quite admirable how much money he has given away."
But, he pointed out, "People are out to take him down as an out-of-touch evangelical guy who is going to take away your rights, and if that message sticks, that's a real problem for him, because people are into their rights out here."
The mountainous state is reliably conservative, but less divided on social issues than much of the South and Midwest, Saldin said. The Democratic incumbent, Steve Bullock, won in 2012 as an anti-tax moderate, a natural fit for an electorate that tends to prefer frugally minded candidates over social demagogues from either party.
Some of Gianforte's other religious beliefs have also raised questions. Among his philanthropy, Gianforte gave the the Foundation Advancing Creation Truth a Tyrannosaurus rex skeleton for its Glendive Dinosaur and Fossil Museum. The museum claims the Earth was created by God "in six natural days," asks if humans walked with dinosaurs, and professes that God ordained marriage between only man and woman.
In a December Politico interview, Gianforte was asked why "Democrats seem to be eager to paint you as religious kook" and whether he was interested in "rolling back gay marriage."
"I'm very clear," he responded. "I'm a Christian. My faith in God is very important to me. I'm running because we're 49th in the county in wages, and we're going to focus on the economy." He added, "We're going to create better opportunities for people."
He ducked again in December when the Associated Press asked him about how religion would influence his politics. "The focus is on jobs," he said, "that's what people want to talk about."
But if Gianforte is establishing a firewall between his faith and economic politics if elected governor, that's a departure from his positioning in the past — that opposing LGBT rights law was good for business.
"It's an issue he is not comfortable talking about, but we are very comfortable talking about it," Jason Pitt, a spokesperson for the Montana Democratic Party, told BuzzFeed News. He said Democrats are trying to frame the race around Gianforte's history on social views — in part because it will turn off voters and also because they believe Gianforte has tried to dodge the issue.
"Gianforte is one of the most anti-LGBT candidates that Montana has ever seen," Pitt said. "We think it is important for Montana voters to know his background."
Pitt also contends that Gianforte's views on LGBT laws and talk about jobs are inherently linked. "I don't think there is a way you can separate them," Pitt argued. "You can't say you are a job creator and then support job-killing discrimination laws."
"Homosexual advocates try to argue that businesses are leery of locating in towns that aren't friendly to homosexuals. I believe the opposite is truer."
In January 2014, Gianforte sent a volley of emails to Bozeman city commissioners and the mayor about his "concern" over legislation to ban LGBT discrimination in housing, jobs, and employment. He requested meetings over coffee with them individually, starting a months-long lobbying effort. The exchanges were obtained through a records request by a local activist and provided to BuzzFeed News.

"He's a very nice guy, easy to talk to," Carson Taylor, the current Bozeman mayor who was then a commissioner, told BuzzFeed News in an interview. The two met at the Leaf and Bean on Main Street. "He wanted to work with us to get what he wanted, instead of outright opposition to it."
Gianforte pressed the commission to abstain from the ordinance that would allow LGBT people legal recourse if they were discriminated against, according to emails to city lawmakers. Gianforte argued that the city should entertain a nonbinding resolution, because passing a binding ordinance would discourage Christian-owned businesses from moving to Bozeman.
"Homosexual advocates try to argue that businesses are leery of locating in towns that aren't friendly to homosexuals. I believe the opposite is truer," he wrote in a Jan. 23 email to the commissioners and mayor.
Gianforte continued: "I would argue that Christian businesses will carefully evaluate where they would be subject to an ordinance like this before locating. To include even locating just outside city limits to avoid having to compromise their religious beliefs."
He warned of other consequences, too, saying that banning transgender discrimination would let men to sexually prey on girls in bathrooms — a common argument from anti-LGBT activists.
As the bill proceeded through the commission, Gianforte's language and tactics grew stronger. He worked with lawyers at the Alliance Defending Freedom, a group his foundation gave $58,500 to, in order to propose language that would give religious businesses or organizations a defense if they discriminated in employment and public accommodations due to their faith.
Mayor Taylor said that Gianforte was the only activist to provide unsolicited legislation and amendments on the nondiscrimination ordinance.
Gianforte's emails also show him saying he opposes discrimination, in general, and that he was simply seeking to balance rights of LGBT people and religious people. Taylor told BuzzFeed News that Gianforte hires employees with a different faith and background of his own.
But Taylor also noted that Gianforte also lobbied for a religious freedom ordinance that would, for example, allow a baker to refuse a same-sex couple ordering a wedding cake. In the end, Taylor said the commission included some religious exemptions to the law, more narrow than anything Gianforte requested.
On the issue of the economic impact, however, Taylor rejects Gianforte's argument that the ordinance — passing in spring 2014 — would be bad for business.
"I would say the city is booming right now," the mayor said. "If anything, the nondiscrimination ordinance encouraged people to want to move here and work here."
The Gianforte family foundation's annual tax forms — some posted online and others provided to BuzzFeed News by a source — show the largest recipients from 2008 to 2013 are Christian schools.
Among the recipients with a clear political agenda, the groups range from radical to relatively mainstream. Probably the best known national organization, Focus on the Family, says marriage between a man and woman is a top priority, has long opposed nondiscrimination ordinances, and argues that businesses open to the public should be allowed to turn away LGBT people for religious reasons.
Another recipient is the Alliance Defending Freedom, one of the country's leading legal organizations that litigates cases to allow religiously based refusals of service and supports religious freedom legislation. The furthest to the right, the Family Research Council, has been identified by the Southern Poverty Law Center as a hate group.
Mayor Taylor said that Gianforte was the only activist to provide unsolicited legislation and amendments on the nondiscrimination ordinance.
Abbot, of the Montana Human Rights Network, is particularly concerned with Gianforte's giving within the state. Gianforte gave to the Montana Family Foundation, which Abbot calls the state's "primary opponent of LGBT rights" in fights from school boards to the legislature. Of the half million dollars granted over a six-year period, $280,000 was in 2012 — more than half of the group's $476,000 annual budget that year, according to tax records.
But as Montana Cowgirl Blog reported last year, Gianforte's ties to the group were scrubbed from Gianforte's Wikipedia page in 2014. Someone removed mention that his wife was also the Montana Family Foundation's board chair and nixed language about how his donations make up a substantial chunk of the group's operating budget.
Abbot said she worries that, if elected, Gianforte would try to repeal the state's limited LGBT protections.
One of those policies, for example, was signed by Gov. Bullock on Monday. Although Montana lacks a statewide law banning LGBT discrimination, a 2008 executive order bans discrimination against state employees on the basis of sexual orientation or gender identity. Gov. Bullock has now expanded those rules to state contractors and subcontractors — a move that could be undone by the next governor.
Below is a summary of the Gianforte foundation's giving to groups that oppose LGBT nondiscrimination laws, same-sex marriage, and other rights for LGBT people. They are taken from the Gianforte Family Charitable Trusts' tax filings from 2008 to 2013.
Montana Family Foundation: $518,357

Focus on the Family: $510,000

Alliance Defending Freedom $58,500

New Jersey Family Policy Council: $37,500

Family Research Council: $14,000.

California Family Council: $10,000

Heritage Foundation: $7,000

American Center for Law and Justice: $3,000
Focus on the Family and the Family Research Council declined to answer questions about their financial relationship with Gianforte or his potential governor. Alliance Defending Freedom said it would examine donation records but did not reply to a request for comment by press time.

Jeff Laszloffy, president of the Montana Family Foundation, also declined to talk about Gianforte's run or donations. But he added in an email, "Please note that Susan Gianforte stepped off of our board some time ago, prior to Greg Gianforte announcing his formation of an exploratory committee."
That seems to show the Gianfortes stepping away from groups invested in LGBT policies as Greg Gianforte approached a political run. But that does not settle questions about how he would approach LGBT rights if elected.
"It is a legitimate issue," said Saldin, the political science professor.
"Gianforte is talking about jobs, but he's really put some money behind these views," he said. "So when it comes to LGBT issues and abortion, what are his views? And what happens when the law is in conflict with his own personal beliefs? What would he do in a situation like that? He hasn't addressed much of that."