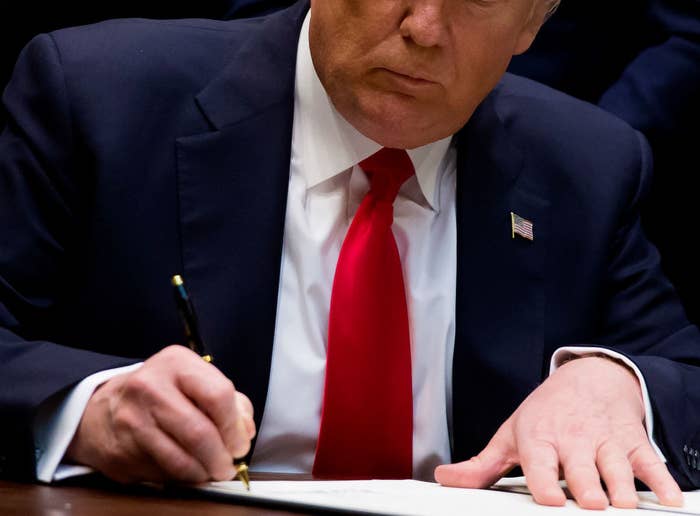 Two prominent civil rights groups told BuzzFeed News on Tuesday they will immediately sue the Trump administration if the president signs a broad executive order on religious freedom that targets LGBT people for discrimination.
Rumors have circulated this week that Trump will sign an order on Thursday — Politico, citing two senior administration officials, reported that is still the plan — that protects those with a religious objection to same-sex marriage, transgender people, and reproductive choices.
A draft order with that language had circulated in January and early February, but the White House still has not released a final draft or officially confirmed one is forthcoming.
But depending on how a final order is worded, legal groups say they are prepared to try blocking it in federal courts on constitutional grounds, thereby hoping to hand Trump another high-profile defeat like those he has faced so far with his travel bans.

"We will fight this with everything we have," Lambda Legal senior counsel Camilla Taylor said Tuesday, adding, "We are prepared to sue in a very short timeframe if the executive order closely resembles the leaked drafts."

She said the group has already assembled plaintiffs for their lawsuit.
James Esseks, director of the ACLU's Lesbian, Gay, Bisexual, Transgender, & HIV Project, added in an interview, "We are ready to sue if they do something that authorizes discrimination. If Trump signs an order like the one that we saw a couple months ago, it would violate the Equal Protection Clause of the 14th Amendment and the Establishment Clause of the First Amendment."

The draft of the executive order, first published by The Nation, would have provided multi-pronged protections for those with religious objections to same-sex marriage, transgender people, abortion, and sex outside marriage.

As written, it would hinder the government from taking action — such as denying a grant, terminating a contract, refusing employment, or providing myriad of benefits — to those holding these religious views. Those protected would include individuals, and also "any organization, including closely held for-profit corporations."

On Tuesday, Politico reported that one of the two senior administration officials "cautioned that it hasn't yet been finalized, and noted that lawyers are currently reviewing and fine-tuning the draft language."
Politico added, "The new draft is being tightly held, but one influential conservative who saw the text said it hasn't been dialed back much — if at all — since the February leak."
Asked about the order on Tuesday, White House spokesperson Sarah Sanders told BuzzFeed News, "We don't have anything to announce at this time," which was a slight update to her comments from February: "We still have no plans to take any action on this topic at this time."

Lambda Legal's Taylor said an order like the draft would be "an assault on LGBT beliefs, and would prefer anti-LGBT religious beliefs above all others. It seeks to drive LGBT people back in the closet and render them invisible again. It's outrageous."